A lot can happen in five years.

In Dalhousie's case, those past five years represent the duration of its Strategic Direction document, Inspiration and Impact. Stemming out of President Emeritus Richard Florizone's 100 Days of Listening, the plan set out priorities under five pillars, covering the core of Dal's mission — teaching & learning, research, and service — as well as crucial supports like people, infrastructure, partnership and reputation.

"Working together, this community built this Strategic Direction up from the 100 Days of Listening, turning it into a robust university plan based on action and accountability," said Interim President Peter MacKinnon at a community town hall on Monday afternoon (June 24). "And the results, truly, showcase the best of what Dalhousie can do."

As the university community turns its attention towards the future, and a new institutional planning process being led by Provost Teri Balser, Interim President MacKinnon got to spend the start of his final week in office sharing stories and highlights from the past five years at the annual town hall event.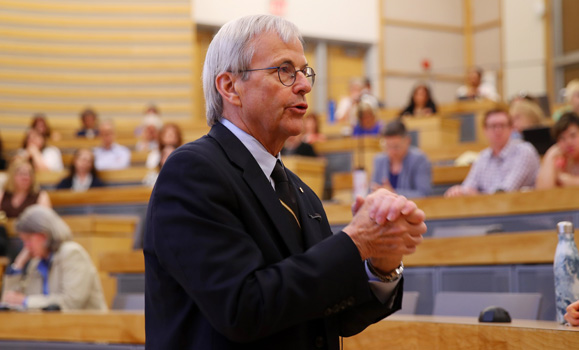 "This is a really exciting time of transition for Dalhousie: not just in leadership and in planning, but from our 200th anniversary celebrations to our third century of achievement," said MacKinnon.

A time of growth and achievement

Among the topics MacKinnon explored included impressive growth in several areas of university operations: enrolment (up 2.3% during the Strategic Direction), research (24.5% increase in funding), co-op placements (up 23.8%) and fundraising ($210 million — the largest five-year total in Dal's history).

MacKinnon also showcased how the power of partnership helped enable campus revitalization efforts such as the IDEA Project, the William Murphy Dental Clinic and the forthcoming expansion of the Dalhousie Arts Centre. And he discussed progress made under the Diversity and Inclusiveness Strategy, including the renewal of Dal's symbols and the Be Counted census, which now has self-identification info for 90% of faculty/staff and reflects Dal's successes in the hiring of targeted groups.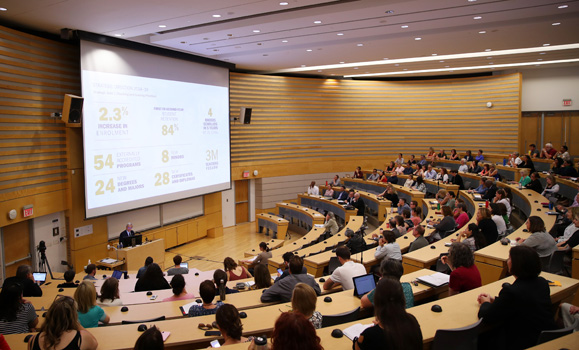 "When it comes to equity, diversity and inclusion, this Strategic Direction covers some incredibly transformative years at Dalhousie," said MacKinnon. "There have been many challenges in this work, to be sure, and many areas where there is much more work to be done. But compiled together, this work represents significant progress on a continuing journey."

Looking ahead to Dal's next plan

With MacKinnon set to conclude his term as interim president on June 30, the next phase of that journey — and Dal's ongoing journey more generally — will be left to new leadership, beginning with Provost Balser.

Dr. Balser, set to serve in the president's role until President-Elect Deep Saini arrives in January, will continue the planning process she developed and is leading, engaging the university community towards its next strategic plan and building on the momentum from Inspiration and Impact.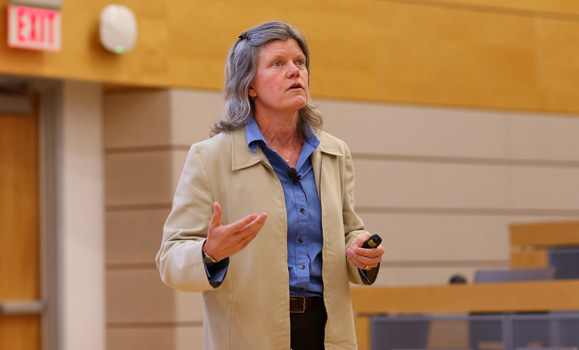 "We've got ourselves up and in motion now," she said. "We've done a tremendous amount. Where do we take that? Where do we go with that?'"

The first phase, exploring and listening, has engaged hundreds of people through a listening survey and in-person sessions to identify emerging themes — ideas the Dal community wants to take forward into the next plan, like culture and climate; being modern and relevant; and building a foundation for long term success.

"Phase two, which began with the retreat in May, is about growing and learning and deepening our understanding of some of the areas that affect us as a university," said Dr. Balser, noting recent invitations to participate in "learning circles" through the summer and then sharing what was learned at the next planning retreat in the fall.

Future focused

Following Dr. Balser's update, both she and MacKinnon answered questions from attendees, covering everything from campus accessibility to how Dal can replicate the kind of research success it's seen in ocean research in other disciplines.  

Given that MacKinnon is winding down of his time at Dal, one particularly pertinent question related to his impressions of Dal now that he's gotten an in-depth sense of the university nearly 50 years after graduating himself.

"Dalhousie's reputation and stature, I can tell you, across this country and beyond are excellent," he said, noting the honour and a privilege to be a small part of Dal's ongoing story as interim present these past six months.

"I think the future of Dalhousie is unlimited."

Video
Watch the full archived video from Monday's town hall session below.