Following each meeting of Dalhousie's Board of Governors, Dal News highlights some of the presentations and decisions made.

The Board of Governors is responsible for the overall conduct, management, administration and control of the property, revenue, business and affairs of the university. It represents the interests of the university, carrying out its responsibilities through a stewardship role (delegating day-to-day management to the president and senior administration). Its membership currently includes three ex officio members (the president, chancellor and chair of Senate), eleven Order-in-Council members and additional representatives appointed by alumni, students, faculty and the Board itself.

The Board has six standing committees: Academic & Student Affairs; Capital Projects and Facilities; Community Affairs; Finance, Audit, Investment and Risk; Governance and Human Resources; and the Board Executive. While these committees meet regularly through the year, the Board as a whole meets five times a year between September and June.
Appointment of interim president and vice-chancellor
Following the completion of the Board meeting, Chair Larry Stordy announced to the university community in a memo that Provost Teri Balser has been appointed to serve as interim president and vice-chancellor for the remainder of 2019, through to the arrival of President-Elect Deep Saini in January.
"Since arriving at Dalhousie in October 2018 from Curtin University, Dr. Balser has provided capable and accomplished leadership in the Provost's role, working with the Deans, faculty and senior leadership in moving our academic mission forward," said Stordy in his memo.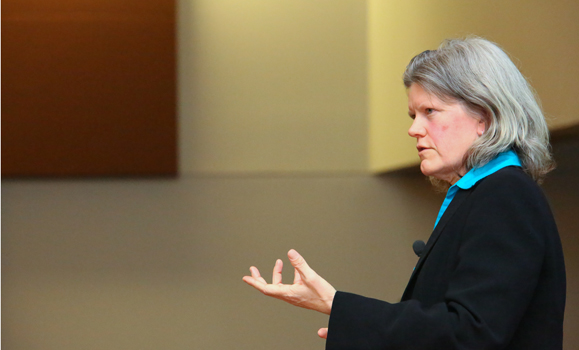 (Bruce Bottomley photo)

"In particular, her work engaging the university community in institutional strategic planning — work she will continue as Interim President — is setting Dalhousie up for success as we move towards our next Strategic Direction. She is a natural fit to help lead our university community into 2020 and the arrival of our next president."
Stordy's memo also announced that Chris Moore, dean of the Faculty of Science, will serve as acting provost. Ian Hill of the Department of Physics and Atmospheric Science, will serve as acting dean. Both have previously served in an acting capacity in those roles.
The news comes as Peter MacKinnon's six-month tenure as interim president comes to an end, and Stordy thanked him for his leadership during this transition period and wished him all the best as he returns to his family in Alberta. "To have someone of his caliber, experience and insight on our senior administration team has been invaluable in helping maintain Dal's momentum heading into our third century."
Approval of 2019-20 operating budget
The Board voted at Tuesday's meeting to approve the 2019-20 operating budget.
The budget is balanced with revenues and expenditures of $447.2 million. The final budget plan voted on by the Board incorporates extensive feedback and input from across the Dal community through the Budget Advisory Committee process.
The operating budget plan keeps more money in Dal's Faculties and service/support units to pay for salaries and campus services, and makes crucial investments in campus infrastructure (classroom renewal, network capacity), student assistance and student experience, and the university's Strategic Investments & Initiatives Fund. It also incorporates tuition changes previously voted on at the April Board of Governors meeting, as well as additional revenue from enrolment changes (2018‐19 and forecasted).
The full operating budget can be reviewed on the Financial Services website.

Financial Report 2018-19 + plans for surplus
The Board reviewed Dalhousie's 2018-19 Annual Financial Report, and the university shared plans to invest surplus funds in core university priorities — including academic initiatives, classroom upgrades and campus accessibility.  
Last year, Dalhousie spent (approximately) $427M in operating expenses and collected $433M in operating revenues, for a net operating budget surplus of about $6 million. While the university commonly experiences some variance between operating revenues and expenses in a given year, a surplus of this size typically results from enrolment that exceeds budget projections. The operating budget plan for 2018-19 assumed steady enrolment year-over-year; instead, enrolment increased by 1.6%, driven by a 10.3% increase in new-from-high-school students. Dal's mix of international and domestic students also continued to shift, with a 9.1% increase in international students and a 0.3% decrease in domestic students.

As outlined in last year's operating budget plan, additional revenues generated through the year are to be allocated towards university priorities on a one-time basis, then factored into budget planning for 2019-20 and beyond.

"When we are fortunate enough to have excess revenue at the end of the year, it provides us an opportunity to address some of the budget pressures identified by Deans, students and other university leaders through the year, as well as other crucial university priorities," explains Ian Nason, vice-president finance and administration.

The funds will be used on a one‐time basis to address priorities in the following areas:

$3 million for academic initiatives and support, with priorities determined in consultation with the Provost and the Deans.
$2 million for classroom upgrades, with priorities set by the Classroom Planning Committee.
$1 million for university priority projects to address the Provincial Accessibility Act.
The full financial report will be available in the coming weeks on the Financial Services website.


Board business
This was the final Board meeting for several members — including Larry Stordy, the Board's Chair, whose term comes to an end on June 30. Candace Thomas will serve as the new chair beginning July 1.
Other outgoing Board members recognized at Tuesday's meeting include Ian Bezanson (alumni representative), Joyce Carter (order-in-council appointee) and Aubrey Palmeter (alumni representative).
Approved minutes for Dalhousie Board of Governors meetings are published on DalSpace. Learn more about the Board at its website.