On May 31, alumni and friends gathered for a cocktail reception and awards ceremony to celebrate the inaugural Aurum Awards as part of Dal Alumni Days. New this year, the Aurum Awards recognize innovators and visionaries who are making a difference in their communities and around the world.
The Dalhousie Alumni Association selected Sura Hadad (DDS'04), Anirudh Koul (BCS'07), Megan Leslie (LLB'04) and Heather McNeill (LLB'94) as the 2019 recipients for their outstanding achievements in innovation, community engagement, leadership and their contributions to the social, cultural and economic well-being of society.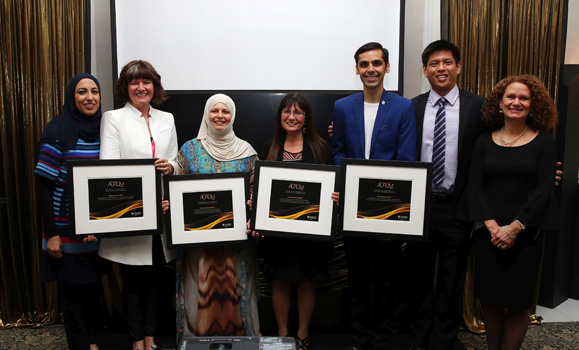 Aurum Award recipients with Dr. Aisle El-Darahali (far left), Dalhousie Alumni Association board member Andrew Ling (second from right), and Sheila Blair-Reid, associate vice president, Alumni and External Engagement.
Fittingly, the award ceremony was opened by Aaron Prosper (BSc'19) – likely the newest alumnus in the room having just received his degree hours earlier – and hosted by Aisle El-Darahali (BSc'03, DDS'08), a 2016 alumni award winner.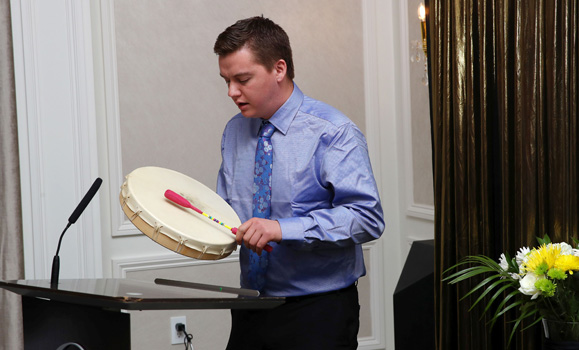 Aaron Prosper performs at the Aurum Awards.

As the recipients accepted their awards a theme emerged – each gave nod to former professors and mentors, many of whom were in attendance, for contributing to their success and desire to making a difference.
"I'm honoured to receive this award from Dalhousie, the institution, but I acknowledge that I've only had the career I've had because of Dalhousie, the community," remarked Megan Leslie.
Meet the Aurum Award recipients
Through her work as a dentist and a dedicated volunteer who gives back to many initiatives, Sura Hadad is making a difference in her community and around the world. Motivated by the challenges she and her family faced as a young girl, Dr. Hadad is passionate about supporting those who have experienced similar struggles as she did.
In 2016, she provided free oral care to Syrian refugees, working tirelessly to serve hundreds of people. And last year she and her daughter helped to build a girls' college in Kenya. She also extends her generosity to the Faculty of Dentistry through the establishment of a scholarship and support of the Dental Clinic Renewal project.
When Anirudh witnessed his grandfather's vision loss, he drew on his computer science education to develop Seeing AI, a smartphone app that helps people who are blind or low vision navigate the world around them, while he was working with Microsoft.
Today, he is the head of intelligence and research at Aira, which provides people who are blind or low vision with instant access to real-time visual information from a team of trained agents. His work has been recognized by Time Magazine and the American Council for the Blind. Most importantly, his work is empowering others and enabling them to do things they never thought possible.
When Megan was 15 years old, she and her friends staged a protest sending a message to politicians against filling her community's empty mine shafts with toxic waste. And she has been advocating for environmental, social, and economic justice ever since.
Megan's career has taken her from Dalhousie Legal Aid to the New Democrat Party member representing Halifax in Parliament to her current role as President and CEO of World Wildlife Fund Canada. Through her work, she is dedicated to creating opportunities for more people to be engaged and make a difference wherever possible.
Heather McNeill has dedicated her law career to helping others. For two decades she worked at Dalhousie Legal Aid, advocating for individuals and helping them understand their rights.
She recently retired from Dal Legal Aid to focus on an initiative close to her heart: serving as Legal Advisor of the Enhanced Child Family Initiative at the Mi'kmaq Rights Initiative Negotiation Office.
Heather's passion and devotion for a more equitable society, particularly for First Nations communities in Nova Scotia, is inspiring and has made an incredible impact in the lives of many people.
Videos produced by Firefly Digital Media