The world of computer science is facing what Edward Snowden calls its "atomic moment": a reckoning that will determine whether its power can be exploited to benefit humanity or if we will be locked into a world of near-total surveillance.

About 600 people packed the McInnes Room at Dalhousie's Student Union Building on May 30 to hear Snowden speak live via video link from an undisclosed location in Moscow. Snowden's keynote, taking place during the first Dal Alumni Days, was part of the Open Dialogue series, which launched in 2018. The series brings people together for thought-provoking conversations on timely and relevant topics.

"When you create a new capability, there are really two questions you face: can you do it — that's the one that seduces everyone — and should you do it. And that's a very different question," Snowden said.
He described "an unholy connection of technology and an unusual interpretation of contract law" — the idea that we routinely "agree" to hundreds of pages of terms and conditions — as giving rise to a world in which governments spy on their citizens and companies find it more profitable to "abuse" their audiences than to treat them "with respect and dignity."
Spy games

A former CIA employee and National Security Agency contractor, Snowden came to worldwide attention in 2013, after he fled to Hong Kong and leaked a huge number of secret documents revealing the extent of global surveillance. Fearing capture, he applied to several countries for asylum and hid among the refugee community in Hong Kong.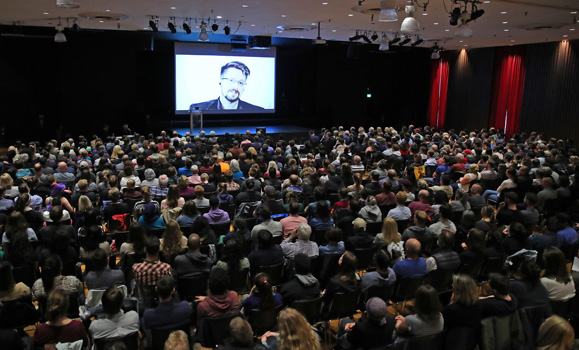 The McInnes Room crowd watching Snowden's lecture.

His talk was a benefit for the "Snowden refugees" who sheltered him. According to the Montreal-based non-profit For the Refugees, Hong Kong cut off support payments to the people who protected Snowden and sped up proceedings to deport them to Sri Lanka and the Philippines — where their lives could be in danger. Canada recently accepted two of the refugees.

Over the course of nearly two hours, Snowden — an engaging and emphatic speaker — described the rise of the surveillance state, his own decision to break the law to reveal the extent of surveillance, and the new "digital arms race" with governments and companies racing to find more effective means to spy on us, and predict and shape our behaviour.

"Everybody in the room probably thinks Facebook is spying on them, and you are absolutely right. So is Amazon, so is Google, so is the phone in your pocket, so are the ad trackers in every app you install," he said.

Speaking directly to computer science students in the room, Snowden said, "Your code is not secure today. You know that, and I know that… It is the ecosystem that is the problem" — an ecosystem he described as "poisoned, polluted and toxic."
Making change happen

Snowden was introduced by Frank Harvey, dean of the Faculty of Arts and Sciences, and Snowden's Canadian lawyer, Robert Tibbo. Both struck a somber note, citing the rise of authoritarianism, attacks on whistleblowers and increasing hostilities to refugees and asylum-seekers.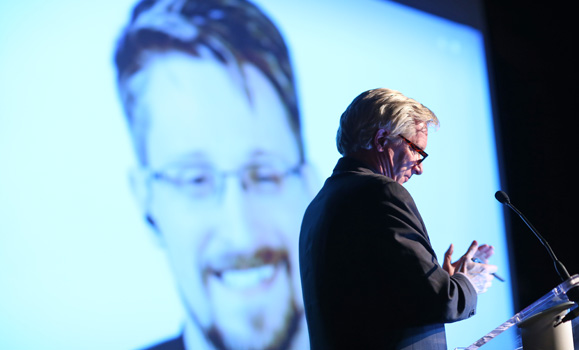 Frank Harvey, dean of the Faculty of Arts and Social Sciences, on stage during Snowden's lecture.

But Snowden's address was more optimistic, saying that since we are now aware of the problem of surveillance, we can take steps to solve it. He noted positive developments, such as the rise of encryption ("we are winning") and an increasing discomfort with the surveillance economy. And he pointed once again to the atomic age as an example.

"Think about the nuclear era and all the harms that visited upon the world. And think about what nuclear energy does for us today… We have, in many ways, tamed these forces."