As Mark Saldanha prepares to cross the stage at Friday's convocation, he is reflective on the experiences that led to his personal growth throughout his undergraduate career at Dalhousie.

The soon-to-be Faculty of Science grad was listed among My East Cost Experience's Top 25 Immigrants in the Maritimes for 2018 and has been making waves in his community ever since.

Mark, a neuroscience major who grew up in Halifax, was the recipient of the 2019 Off-Campus Impact Award and the Dal Golden D Award for his commitment to creating a more inclusive community.
Creating lasting relationships

He is the founder of Greater Love, a non-profit organization and ratified society at Dalhousie that fosters lasting relationships between volunteers and those who are homeless or in need of shelter. He says his faith is what inspired him to create Greater Love after hearing Canadian disability advocate Jean Vanier speak at a leadership conference.

 "It is clear to me that each and every one of us is called to love one another…I can't imagine what it must be like to have nobody look you in the eye, acknowledge you, and walk by you, and so this is something that I wanted to change."

In addition to Greater Love, Mark is a mentor and leader at a local youth group.

His efforts have certainly not gone unnoticed by others in the community as he was awarded the YMCA Peace Medal and the Red Cross Young Humanitarian Award.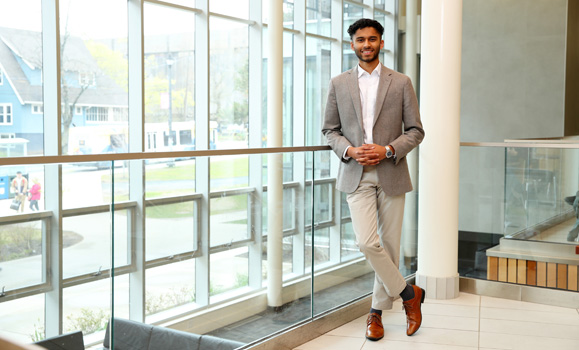 Mark attributes much of his success to his undergraduate career at Dalhousie. His studies and community involvement allowed him to marry business and science and approach poverty relief from an innovative perspective. Some of the courses he credits for his success include Leadership & Science taught by Professors Leanne Stevens and Allison Schmidt as will was Science & Technology Innovation taught by Professor Aaron Newman.

"It was through these courses, my experience with Greater Love, and my involvement in youth group that I realized I want to do whatever I can to help people for the rest of my life," he says.
A future helping others

The new graduate hopes to attend medical school here at Dalhousie so that he can continue to work towards a career devoted to helping others. Regarding our province's current physician shortage, Mark says he wishes to help those who are unable to access the proper medical care they require.

"I want to be able to work collaboratively with others to help solve this paramount problem in healthcare."

Wherever his future may take him, Mark says his priority is to continue to help those in his local community, including those who struggle in rural areas of Nova Scotia as well as those experiencing homelessness.

"In whatever I do, I want to remember to never forget one important thing that I have learned: treat everyone with the dignity they deserve by loving them unconditionally."