Sometimes, a high school teacher can become the spark that catapults a student's career forward in an unexpected and surprising way.

For Erin Johnson, a professor in Dal's Faculty of Science and of the world's leading experts in theoretical chemistry, it was David Schneider, a grade 12 chemistry teacher who showed her how math could be used to predict and describe atomic orbitals.

"I found it fascinating that math could describe the structure of matter on such a fundamental level," says Dr. Johnson. "The next semester, I took a co-op placement in a theoretical chemistry group at Carleton University, where I discovered my love of research. I was lucky enough to be able to stay involved in undergraduate research throughout my time at Carleton, and I decided to continue in this area for my graduate studies."

And this week, the Natural Sciences and Engineering Research Council (NSERC) will honour her outstanding contributions to the field with the E.W.R Steacie Memorial Fellowship, a prestigious fellowship awarded to enhance the career development of outstanding and highly promising university faculty who are earning a strong international reputation for original research. Dr. Johnson will receive her award today (Monday, May 6) from The Right Honourable Julie Payette, Governor General of Canada at a reception in Ottawa's Rideau Hall.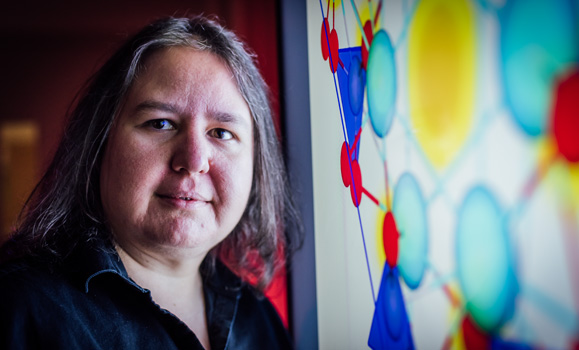 "This fellowship is an unparalleled opportunity for thinking time. Having uninterrupted blocks of time for research, particularly to think about projects, is invaluable and can be hard to come by since faculty members have to split their time between research, teaching, and service," she says. "This fellowship gives faculty teaching and service relief, so they can devote much more of their time to research."

The E.W.R Steacie Memorial Fellowship was created to honour the memory of Dr. Edgar William Richard Steacie, an outstanding chemist and research leader. NSERC awards up to six Steacie Fellowships that are held for a two-year period. Since 1976, Dalhousie has had nine other recipients, including Randall Martin (2012) and Boris Worm (2011). Successful fellows step away from teaching and administrative duties so they can devote all their time and energy to research with a grant of $250,000 over two years. Having that dedicated time to devote to pursue a specific research area is something to which Dr. Johnson looks forward.

"I'm hoping that the thinking time provided by this fellowship will allow me to develop new theoretical methods to improve the accuracy of computational predictions for systems that are problematic for existing techniques. One example is intermolecular charge-transfer interactions. I'm also hoping to make a big push on our work towards molecular crystal structure prediction."

A creative and prolific scientist

A graduate of Carlton University in Ottawa, and Queen's University in Kingston, Dr. Johnson's research is focused in the area of theoretical chemistry, where computational tools are used to model chemistry at the atomic level.

She explains the basics of her work: "We develop theories that describe the interactions between electrons, which enable us to predict the properties of atoms, molecules, and materials, which make up all matter. With theoretical chemistry, it is in principle possible to predict the outcomes of reactions and design new compounds or materials computationally, without going into the laboratory."

The highly technical nature of theoretical chemistry is no small feat to understand for most of us, but with possible real-world applications, those computational models are rapidly gaining prominence with possible global benefits including the design of new drugs, catalysts, materials for energy applications, and more.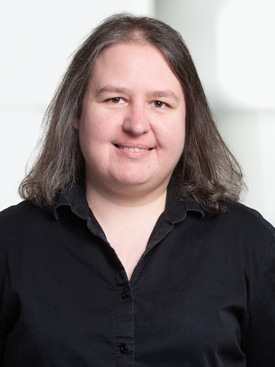 Even though she is early in her career, Dr. Johnson's research is already contributing to a growing body of academic knowledge of computational chemistry. She's published 108 scientific papers in peer-reviewed journals, which have received over 12,000 citations – nearly tenfold what might be expected for someone at this stage of their career. In fact, Dr. Johnson has been referred to as not only the best young theoretical chemist in Canada, but perhaps the "best young chemist (of any kind) in all of North America."

"I love what I do because of the aspects of discovery, problem solving, and expanding understanding. It's very exciting when you are developing a method or studying an application and your theories are working, providing new insight and a better description of chemistry."

A legacy of research, teaching and mentoring

Dr. Johnson's own teachers and mentors have also been a big source of inspiration for her career interests.

"I've been inspired by a number of people," says Dr. Johnson. "First, my parents for encouraging me to think critically and to enjoy math and science.  Another early inspiration was my high-school chemistry teacher, who I already mentioned was key in my decision to pursue chemistry in university.

Dr. Johnson's undergraduate research advisor, Professor Gino DiLabio (UBC Okanagan) also had a hand in channeling her early interests in chemistry into a focused path forward. "It was through working with Gino that my abilities as a researcher flourished and he inspired me to continue in research, going on to graduate school, a post-doc, and eventually a faculty position. Gino is an outstanding mentor, collaborator, and friend."

Dr. Johnson also holds the Herzberg-Becke Chair in Theoretical Chemistry , and her early work with Dal colleague Axel Becke set her career on a path for success. "The Herzberg-Becke Chair came about after Dalhousie's Prof. Axel Becke was awarded NSERC's Herzberg medal. He donated a portion of the fellowship money to fund the resulting faculty position. Axel was my PhD advisor and has had a profound impact on my career. Axel is a truly remarkable scientist and a good friend. I am deeply honoured to hold the chair."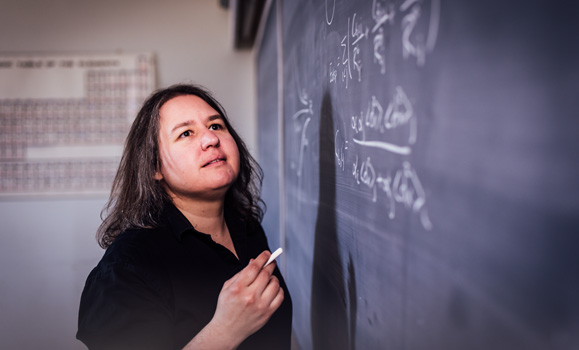 Dr. Johnson now cherishes her own role as a teacher and mentor, particularly as students develop along their own paths to becoming accomplished academics. "Teaching and providing mentorship to the graduate students in my group can be a very rewarding experience," she says. "It's gratifying to see them grow and evolve as researchers and as people over the course of their degrees. I like to think that I am always available for my students."

The collaborative and collegial nature of the chemistry department at Dal has become one of Dr. Johnson's favourite parts about being on campus.

"I'm looking forward to continuing my research here at Dal, working with my students and colleagues to do some exciting new science. My favourite part about being at Dal is the culture in the chemistry department. (There are) excellent researchers and it is a great environment in which to do science."

With the E.W.R. Steacie Fellowship's financial support, she'll be able to continue to fund graduate students, and grow her team with the addition of new students and new post-docs to Dalhousie. Her role as a faculty member and contributing to the success of another generation of Dalhousie chemists is something Dr. Johnson's sees as both a privilege and a serious responsibility.

"I feel that my responsibility as their advisor isn't just limited to their technical work, but instead extends to helping students succeed during and beyond their time at Dal. I'm extremely proud of my students when they leave my group and go on to the next steps of their career."