Christopher Elson, chair of Dalhousie's French department and professor of French and Canadian Studies in the King's – Dalhousie Joint Faculty, has been named to the rank of Chevalier (Knight) in the Ordre of the Palmes Académiques (the French Order of Academic Palms).
The Palmes Académiques is one of the oldest civil orders of the French Republic, created by Imperial decree of Napoléan Bonaparte in 1808. The Ordre of the Palmes Académiques is dedicated to persons involved in education and higher education who have distinguished themselves in an educational field or in research. Outside of universities, it can be conferred on persons who contribute to enrich cultural heritage.
Her excellency Kareen Rispal, Ambassador of France to Canada, was at Dalhousie last week to award Dr. Elson the insignia of Knight of Academic Palms during a ceremony held in the Sculpture Court of the Dal Arts Centre.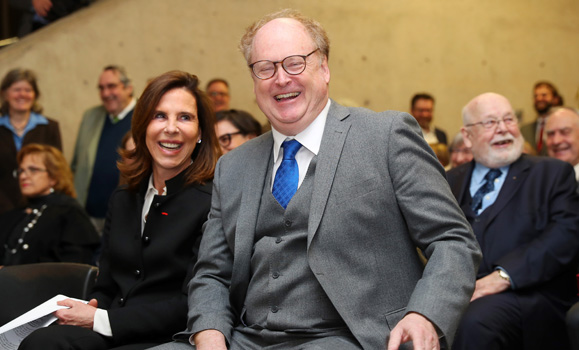 Kareen Rispal and Christopher Elson.
"Your fields of study may be varied, but they are complementary," Ambassador Rispal said to Dr. Elson during the ceremony. "Besides literature, poetry and critical sociology, you have also taken an interest in globalization, ecology and European issues. The complexity of your fields of expertise has not hindered you from developing remarkable teaching skills.
"Everybody here knows you as someone who is deeply involved in the organization of events in the francophone community of Halifax. In doing so, you bring an outstanding contribution to the outreach of French language here in Halifax. Whether it is for the Alliance Française of Halifax, for your students or for the Consulate, you are a valued partner, whose devotion to the cultural and artistic scene in Nova Scotia is truly authentic."
An accomplished career

Born in Halifax, Dr. Elson studied at the University of King's College and Dalhousie University before doing a D.E.A. (The Diplôme d'études approfondies – Degree of Profound Studies / Degree of in-Depth Studies) and a doctorate at l'Université Paris IV-Sorbonne. He defended his thesis in contemporary French literature in 1995. He has been involved on the boards of arts, culture and heritage organizations including UpStream Music, JazzEast, and the Canadian Naval Memorial Trust.
He is a past vice-president of the University of King's College and has translated a substantial number of French works, especially in the field of poetry. His articles and books include the recent In the Name of Friendship: Deguy, Derrida, and Salut (Brill Editions, 2017).
Through this decoration, the French government pays tribute to Professor Elson for his academic work in the field of poetry, literature and French language, and for his commitment to Nova Scotia's Francophonie.
Esteemed company

Dr. Elson joins his colleague in the Department of French, Professor Taghrid Abou Hassan, as a fellow Knight in the Order of the French Academic Palms. She was honoured with an investiture into the Order in 2017. Over the years, there have been a few other Dalhousians who have also received this honour: Paul Chevy (1915 – 2003) who came to Dalhousie in 1948 to head the former Romance Language department; Roseann O'Reilly Runte, former chair of the French department and FASS assistant dean who is currently president and CEO of the Canadian Foundation For Innovation; and Martha Crago, Dal's former vice-president research who is currently the vice-principal of research and innovation at McGill University.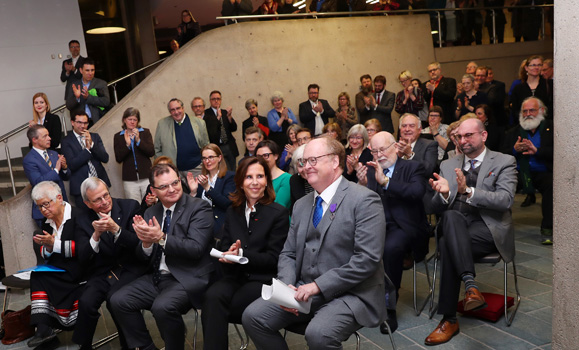 "It is an honour and a joy to receive this decoration to join the company of my departmental colleague, Chevalière Taghrid Abou Hassan, and former colleagues Martha Crago and Roseann Runte, as well as members of the Order in France, in Canada and around the world," said Dr. Elson in his thank you speech. "I'm profoundly touched and humbled by this distinction and proud to receive and wear the insignia."
Dr. Elson noted how the Order recognizes contributions to education, research and culture and commented on the intersection of those three areas here at Dalhousie-King's in the unique context of French and Humanities education, in the rich institutional dynamics of this setting. "There's something very particularly enriching and still very fun about pursuing a liberal arts education here, and I think the students and former students present here tonight will confirm that. Long may it remain so."
Celebrating achievement

Hosted by Dean of the Faculty of Arts and Social Sciences Frank Harvey, the ceremony welcomed additional dignitaries including Laurence Monmayrant (Consul Général of France in Moncton), Xavier Bonnet (Head of the Economic Affairs Department at the French Embassy in Ottawa) and Samuel Lefebvre (Economic Counselor at the French Consulate in Montreal). Local university presidents in attendance included: Peter MacKinnon of Dalhousie and William Lahey of the University of King's College, both of whom spoke at the ceremony, as well as Robert Summerby-Murray of Saint Mary's and Dianne Taylor-Gearing of the Nova Scotia College of Art and Design.
Other distinguished guests in attendance included the Honourable Lena Diab, Nova Scotia Minister of Acadian Affairs and Francophonie; Isabelle Pédot, executive director of the Alliance Française; Roger-Yves Mazerole, honourary French Consul in Halifax; and Elder Jane Abram, the Elder in Residence with Dalhousie's Schulich School of Law, who delivered the opening welcome. Other guests included faculty colleagues, students, friends and family of Dr. Elson.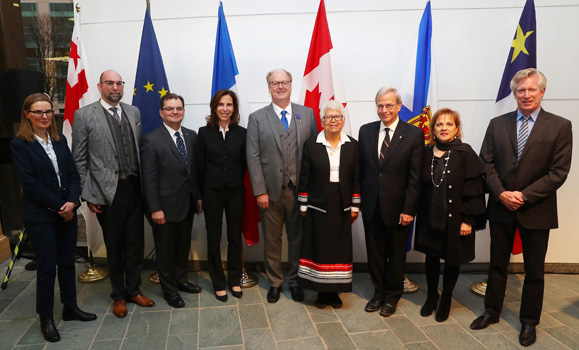 Left to right: Laurence Monmayrant, Roger-Yves Mazerole, William Lahey, Ambassador Kareen Rispal, Christopher Elson, Elder Jane Abram, Peter MacKinnon, The Honourable Lena Diab and Frank Harvey.
In his remarks, Peter MacKinnon noted how Dalhousie values its important academic and scientific relationships with France and French institutions. He also noted how pleased he was to see so many people in attendance to celebrate the presentation of this honour to Dr. Elson.
"It's clear by the gathering, by the crowd, the conversations, the buzz…how highly regarded Dr. Elson is among his peers at both Dalhousie and the University of King's College and across the community," he said. "Receiving this award is a significant honour, and it demonstrates Dr. Elson's outstanding accomplishments in promoting French language and culture."