Dalhousie is now one Knight mightier.

Last week marked a special occasion for Professor Taghrid Abou Hassan of Dalhousie's Department of French: her investiture as Knight into l'Ordre des Palmes académiques (the Order of the French Academic Palms).

The Order, first created by imperial decree in 1808 by Napolean Bonaparte,  was reinstituted in 1955 by French President René Coty to acknowledge and celebrate outstanding teachers, professors and academics for their devotion and accomplishments in promoting French language and culture.

It's one of the highest and oldest civilian awards still in existence, and mainly awarded to French citizens. However, it can also be awarded to foreign citizens who make outstanding contributions to the international outreach of the French language, whether in higher education or research.

"On a personal level I am honoured yet humbled, to receive this distinction" said Prof. Abou Hassan, who has been a faculty member at Dalhousie for 10 years. "I feel blessed and would like to share it with the special people who have helped and supported me in so many ways throughout the years.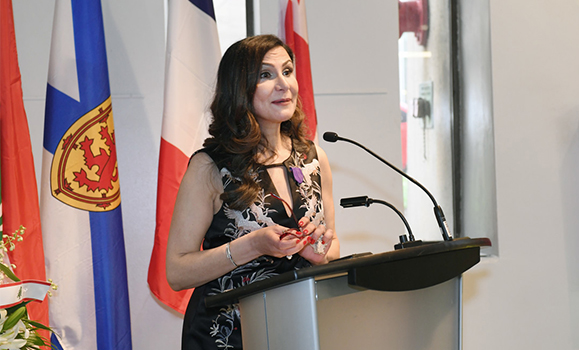 "On a professional level, it is an incentive for me to do more for my community and to encourage my students to learn this beautiful language. This will eventually open doors for them, no matter what they choose to study at university. Even if they don't realize it now, later in life they will understand how important it is to learn French, and they will truly appreciate the value of the language, this gift, even more. "     
Leaving a legacy


Prof. Abou Hassan's first language is Arabic, but at the time she was growing up in Lebanon, most of the schooling in Lebanon was in French. She developed a great interest in French literature which she shared with her relatives and neighbors by reading for them the classics, and by tutoring French to children in her community.

She earned a master's degree in law at the Lebanese University before coming to Canada. She studied French at Dalhousie and earned her master's degree in 2002. She has since taught at Saint Mary's, Acadia and Mount Saint Vincent universities and has been employed at Dalhousie since 2007.
She has also been heavily involved with the Alliance Française for the past 22 years, serving in a variety of roles, most recently as president from 2014-2017. She has won various teaching awards and helped to coordinate many community events, including events which strengthened connections between the Alliance Française and the local Lebanese community.
Celebrating achievement


Hosted by Frank Harvey, dean of the Faculty of Arts and Social Sciences, the celebration event for Prof. Abou Hassan welcomed honorary consuls from Lebanon and Poland; members of the Lebanese community; representatives from the Alliance Française and other prominent French organizations in Nova Scotia; local university presidents (including those of Saint Mary's and Université Ste. Anne); members of the Dalhousie community (including faculty, staff and students of the French department); and Abou Hassan's family and friends.

Madame Laurence Monmayrant, Consul General of France in Moncton and Halifax, presented the medal to Prof. Abou Hassan, expressing her gratitude.
"Your tireless dedication to the French language, your energy and your contagious enthusiasm have made you a leading person within the community of francophone teachers in Halifax," she said.

Chris Elson, chair of Dalhousie's Department of French, said Prof. Abou Hassan could be summed up in three words: distinguished, dedicated and delightful.

"Elle est singulière et unique," said Prof. Elson. "Always grateful, always generous, tireless, positive and energetic. I would like to think that her recognition here today reflects positively in some small measure upon our department and I know that the department would like, if it were at all possible, to return some of her measureless gifts to her. We do so simply by sharing with pride in her special day."  

While the the Order of the French Academic Palms is a rare honour, there have been a few Dalhousie recipients through the years: Paul Chavy (1915-2003), who came to Dalhousie in 1948 to head the former Romance Language department; Roseann Runte, former chair of the French department and FASS assistant dean who is currently president of Carleton University; and Martha Crago, Dalhousie's most recent vice-president research.