Over 100 students and other Dal community members gathered Monday night in the Student Union Building's McInnes Room for a discussion on diversity and inclusiveness.
The event, which emerged out of conversations between the President's Office and students, was an opportunity for students in particular to contribute to the next phase of Dal's Diversity and Inclusiveness Strategy, and hear from senior leaders about their commitment to advancing equity, diversity and inclusion.
It featured a presentation on the latest progress report from strategic initiative 5.2 co-chairs Jasmine Walsh and Barb Hamilton-Hinch, followed by a World Café session in which attendees discussed where Dal has done well in addressing equity, diversity and inclusion; where it has fallen short; and what Dal's next priorities should be.
Read more: Diversity and Inclusiveness Strategy - Progress Report 2019 [PDF - 173 kb]
"Tonight is about engaging collaboratively," said Provost Teri Balser, the Diversity and Inclusiveness Strategy's admin sponsor, in her introductory comments. "It's about helping us all improve and being partners in learning what we need to do to move forward, together."
Interim President Peter MacKinnon — who began his remarks with condolences regarding last week's horrific acts of violence committed at two mosques in New Zealand — spoke to his particular role in that learning process, over his six-month tenure.
"First, [I'm here] to encourage those around me to continue to push forward with the important work, and continue to support work underway prior to my arrival," he said, citing initiatives like the Lord Dalhousie Panel and the Indigenous and African Nova Scotian strategies. "Second, I can help foster conversations like this where we bring together members of our community to listen to and to learn from one another."
Advancing diversity and inclusion

Dal's Diversity and Inclusiveness Strategy is only two years old, but its roots stretch back to the university's most recent strategic plan (2014), which made ensuring a collegial culture grounded in diversity and inclusiveness a key priority. That work gained added momentum and importance following the Dal Dentistry Facebook situation in late 2014, which was followed by five university and external reports offering up more than 400 recommendations for Dal to review and implement.
The Diversity and Inclusiveness Strategy 5.2 organized and consolidated the recommendations around four pillars: Climate and Intergroup Relations, Student Access & Success, Education and Research, and Institutional Viability and Vitality.
Learn more: Diversity and Inclusiveness Strategy
Now, with Dal's next institutional strategic plan under development, the individuals who've been leading the priority on diversity and inclusiveness (known commonly by its number in the current plan, "5.2") are eager to hear from students and others about future important areas of focus.
"It's an exciting moment — a pivot into what happens next," said Jasmine Walsh, assistant vice-president of Human Resources.
The presentation from Walsh and Dr. Hamilton-Hinch (assistant professor, School of Health and Human Performance) acknowledged that while there is still much more work to be done, there is a lot that has happened in recent years. They highlighted some of the student-focused efforts that have been completed under the plan to-date, including new advisor positions for Indigenous and Black students, the new Gender Affirmation Policy, 55 accessible washrooms (with more to come), the Dalhousie Census that allows students to self-identify, and the Elders in Residence program. (Those were among the 100+ initiatives highlighted in posters displayed at the event and also available online.)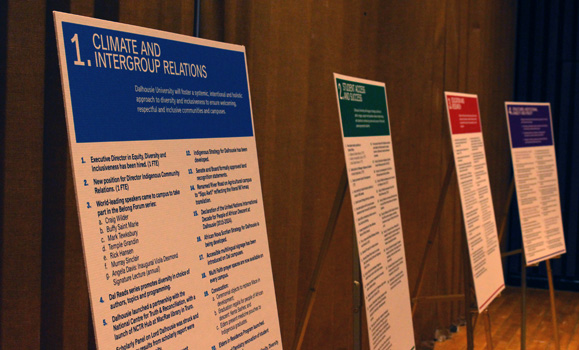 "I was a student here in the eighties, and now it's 2019," said Dr. Hamilton-Hinch. "Some changes aren't as fast as I would like to see, but I can tell you we aren't where we were in the eighties. So I am hopeful that we are moving in the right direction."
Listening and learning together

Following the presentation, attendees had the opportunity to gather in small groups to discuss, using a World Café format Dal's diversity and inclusiveness efforts (with a particular emphasis on student-focused efforts) and what Dal could be doing differently or better. The format, facilitated by volunteers associated with the strategic initiative steering group, was designed to allow as many people the opportunity to contribute their ideas as possible.
All of the ideas shared and discussed will be reviewed and considered as the next phase of work under the Diversity and Inclusiveness Strategy. Some of the suggestions, shared by the facilitators following the discussion, included, among others:
Mandatory courses on Indigenous topics
The need to address gaps in trust and to ensure there is meaningful action behind Dal's language on these issues
The importance of addressing gaps and inequities with regards to international students
Improving communication about resources available to students
Mandatory intercultural and diversity training for faculty and staff
During the World Café discussion, a group of about 15 students took to the stage to protest, objecting to the format of the event and subsequently some departing early. Those who remained continued the discussion, with many students staying to the end.
"We appreciate all the voices who were here this evening," said Ivan Joseph, vice-provost student affairs, in his closing remarks, referring to both those who stayed and those who left. "This is the kind of space to have these discussions, and not everyone is going to agree, and that's ok. There's lots of people here at Dal willing to engage in this conversation, and we want to hear from everyone."
Though plans for next steps are still taking shape, organizers of the event expect there to be similar opportunities for discussion and input in the near future (including in Truro). The organizers encourage those who have ideas or suggestions for how to improve or strengthen the format and content of the upcoming events to contact Ivan Joseph, vice-provost student affairs, at vpsa@dal.ca.
For more on Dal's Diversity and Inclusiveness Strategy, visit the Culture of Respect website.