Dalhousie's Strategic Direction includes diversity and inclusiveness as one of its key priorities. And the university has a full Diversity and Inclusiveness Strategy as well, outlining efforts under four separate pillars.
But those are words on paper — important words, sure, but they require efforts by people across Dal, each and every day, to lead to towards a stronger, more inclusive university.
That's why there's the President's Award for Advancement of Equity, Diversity and Inclusiveness (EDI). Established last year, the award celebrates outstanding efforts of faculty and staff in advancing equity, diversity and inclusiveness at Dalhousie University.
"It recognizes that not only are these guiding values for us as an educational community and workplace, but essential institutional strategic priorities ­— ones supported by committed, dedicated people across the university," says Peter MacKinnon, interim president and sponsor of the award.
Last year's award went to the team at the Imhotep's Legacy Academy, a university-community partnership that works to improve student success and bridge the achievement gap for Grades 6-12 students of African heritage in Nova Scotia.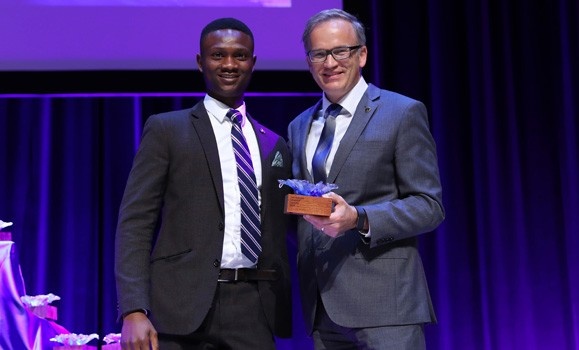 Last year's President's Award for Advancement of Equity, Diversity and Inclusiveness (EDI) is presented by then-President Richard Florizone to Sidney Idemudia with Imhotep's Legacy Academy.

New this year, up to two awards may be presented: one to an individual and one to a group (either a formal university unit or an informal group of faculty and staff).
"We wanted to recognize that sometimes EDI work happens because of the work of one person, and sometimes it's through bringing people together in a shared commitment," says Norma Williams, executive director of diversity & inclusiveness.
Nominations are welcomed and encouraged for individuals and groups in all university areas. Nominations must refer to activities that occurred between April 17, 2018 and March 11, 2019. Nominations can be received from current faculty, staff and students. Prior winners cannot be nominated again the same category.
The deadline for nominations is April 12, 2019, and full details on the nominations process can be found on the Human Resources website.
The recipient(s) will be honoured at the Dalhousie's annual Legacy Awards event in June.