Hundreds of people started their week in a different way than usual Monday morning, dropping by Dalhousie's campus to take part in a live video conversation with a Canadian astronaut currently living in outer space.

Dalhousie and the Canadian Space Agency (CSA) teamed up to beam up  over live video link — via NASA mission control in Houston — from Dal's Rebecca Cohn Auditorium to the International Space Station (ISS), where David Saint-Jacques took time out his busy schedule to answer questions about life as an astronaut.

"Houston, this is station, I am ready," said Saint-Jacques, after floating into view on the screen to cheers from the crowd full of Dal community members and local school students.

Back on Earth in Halifax, fellow CSA astronaut Joshua Kutryk (below) was on hand in person at the event, presented in partnership with Dalhousie, to facilitate the connection and conversation.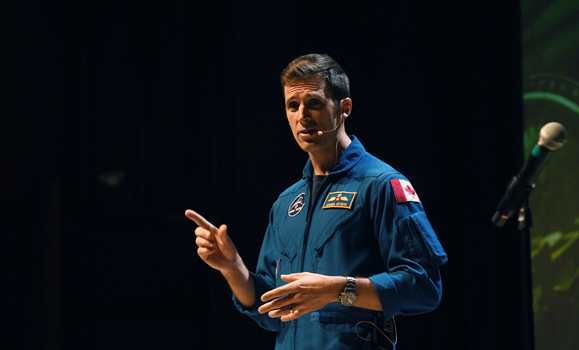 "I wish you could see it down here," said Kutryk to Saint-Jacques. "It's a March blizzard. You can see about six feet in front of you walking down the sidewalk, but we still managed to fill a theatre of young people who are very keen to talk to you."
While 525 junior high students of Indigenous and African Nova Scotian heritage were intended to come to Dalhousie for the day for the event, school cancellations due to weather meant many could not. But quite a few young people came out despite the weather, including about 100 students from Armbrae Academy nearby, as well as students invited through the Ulnooweg Digital Mi'kmaq initaitive.
The event was also livestreamed on YouTube for audiences around the world.
Watch: Ask an Astronaut livestream
Aboard an "orbiting laboratory"

Saint-Jacques answered 15 questions during the 20-minute session, most of them from school-age children. The topics ranged from big-picture questions about the future of Canadian space exploration ("we're going to discover a lot") to more elementary ones about the smell of space ("like the smell of a new toaster the first time you use it") and what time zone the ISS follows (Greenwich Mean Time, which is the same as London, UK time).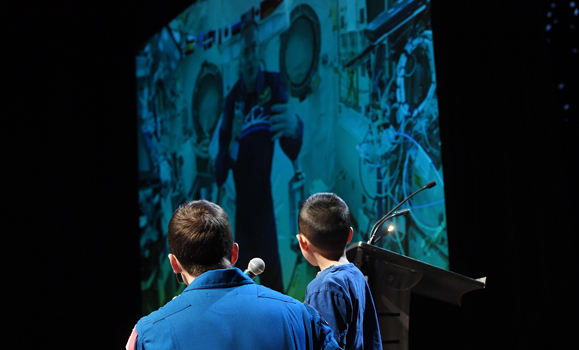 Now entering his third month in orbit aboard the ISS, Saint-Jacques shared insights into the scientific work carried out on the space station — which he described as an "orbiting laboratory."

"We do a lot of experiments," he said. "Most of them are to do with medicine and biomedical research because going to space is bad for the human body and it's bad in ways that resemble disease that anybody can have on the ground, except that here it develops very quickly."

The ISS orbits above the Earth's atmosphere at an average altitude of 408 kilometres, circling the planet 16 times in a single day due to its rapid speed. Astronauts have been living on the station since 2000.

Alice Aiken, Dal's vice-president of research and innovation, provided an official welcome from the university, linking the event to the Dal's broader educational mission.

"Dalhousie is a fitting place for events like this," said Dr. AIken (below). "We're an institution where you can explore and seek answers to some of the universe's most pressing and perplexing questions and set your course for greatness in science, technology and so many other fields."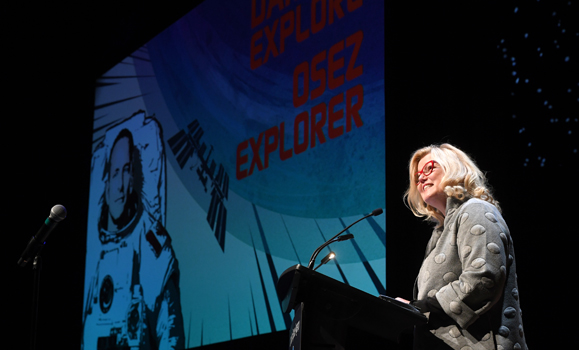 When asked what has surprised him most so far on his journey, Saint-Jacques cited the "beauty" and "grace" of Earth.

"Every time I open the shutters on our bay windows up in the space station and I look at Earth, I amazed at how incredibly beautiful but also strong she is. At the same time, of course, we can damage Earth — so it makes you realize that we have to be very careful and responsible to take care of our environment," he said.

Others were interested in how other nearby planets and celestial bodies, such as the sun and moon, look from space.  

"Stars don't twinkle here and neither do planets," explained Saint-Jacques. "But one of the most beautiful things we can see in the sky is the moon . . . I always find it is also gorgeous to see the moon rise over the beautiful blue horizon of the Earth and then the moon set about 45 minutes later."
Worth the effort

Like all astronauts, Saint-Jacques underwent rigorous training in preparation for the mission. He said that expertise has all come to use, but that some of the most valuable lessons come from even further back.

"I think the most useful is the advice you get from your parents and your primary school teachers about being responsible, about being a person who can be trusted," he said. "You can make mistakes, everybody can make mistakes, but the important thing is to be reliable. Maybe that's the most important thing."

He shared his views on the challenges of being an astronaut ("managing your own time and managing your own energy"), what he misses about Earth other than friends and family ("being able to go outside whenever"), and whether he has second-guessed his decision to go.

"You know, I might seem very self-confident, but actually I'm full of doubts all the time because everything we do here is so difficult and dangerous," he said. "But I know that it's worth the effort, so I always decide every day to continue."