This article is part of a series shining a spotlight on the personalities and priorities of Dal's senior leadership team. Revisit previous profiles at the Leadership and Vision website.
In an attempt to steer her academically unfocused son onto a more studious path, Ben Davis's mother got him to complete an aptitude test that assessed his strengths and pointed to potentially suitable career choices.
When the results suggested teaching as the best career choice, the then 16-year-old predictably scoffed at the idea.
But things have a way of changing.
Wind back the clock

Dr. Davis spent most of his childhood and teenage years in the bilingual community of Rosemere, Quebec, a small town 30 km north of Montreal, tantalizingly close to the foothills of the Laurentians. His father was a manager with Gulf Canada and his mother a nurse.
"Our parents let us out the door at 8:00 in the morning and we would come home at dinner time," he recalls. "For a kid who loved sports, it was a great place to grow up."
Dr. Davis attended a bilingual elementary school in Rosemere and an all-boys bilingual high school in Montreal where he was taught by Jesuits. He admits that he was not academically inclined. "High school was all about sports and other interests."
When he graduated from high school in grade 11, Dr. Davis was accepted into the physical education program at Saint Francis Xavier University. On hearing the news, his parents sat him down for a "talk." They suggested that he go to CEGEP to improve his academic performance and widen his range of options. It was a discussion that would change his prospects from being "Mr. D" to Dr. Davis — today, an oral maxillofacial surgeon and dean of the Faculty of Dentistry.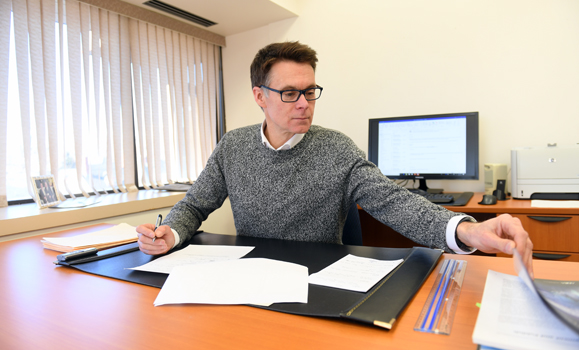 After CEGEP – and better grades – Dr. Davis applied again to St. FX where he studied biology. "I absolutely loved university," he says. "In fact, it's probably the reason I ended up in academia. I can't think of anything more interesting than going to class and learning. I had a great four years there."
From biology to dentistry

The decision to study dentistry was more a reflection of his interest in cycling and bike mechanics than a deep-seated passion or fascination for the profession. "I've always loved working with my hands," says Dr. Davis. "I loved taking apart my bike, which was a racing bike, so there was a wonderful precision in the pieces. It was a joy to take it apart and put it back together again."
So, with a love of science and an enthusiasm for taking things apart, but without a real sense of what the profession entailed, he applied to study dentistry at Western University and was accepted. By the time he got to fourth year, however, he knew day-to-day general dentistry was probably not for him. But a couple of rotations in oral surgery showed him his next path.
"I thought oral surgery was a really interesting combination of medicine, dentistry, surgery, and all the associated skillsets and knowledge — and a bit of bicycle maintenance!"
The transition to specialist — and to Dal

He was accepted into a general practice residency at Toronto Western Hospital, a program that was heavily based on oral surgery, followed by a four-year oral maxillofacial surgery (OMFS) and anaesthesia program at the University of Toronto.
A one-year fellowship brought Dr. Davis to Dal with his Halifax-born wife (whom he met in Toronto) after he completed his training in Toronto in 1997. Under the mentorship of Dr. David Precious, chair of the OMFS department (appointed dean in 2003), Dr. Davis honed his skills in oral surgery and figured out his long-term goals. "Thanks to David, I started teaching and ended up on faculty by 1999.
"Looking back, David said that he could see me as dean one day," says Dr. Davis. "It was one of those comments that you don't really think much of at the time — like my mother telling me I should be a teacher."
Seeking out leadership roles was not part of his academic journey at first. It was something he "grew into," partly through executive roles with the Canadian Association of Oral and Maxillofacial Surgeons and the Royal College of Dentists of Canada. He became chair of the OMFS department in the Faculty of Dentistry. When the former dean, Dr. Tom Boran, retired in the summer of 2017, Dr. Davis stepped into the interim role, becoming the permanent dean in January 2018.
Priorities: diversity, research, outreach

One of Dr. Davis's top priorities is to contribute to the equity, diversity, and inclusiveness of the university.
"Although we have a wonderfully diverse student body, we are continuing to reach out to underrepresented communities through the PLANS and Indigenous Health camps and other programs to improve the application numbers from those communities so that we see greater representation not only at the undergraduate level, but in the professoriate. It starts by getting students into the program and encouraging them to think about academia."
Research is also a key priority, with the Faculty looking to fundraise to renew and upgrade its labs and research facilities. And, as always, maintaining and strengthening outreach initiatives to remove the barriers to care gets top billing.
"We want to make sure that those who can't afford dental care have some routes through which they can receive oral health care, such as through our Immigrant and Refugee Oral Health Clinic, the North End Community Health Centre, our pediatric clinics in North Preston and east Dartmouth, and our initiative with Phoenix Youth."
On balancing being a dean with being a practising surgeon ...
"I think it's important to be an actively involved clinician when you're a health dean. You need to know what your students are going through. I think it makes me a more compassionate and empathetic dean."
On serving on university committees ...
"I've found it's one of the pleasures of my new role to sit on committees with my counterparts from other faculties and benefit from their advice and experience. You're almost mentored by the other deans and the senior leadership team."
On being a leader ...
"I think you have to be fair, transparent, and willing to listen to different opinions, but ultimately you have to lead."
Five questions
When you were a student, what was your favourite course?
I had all kinds of favourite subjects – comparative anatomy, physiology, physics. My best mark was in accounting, but I loved the sciences. They can explain why things work the way they do and the way things happen the way they do.

What's your favourite hobby or pastime?
Bicycling – I've been a keen cyclist since my teens. I cycle six times a week. When the weather is horrible, I'll be indoors on my indoor trainer. A lot of my best thinking is done on the bike and it's certainly the way I de-stress and work through some of the issues I bring home. It's also a good way to watch a couple of hours of Netflix!

If you could bring only one artist's music with you to a desert island, who would it be?

The Rolling Stones. They've got such a diverse portfolio of music and there's so much of it that I love. I can listen to it over and over.

If you were to leave academia and go into any career you wanted, what would you choose
Teaching or being a bike mechanic. Or maybe teaching bike mechanics.