Sven Stammberger's recent recognition as one of the eight most outstanding student athletes in Canada may have seemed a distant dream just a few short years ago.
But the former Tigers basketball star's grit and resilience in the face of misfortune helped turn it into reality.
Sven joined the Dal Tigers in the 2012-13 season as a "red shirt" — a team member who doesn't play competitively. By his second year on the club, he earned the trust of the coaching staff and started coming off the bench.  During that season, however, he broke his right wrist. "It was very tough," he says, "because it was at a point when I was hitting my strides."
The injury made Sven doubt his future as an athlete. Nevertheless, he accepted an invitation to practise with a Division I team in Germany.
"I put in a lot of work that summer," he says.
Sven returned to Canada for the 2014-2015 season as a better and stronger player. That season was the first of Dal's three-year domination of the AUS men's basketball championships. And he hasn't looked back since.
From early years

This year, Sven has been honoured with a U SPORTS Top 8 Academic All-Canadian award, a national recognition for being among the most outstanding student athletes in the country. As the name suggests, only eight athletes each year receive the honour — only two from Atlantic Canada. He's the 14th Dal student-athlete to be named a Top 8 Academic All-Canadian; only two other universities in Canada have had as many as Dal.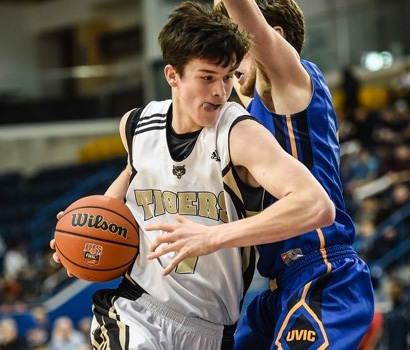 Sven's interest in basketball began from watching his mother, Anna Stammberger. "My mum played professionally in Germany," he says. "My sister, Tessa and I would go to all the games and cheer her team." Anna had to arrive very early for her games, so that gave Sven and Tessa enough time to practice shooting and dribbling the basketball.
Anna encouraged Sven's interest in the sport. "My first basketball team was coached by my mum," he says. "I think she always hoped that we would love basketball as much as she did."
Before his interest in basketball, he was fascinated by trains. "As a child I really loved trains. I wanted to be a train driver," he says. But as he grew older his interest in trains waned and he became more interested in science.
Making an impact

He eventually completed his undergraduate degree in Chemistry while playing for the Tigers. In the 2017-18 season — his final season of eligibility for the team — he was their leading scorer, averaging 18.4 points per game. The 6-foot-6 forward also led the Tigers in rebounding with an average of 8.2 per game.
Now, his time with the Tigers complete, he's focused on completing his final semester in the Corporate Residency MBA program. "I have always been interested in business," he says. "My plan is to finish this MBA and then I hope to play basketball in Germany a for a few years."
He spends the rest of his time as a staff for the women's Tigers basketball team. "It's nice that they asked me to help out," he says. "It helps me stay in touch with the program and teams. I love the connection and I love being involved."