n 2017-18, more than 3,600 U SPORTS student-athletes are being recognized as Academic All-Canadians, having maintained an average of 80 per cent or better over the academic year while competing for one or more of their university's varsity teams. In total, 97 Dalhousie Tigers student-athletes achieved academic all-Canadian status during the 2017-18 season.
Among these outstanding individuals, one female and one male student-athlete from each of the four U SPORTS conferences are selected annually to make up the Top 8. Men's basketball player player Sven Stammberger is one of those student-athletes this year.
Stammberger becomes the 14th Dalhousie student-athlete to be honoured as a Top 8 Academic All-Canadian. Among all Canadian universities, only McGill has had more Top 8 Academic All-Canadians (22) since the honour started in 1993 than Dalhousie. (The University of Alberta, like Dalhousie, has also had 14 commendations.)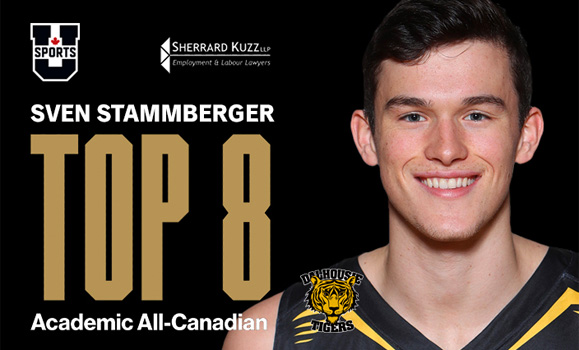 Name: Sven Stammberger
Hometown: Halifax, N.S.
School: Dalhousie University
Faculty: Management
Program: MBA – Corporate Residency
Sport: Basketball
Eligibility in 2017-18: 5th year 
A five-year member of the Dalhousie men's basketball team, Sven Stammberger was the Tigers leading scorer last season, averaging 18.4 points per game. The 6-foot-6 forward also led the Tigers in rebounding with an average of 8.2 per game and added 2.9 assists and 1.6 steals per contest in the 2017-18 season. 
Stammberger was named a U SPORTS Second Team All-Canadian last season, and was an AUS First Team All-Star. He is also a two-time AUS championship tournament all-star and received the R.W. Pugh Fair Play award during the 2016 U SPORTS Men's Basketball Final 8 Championship. 
The 2018 U SPORTS Ken Shields Award winner for Men's Basketball Student-Athlete Community Service, Stammberger is heavily involved in the community, volunteering his time with numerous initiatives both on and off the Dalhousie campus, including the Special Tigers program. Currently in its sixth year, the Special Tigers program connects children and teens with cognitive disabilities with Dalhousie student-athletes through sport. Events include basketball, soccer, mini-stick hockey, badminton and more. 
Stammberger has also volunteered his time with several Student-Athlete Mental Health Initiative (SAMHI) events, as well as with IWK Activity Days events. He has also been a part of the Best Buddies program – which works with individuals with intellectual or developmental disabilities – as well as Tigers basketball camps, working with elementary, junior high and high school students and at Ronald McDonald House. 
"To appreciate Sven's work ethic, dedication and self-motivation, one must understand that he came into Dalhousie as a red shirt," says Tigers basketball head coach Rick Plato. "He overcame a broken hand in his first year that forced him to miss the majority of his first varsity season, but over the next four years he was instrumental in three AUS championship titles, three consecutive trips to the U SPORTS national tournament, including two final four appearances and Dalhousie's first-ever men's basketball medal, a bronze in 2016-17. He left Dalhousie and its basketball program a better place than he found it thanks to his work ethic, commitment, determination and humility."
Previous Dal Top 8 Academic All-Canadians
2016-17    Anna Dunn-Suen, Women's volleyball     
2011-12    Miranda MacMillan, Women's hockey    
2011-12    Nathan Muskoe, Men's track & field
2010-11    Daniel You, Men's volleyball    
2009-10    Alex Legge, Women's basketball    
2007-08    Niklas Rademacher, Men's volleyball
2006-07    Katie Hollinshead, Women's soccer    
2005-06    Jeff Weiler, Men's volleyball    
2004-05    Hilary Burn, Women's CC/T&F
2002-03    Marieke Gardner, Women's soccer    
2001-02    Andrea Faryniuk, Women's track & field    
1999-00    Aaron Barkhouse, Men's soccer
1995-96    Rachelle Beaton, Women's track & field