One month after graduating in May with his Bachelor of Computer Science degree, Andrew Sealy was back on campus — this time as a student in the Corporate Residency MBA program.
He had to hit the ground running. The first few months of the program took him through an intense summer academic term that included the PPE (Personal and Professional Effectiveness) course, which is designed to help students prepare for their corporate residencies by focusing on skills related to leadership development and career management.
Building on past success

Though it meant giving up on any thought of a lazy summer, it was a really valuable few months for Andrew. He feels the help he received through the resume boot camp and mock interview sessions set him up for job search success. And since the residency was one of the main reasons he chose the program, that was important.
"The eight-month work term was quite appealing," he says. "Dalhousie works really hard to network with a lot of potential employers so they have partnerships with a lot of different companies throughout Atlantic Canada but also across Canada. I think it's a really good way to gain some practical work experience while still going through your degree."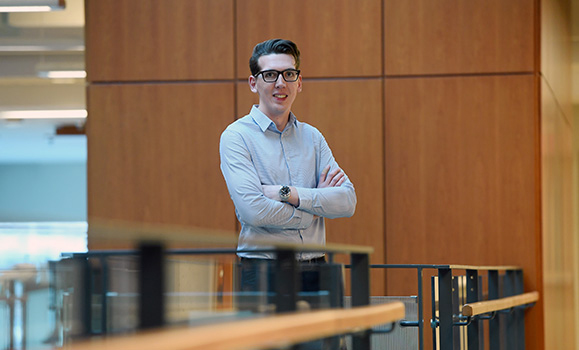 Andrew knows a thing or two about the significance of work experience. During his Computer Science degree, he participated in three co-op terms. Each one gave him more involvement and took him a bit further out of his comfort zone. His last work term, at Deloitte in Toronto, provided him with larger scale projects and put him in more of a client-facing role. It was that experience that inspired him to pursue his MBA.
It also helped sustain him while he participated in a remarkable 15 interviews for his corporate residency in just one week. He admits it was a busy week but says it was also very rewarding. Because he'd been through the process, he knew the key to success is knowing yourself.
"If you really know your unique value proposition and the unique perspective you bring to the table, you'll be able to answer any question that might come your way during an interview," he says. "I think it really comes down to knowing yourself and not trying to pretend to be something you're not. When you do that, you can be really successful in any interview."
Opportunities to choose from

Clearly, his approach paid off — he received five different job offers from employers in Halifax, Toronto, Ottawa, and Vancouver. When he looks back on it, Andrew thinks his background in Computer Science was his main advantage.
"I was actually surprised in the interviews how many companies, that I wouldn't consider a technology company, actually needed a lot of technology expertise," he recalls. "A lot of companies I talked to are trying to position themselves in ways that make them adaptable and flexible to emerging technologies. So, a lot of them are looking for people who know or at least are willing to learn new technologies."
After quite a bit of consideration and consultation with his professors, Andrew decided to accept a job with BMO as a marketing coordinator on their Customer Analytics team in Toronto. He'll start this month.
"I'm looking forward to learning new ways that I can use technologies to gain meaningful insight. I'm going to be working on the customer analytics side, so I'll be working to understand how to determine the best offers for customers based on their past banking behaviours," he explains. "I'm also looking forward to gaining more presentation skills."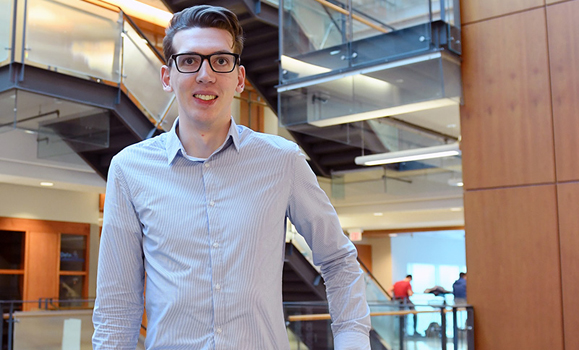 Opening up possibilities

Once his residency is complete, Andrew will return to Halifax for another year of studying before he graduates. When asked what he thinks of the program so far, Andrew says it's been hard work but the relationships he's built with his professors have helped him succeed. And so far, it's worth it.
"Although it has been challenging to learn new subjects in such a short period of time, the program exposes you to both the academic and professional side of business, teaches you how to think on your feet and learn quickly, how to work well in ambiguous environments, and how to open up avenues through the networks you create."