Members of the Dal community and beyond gathered on campus Monday night for a public-engagement session with the scholarly panel examining Lord Dalhousie's History on Slavery and Race.

Dal Professor Afua Cooper, chair of the panel, provided a snapshot of the group's preliminary findings about the historical facts of the relationship between Dal founder George Ramsay (also known as Lord Dalhousie) and issues of race and slavery as well as draft recommendations for discussion and input from the community.

It was the first public presentation of the panel's research material since it was commissioned in 2016 by Dalhousie President Richard Florizone and Dalhousie Senate Chair Kevin Hewitt.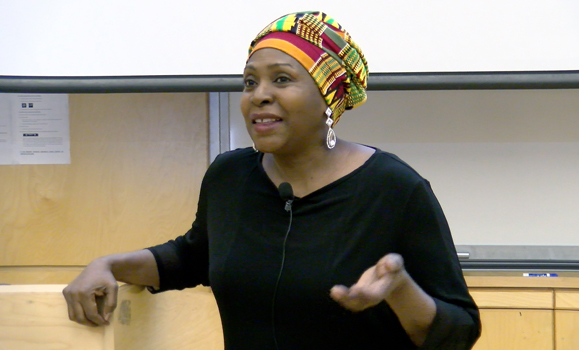 "I know that Dalhousie is really a pioneer in this regard by being the first school in Canada to take up this issue," said Dr. Cooper, seen right, noting that Dal joined the Universities Studying Slavery Consortium that includes 45 U.S. post-secondary institutions including Harvard, Princeton, Yale and Brown universities.

Dr. Cooper's presentation centred around the five main "entanglements" discerned by the scholarly panel during its work, including Lord Dal's participation in the British invasion of the slave colony of Martinique, his relationship with Black Refugees of the War of 1812, the West Indies Trade that tethered the university — and Halifax — to enslaved captive Africans, the awarding of compensation money following emancipation to a Dal Board member by the British government, and an early senior leader at Dal's support for the confederacy in the U.S.
Uncovering history

Rich in historical detail, the panel's work draws from a vast array of primary sources including Lord Dalhousie's correspondence with government administrators back in Britain as well as trade and financial documents that link Nova Scotia's early economic development and the establishment of Dalhousie to revenue from the West Indies trade in enslaved people of African descent.

The panel's findings on Lord Dal's relationship with Black Refugees from the War of 1812, for example, show that he shared a widespread (though not universal) racist belief in the "idleness" and lack of "industriousness" of formerly enslaved Black peoples.

"Slave by habit & education, no longer working under the dread of the lash, their idea of freedom is idleness, and they are therefore quite incapable of industry," Lord Dal, then the newly-minted lieutenant-governor of Nova Scotia, wrote in a December 1816 letter to his boss Lord Bathurst in London.

"Quite startling," said Dr. Cooper, describing the letter. "Here's the man who now has the job and responsibility of settling these Black refugees and this is what he thinks of them. What do you think is going to happen? This is the statement that informed our inquiry."

Monday's event signaled the start of the community consultation phase of the scholarly panel's work, with a full written report integrating feedback expected in 2019.

President Florizone said in opening remarks that while Lord Dalhousie's views on higher education were progressive for his day (a college open to all regardless of class or creed), his comments on race and the African Nova Scotian community were of "great concern."
Comprehending the past

To address this thorny legacy, President Florizone said he and Dr. Hewitt turned to the idea of a scholarly inquiry.

"Where should we go with our mission and values when we are facing a complex history? Well, we should approach it through the lens of our academic mission, through scholarly inquiry and through community engagement. That's the way forward," he said.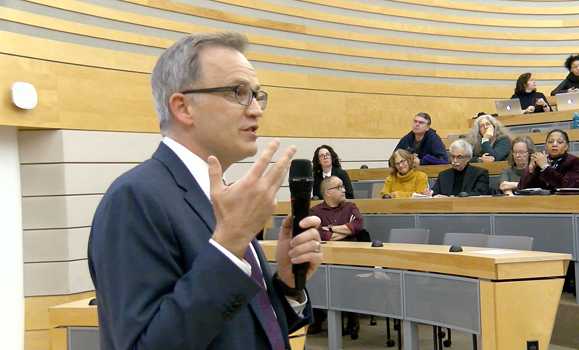 President Florizone, pictured left, encouraged the panel and community to model how "we can have a good productive conversation" and "talk about our history and reconcile to it and define a new and positive path forward for our institution."

Dr. Hewitt commended the president for being able to "step out of his privilege" to consider perspectives other than his own.

He said in order to understand how the legacy of slavery is expressed today, we must fully comprehend that past, fully comprehend the systems of power, oppression and the agency of white supremacy that slavery was premised on.

"Today we have the opportunity to begin . . . the difficult but important conversations that will tell us about the kind of institution we are and what reconciliation looks like and what world we want to live in," said Dr. Hewitt.

Dr. Hewitt said Dr. Cooper's unquestioned academic skills, unyielding commitment to unearthing silent voices, and reputation as one of the preeminent historians of Black slavery in Canada made her a natural choice for panel chair.
A community collaboration

Following her presentation of the panel's preliminary findings, Dr. Cooper discussed how legacies of slavery, racism and injustice continue to oppress Nova Scotia's Black community and the Atlantic world.

The panel currently has a number of draft recommendations Dal should consider in aid of reconciliation, including an apology from the university, an acknowledgment of the contributions of Black refugees to the British Empire, funding for Black students and the recruitment of Black faculty, establishing collaborative links with post-secondary institutions in the Caribbean and helping facilitate Black Studies within the public school system in Nova Scotia.

"Remember these are draft recommendations. We are going to have to take our findings to various communities and hear back from people as to what they want and what they are interested in," said Dr. Cooper.

Panelists Françoise Baylis (Dal professor), Camille Cameron (Dal's dean in Faculty of Law), David States (independent historian), Shirley Tillotson (Dal professor emerita), and Norma Williams (Dal's executive director of diversity and inclusiveness) as well as contributor Isaac Saney (Dal professor) were in attendance at the event and joined Dr. Cooper, President Florizone and others in responding to audience questions and feedback.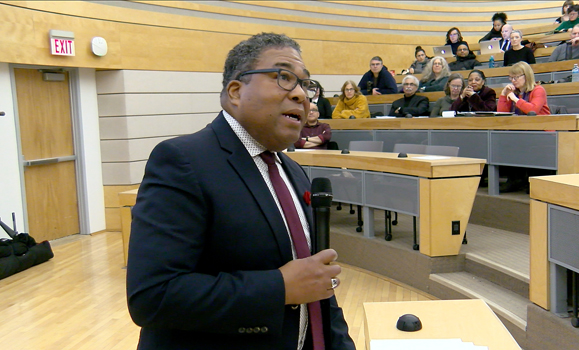 Several community leaders were on hand to hear Dr. Cooper's presentation, including Mayann Francis, former lieutenant governor of Nova Scotia, and Nova Scotia MLA Tony Ince (pictured right), minister of African Nova Scotian Affairs and the Public Service Commission.

"This is a keystone moment. It's integral because we are starting to see a shift in society, all through society, that makes me optimistic and hopeful for our future," said Minister Ince. "Yes, there's a lot more work to do. Yes, we've got a long way to go. Yes, there are still going to be, and will always be, some of those challenges that we will altogether have to face and deal with, but it has to be done. Those uncomfortable conversations have to be had."