Computer Science student Alicia Wong came to Dal to challenge herself. By choosing a university clear across the country from her Vancouver home, she'd have a chance to test her independence. And studying Computer Science was a new direction for her as well.
"Through high school there weren't a lot of tech programs," she says. "I did like math a lot. And I was told that the logic that I used in math would be applied in computer science and that's what really interested me. I love the problem-solving aspect of math and when they told me I could do it for computers, that sounded really interesting.
"But I hadn't written a line of code — I came into this program with no experience whatsoever. I was just extremely interested in it."
Familiar but different

It wasn't the first time Alicia crossed the country from Vancouver to Halifax. In grade 11, she came to campus for SHAD camp, a one-month program for high school students focused on science, technology, engineering, arts and math.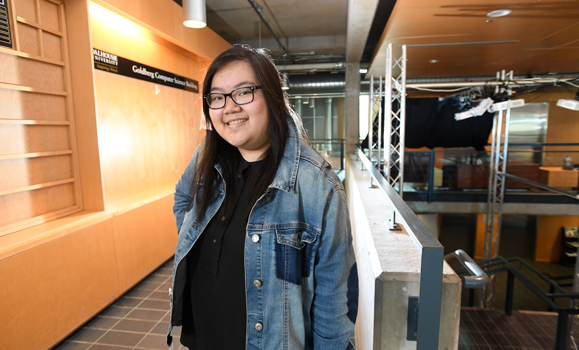 "Because of SHAD, my mom told me to apply to Dal because I'd been to the campus and they felt better about me going to a place I'd been before. The fact that I somewhat knew the city and how things work here, was good," she admits.
Though it was somewhat familiar, Halifax was far away from her friends and family and the comfort zone she enjoyed at home. Alicia quickly realized she'd need to create new relationships to ensure her success.
"I was ready to think that I could do it all by myself and it was the complete opposite," she recalls. "I've learned you need to make that connection with people and create that network. And that's what [Women in Technology Society] WiTS is trying to foster. To have peers and a group of upper years who are readily available to provide that support is extremely important."
Leading the way for others

Alicia is now President of the Dal WiTS, which is committed to increasing diversity and student engagement in technological fields — and to ensuring female-identifying students have the support they need to accomplish their goals.
"We foster that sense of community with the newer because we felt fortunate to have found each other and to make those connections. We felt lucky to find each other and we wanted to make sure it was more than just luck for the incoming class," she explains. "So WiTS is really focused this year on creating those connections between the upper years and the first years but as well, the first years among themselves. We really want them to come hang out together."
WiTS is also eager to expose students to the breadth of technology careers. Alicia says it can be difficult to find your passion in first year; you're often just trying to get immersed in a new subject. But she believes highlighting the many possibilities is key to keeping students interested.
"We find that a lot of students come in not knowing what they really want to do in tech. So they come in just like me with an interest but not with a sense of what they want to do with it," she says. "We want to show them that whatever path they want to take in tech, there is a place for them. If you want to be an artist, you can use your CS degree for that. Or if you want to go into finance, you can do that with your tech degree. You can take your degree and find a job that suits you."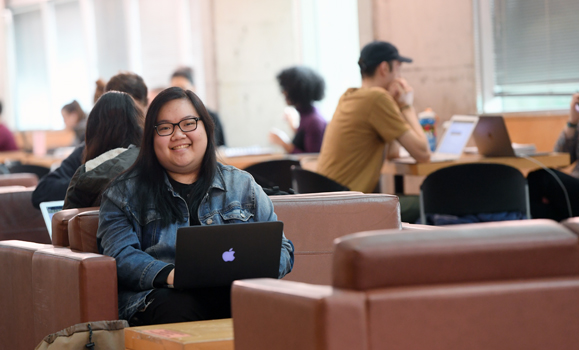 Expanding her experience

Alicia is a great example of finding a path unique to her interests. Before she chose to major in Computer Science she was considering Management, so she's added a minor to her degree to ensure she learns those skills. One day she'd like to be a manager in the technology industry.
"The minor was because I was really on the fence with what I wanted to do when I applied," she admits. "I realized that I was more interested in the development side but I still have that interest in management. I think it's extremely valuable to have the people skills with the tech skills — not being stuck in the tech bubble where you think people understand you but they don't really. I really want to help bridge that gap and be that person who can make sure everything is well communicated."
Her goals have been invigorated by her experience in the co-op option. Alicia says her co-op terms are really adding depth to what she's learning. And it gives her an opportunity to discover and explore the work that's a good fit for her.
"Co-op is one of the highlights of my degree so far. It solidified that this is the environment I want to work in and this is the type of work I want to do. Everyone should do it because of how relatable it is and how valuable it is to break into the tech industry."