On Oct. 11, more than 100 researchers from Dalhousie University and the National Research Council of Canada (NRC) — the Government of Canada's largest research organization — gathered on campus to highlight research links between the organizations and discuss opportunities for expanding collaboration in the future.
This was the first time in recent memory that the NRC, which works to advance knowledge and technology development, support business innovation and fulfill government mandates, has partnered with a Canadian university to host a research symposium.
The half-day event included panels on food, algae and health, and featured a mix of NRC and Dalhousie researchers. These researchers had the opportunity to discuss their work (which ranged from advancing potato farming to responding to harmful algae blooms to the treatment of breast cancer), provide examples of where they had collaborated in the past and discuss opportunities for expanded relationships in the future. They also shared how using NRC facilities can take Dalhousie research projects further and allow researchers to explore areas they otherwise wouldn't.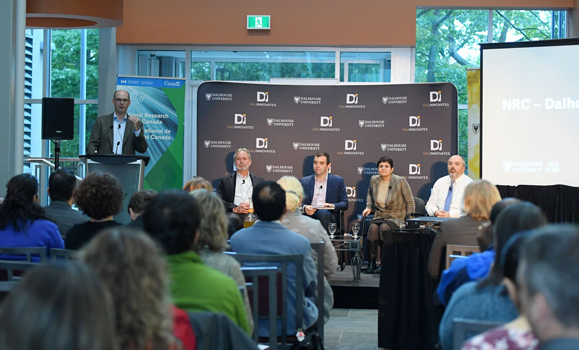 "There are always gaps," said Paola Marcato, associate professor in Dalhousie's Faculty of Medicine. "You can't do everything in your own lab, so you need to be able to access resources."
The event concluded with a panel discussion that was moderated by Graham Gagnon, associate vice-president research at Dalhousie, and included Alice Aiken, vice-president research and innovation at Dalhousie, and Denise Leblanc, NRC's director general for Canada's Aquatic and Crop Resource Development Research Centre. While sharing their takeaways for the day, Leblanc suggested that while the NRC had been previously focused on industrially focused research, the organization is re-focusing on collaborative research with academia an important driver. Leblanc also said the NRC will continue to work to improve access for Dalhousie researchers.

Denise Leblanc (left) and Alice Aiken.
When asked whether Dalhousie and the NRC would co-host more research symposiums in the future, both Leblanc and Dr. AIken answered with a resounding yes.
"Our president, Richard Florizone, often says that 'nobody does anything alone,'" said Dr. Aiken. "The key to success with anything is collaboration. It's through collaboration that we make our work known. This is just the beginning."