Although they hail from vastly different parts of Canada, incoming Dal students Kayla Thomson of Kentville, N.S. and Anna Minarik of Edmonton share a lot in common.

They both grew up as eldest children, they excelled in science and related subjects in high school, and, now, they are both recipients of the Schulich Leader scholarship — one of the top awards of its kind in the country.

Only two Dal students are chosen to receive the award each year as part of the Canadian Schulich program, with $100,000 going to one incoming engineering student and $80,000 to one student entering a science, technology, or math program.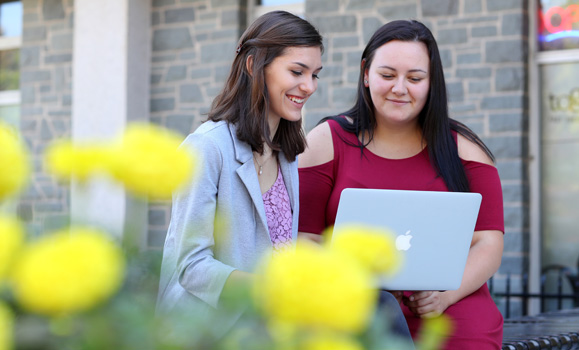 Launched in 2012, the Schulich program funds a total of 50 undergraduate scholarships for the most promising incoming science, technology, engineering and math students at top universities across the country annually.
Keeping busy, getting involved


Kayla, the recipient of this year's engineering award, doesn't hesitate when describing her first few weeks on campus.

"It's been really busy," she says, "but it's also really fun. I love the campus."

Not that Kayla is a stranger to being busy. As the eldest of four children with a single mom, she pitched in a lot around the house growing up and worked 30 hours a week throughout high school — all while maintaining top grades.

Kayla first got a feel for Dal in the summer of 2017 when she attended a math camp on campus. Liking what she found, she looked into potential programs and discovered that Dal is the only university in Nova Scotia with a full four-year engineering program.

When it came time to start preparing her Schulich Leader application, though, she couldn't decide whether to apply for the engineering or science award.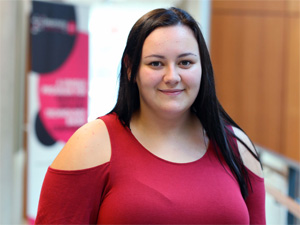 Having discovered a natural aptitude for math, physics and chemistry in high school, she could apply those skills in either area. It was a presentation on wind farms and renewable energy she saw in senior year that helped tip the scales toward engineering.

"I got really interested in that and the things you can do with better sources of energy that are better for the environment," she says.

Kayla got word from Dal that she was chosen for the Schulich engineering award during March Break this year. She also found out she'd be receiving $20,000 from Dal to put toward her studies.

"It feels like a lot of hard work paid off," says Kayla, the first in her family to attend university.

As important as the financial support is for Kayla, she says she is also excited about the other benefits the Schulich Leader program provides such as connections to an alumni network across the country and the opportunity to volunteer with the foundation in the future.

And now that she is at Dal, she is also getting to know her engineering classmates.

"It's so diverse. There are people from all around the world and it's very friendly and family oriented," she says. "We all communicate and offer to help each other out. It's nice to know that everyone in the program is so supportive."
Hands-on experience

Anna got her first job in a university lab while still in high school.

Science had always been her strongest and favourite subject and she'd planted a seed with her biathalon coach (who also happened to a prof at the University of Alberta) that she'd love to work in a lab someday.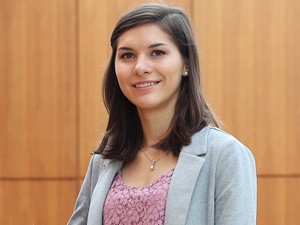 When some extra grant money came his way, he offered her a position in his neuroscience lab during the summer of Grade 11 taking notes for a variety of experiments.

"I was very lucky to have that experience," says Anna, who plans to study psychology and neuroscience at Dal. "I think it's just fascinating how the brain works."

While excellent grades and direct experience in a lab no doubt helped Anna land the Schulich scholarship, she also proved she has a lot to offer outside the classroom as well.

She ties her own motivation to volunteer with Girl Guides back to her own experience with the group as a young girl around the time her father — an avid mountain climber — passed away during an expedition in the Himalayas.

"Having that support from women who were older and in leadership positions and looking up to them really helped me through that time. I wanted to be that for another girl," she says.

Anna also spent time coaching cross-country skiing, a love she'd developed during her younger years living Canmore in the middle of the mountains before her family moved to Edmonton.

She plans to stay active and feed her love of the outdoors here at Dal, too, joining the Dal Outdoors Society. She's also keen to share her own excitement about science and help build enthusiasm for it among youth as part of the Let's Talk Science program.
Anna's decision to come to Dal wasn't simple. She was also offered a Schulich award much closer to home at the University of Alberta, an arrangement that would have allowed her to save more money and be closer to home. But it was actually her mom, who'd visited Halifax years before with her younger brother, who encouraged her to take the plunge and cross the country to Dal.  

She is glad she did.

"Dalhousie is one of those universities that is just the perfect size," she says. "It has what you need and there are opportunities, but it's not huge and the professors really take care of you."