Grade-school science teachers have a lot on their plate — which makes keeping up with the science itself a challenge at times.
There's where the Atlantic Science Links Association (ASLA) comes in. A volunteer-based charitable organization, ASLA aims to bridge the gap between the scientific community, schools and the public. It counts among its board several Dal faculty, including President Arunika Gunawardena and Executive Director Rajesh Rajaselvam, both faculty members in the Department of Biology.
In late August, just prior to the start of the fall term, ASLA hosted its second-annual conference for science teachers, bringing 30 junior high teachers from across the province to campus. For a full day teachers were introduced to a variety of activities designed to introduce them to new and different ways to illustrate different scientific concepts. Best of all, the entire day of learning was provided free of charge.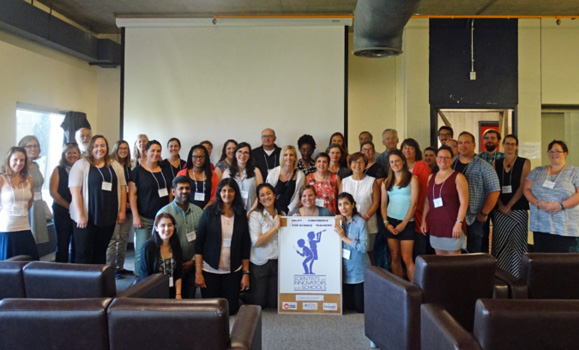 Science teachers, volunteers and members of the Board of ASLA gathered in Dal's Biology lounge.
"It's giving them hands-on experiences that can then be taught to students at schools," said Professor Rajaselvam. "And not only that, it gives them an introduction to the professors here, an opportunity to learn about what's happening at Dalhousie."
Those bonds and connections represent central goals of the workshop, as Acting Dean of Science Sandra Walde made clear in her opening remarks to the day.
"What I hope is that not only will you enjoy what you're learning, and hopefully get some new ideas and approaches, but I hope we can open a dialogue — that we can work together," she said.
The day's first activity split the group into workshops led by Dr. Gunawardena and Elizabeth Welsh (also of the Department of Biology). In Dr. Gunawardena's workshop, teachers created slides of leaves to view under a microscope, after which they did a colourful DNA extraction from a variety of fruits and vegetables, such as bananas and broccoli.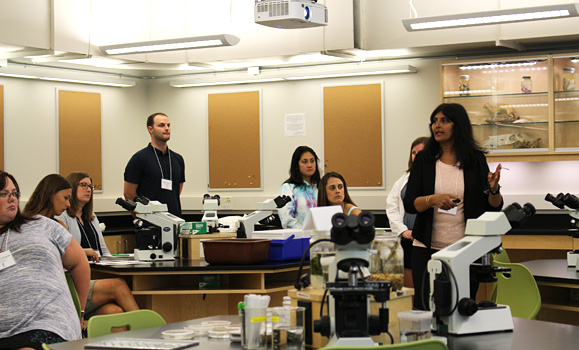 The cell biology lab, led by Arunika Gunawardena and lab students, Department of Biology, encouraged teachers to make their own slides! It also involved lots of teamwork to perform a colorful DNA extraction from fruits and veggies.
"We're showing them that death is also an important part of development in plants," explained master's student Georgia Denbigh (Gunawardena lab), who helped lead the activity.
"They're learning some techniques about cellular biology and some of the common techniques we use in our lab to observe living and dying cells, and then we're also learning about the structure of DNA and using that to extract DNA," added fellow student Cailyn Zamora, who's a fourth-year honours undergrad (Gunawardena lab). "It's a fun activity and it's very cost-effective."
Meanwhile, in Professor Welsh's lab, the teachers looked at the shapes of mollusk shells and the evolutionary processes driving their formation.
Other activities through the day included an information session on science fairs (with SMU's Dean of Graduate Studies Adam Sarty), a look at the Dal-National Film Board Ocean School project (with Biology's Boris Worm and Lucija Prelovec), a tour of Dal's greenhouse (guided by Professor Rajaselvam) and a hands-on test in identifying minerals (with Earth Sciences Professor Richard Cox). Biology Chair Paul Bentzen delivered the concluding remarks at the end of the conference.
The feedback from the teachers — each of whom left with copies of the day's teaching resources — was overwhelmingly positive, with many of them saying it offered helpful ideas and an inspiring start to the school year.
"We really hope you will excite and engage your students with what you're learning here today," said Dr. Gunawardena.
ALSA's event was made possible with financial support from NSERC, the Dalhousie Faculty of Science and Engineers Nova Scotia, with considerable time, energy and space donated by the Biology and Earth Science departments.