There's a lot of "active" enthusiasm behind Dal's Bicentennial Commons project.
The proposed redevelopment of the west end of University Avenue, transforming it into an engaging new public space in honour of the university's 200th anniversary, is one of three Dalhousie projects set to receive funding from the Province of Nova Scotia through the active transportation initiative "Connect2."  
MLA Rafah DiCostanzo (Clayton Park West) made the announcement at Dalhousie on Thursday (August 30) on behalf of Energy and Mines Minister Derek Mombourquette. The event took place near the site of the future Bicentenntial Commons — still in the design and planning stage — and recognized 12 new projects based in the Halifax Regional Municipality that will receive funding.
A program of the Nova Scotia Department of Energy, Connect2 will invest more than $600,000 to support 21 projects across the province this year.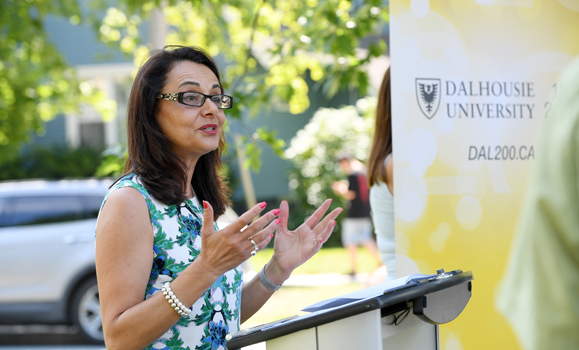 "Connect2 is based on a vision that all trips under two kilometres, to key community destinations in rural and urban communities in Nova Scotia, could be made using sustainability transportation," said DiCostanzo at the event. "Having multiple modes of transportation helps turn communities into places where people want to come and live, work and play."
Three Dal transportation projects funded

In addition to the Bicentennial Commons, the other Dal projects to receive funding are:
$30,000 for DalTRAC, the Dalhousie Transportation Collaboratory, to fund a scenario plan workshop based on a traffic simulation study. It will examine the impacts of planning considerations for new mobility options in the region, such as autonomous vehicles.
$6,800 to the Office of Sustainability to create a campaign to inform people about safe commuting practices, helping ensure harmonious and smooth integration of various modes of transportation.
Ivan Joseph, Dal's new vice-provost of student affairs, spoke on behalf of the university at Tuesday's announcement, calling the it "the next step in Dalhousie's long and productive partnership with the provincial government to strengthen and advance the Atlantic region."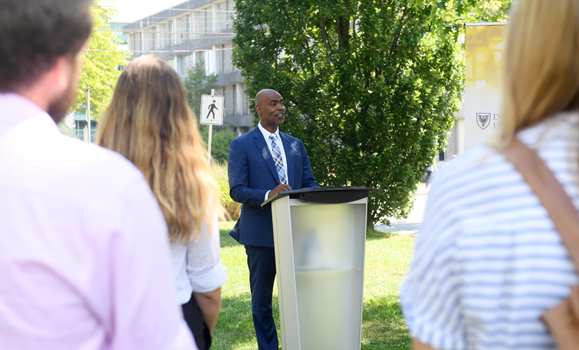 "[These funds] will enable us to remain a leader in sustainable transportation and innovation," he said. "They also give us an opportunity to deepen our role as a connector in the community of Halifax and that role gives us great pride as an institution."
It's a sentiment echoed by Lorelai Nicoll, councilor for District 4 (Cole Harbour – Westphal), who also spoke at the event.
"Successful cities are built through strong partnerships, like the one we enjoy with Dal and the province and all orders of government," she said, noting a desire across all municipalities in Nova Scotia to be more active.
"Transportation networks are a great way to do that — to become healthier, more inclusive and better connected," she said.
A Commons for all

As for the Bicentennial Commons, the project is still in the planning phases, with the university currently undertaking broad stakeholder engagement for the project to determine potential design features and visioning. The plan is for the Connect2 funding to help make the Commons a hub for active transportation users connecting to existing cycling infrastructure.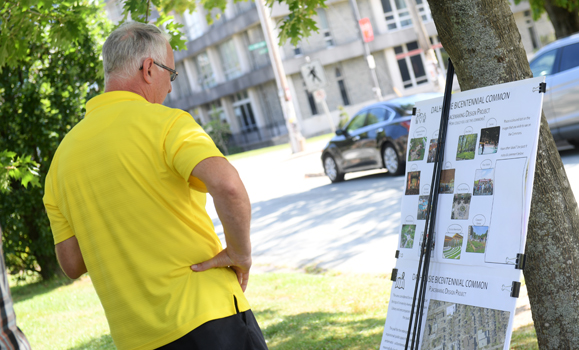 Read also: Bicentennial Commons aims to redesign the heart of Studley Campus
"The Bicentennial Common will enrich the experience of the Dalhousie community and the general public by providing a functional, pedestrian-oriented, open public space that encourages physical activity and active transportation," said Dr. Joseph. "When it is complete, [it] will be a marvelous natural hub, connecting active modes of transportation with an active space."
Learn more about the other Connect2 funded projects from the Government of Nova Scotia's media release.