Imagine a medicine garden in the centre of Studley Campus. Or a yurt, interactive sculpture, or whatever else your mind can dream up.

The sky is the limit when it comes to planning for Dalhousie's newest common outdoor space: the Bicentennial Commons. The proposed space will be an extension of the current Studley Quad, at the end of University Avenue where the Killam Loop is currently.

"This is true community engagement — we want everyone's ideas and opinions, from students to staff, faculty, external partners and neighbours," says Nathan Rogers, assistant director of planning with Facilities Management.  "Nothing is set in stone. Everything is on the table. At this point we want people to dream big."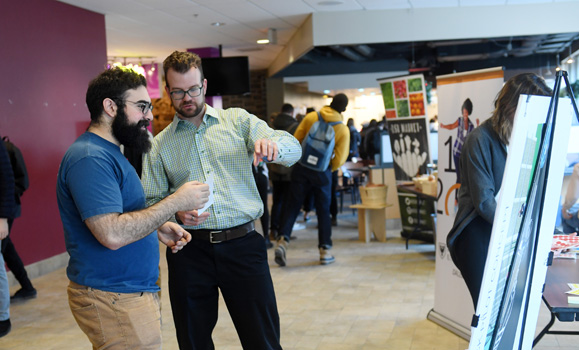 Rogers has been seen recently around campus clutching a huge posterboard under one arm, with a bundle of stickie notes and markers in the other. Since last spring, he and his co-op students from Architecture and Planning have been "popping up" all over campus to solicit ideas.

The Commons concept originated in Dalhousie's Campus Master Plan created in 2010. With this being Dal's 200th anniversary, Rogers says it's the perfect time to kick off the project.

"We have an opportunity here to make this a vibrant and diverse public space. This is an opportunity to design this area so it reflects Dalhousie's values heading into a third century, and supports the university's desire to be an institution committed to inclusivity and diversity. This can represent our past, present and future."

Unique learning opportunity

The two co-op students from the Faculty of Architecture and Planning have been involved in the engagement process since it started. Siobhan Evans was the spring intern, and managed the very first pop-up session on her own, at the Strawberry Social on the Studley Quad back in June.

"I was nervous at first that no one would come over, but then I was surprised at how interested people were," says Evans, who is in the second year of her Masters in Planning. "As a young planner this was a unique opportunity not just to experience true engagement, but also to know I was in on this project from the very beginning."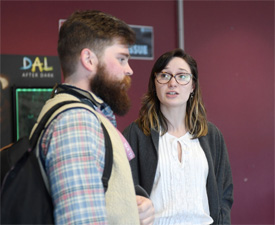 Chelsea Rudolph (left) is in her fourth year of the Community Design program and admits although it is sometimes difficult to get people's attention at first, they are very interested and enthusiastic, and she is grateful to be a part of the initiative.

"We learn in school that public engagement is not done nearly as much as it should be and it's interesting to have this perspective to see just how much time and effort it takes to truly educate people about the project, get them interested and thinking about something they didn't know about," she says.  "I think the most interesting thing is that they know what they don't want to see, the challenge is trying to get them to express what they DO want to see." 

Making the ideas come to life

So how do a pile of dots and sticky notes eventually become reality?
Rogers says nothing will be discounted in the engagement process. Some aspects of diversity that will be considered during the engagement and implementation processes include: symbols, agriculture, infrastructure, accessibility, Indigenous and settler history, as well as ways to represent the 125 countries that are represented at Dalhousie University.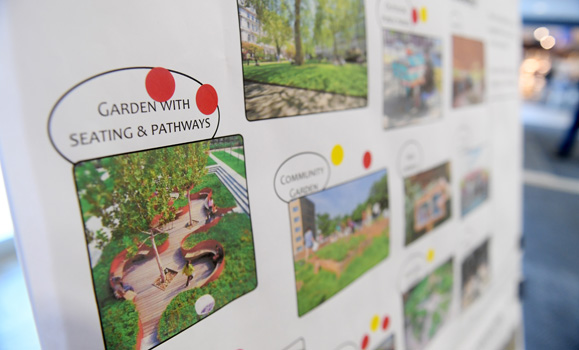 "The goal is to create an inspirational public space that is symbolic and emblematic — a 'Bicentennial Commons' that is meaningful locally and globally, for people of all cultures," says Rogers.  

Three sessions are planned in the next few weeks. The first is this Wednesday, March 14 at 10:30 a.m-noon in the Killam Library Auditorium. The second will be March 20 in Sexton Campus's Alumni Lounge from 10 -11:30 a.m with the third session March 22 from 11:30-1:30 at Howe Hall lobby adjacent the meal hall. Other sessions are being added. There is also an online survey, if you can't make it to any events.

Once the engagement phase is complete, Rogers says all information will be collated, and eventually shared with a landscape designer who will begin putting an official plan together that will come back to the community and then go to the Board of Governors for approval.

There is currently no way to know how much the project might cost to complete, and the overall budget will be dependent on donor funding. Rogers is confident the university will find a way to incorporate the visions now being gathered into an eventual space for everyone that recognizes our 200 years of history.