Summer may be a time for relaxing — but it's also an ideal time to learn something new.
That's what dozens of students each summer have in mind when they sign up for Dalhousie's summer ESL (English as a second language) programs. On Friday, August 10, the College celebrated those students with an end-of-season BBQ, and took a group photo by the Dal 200 sign.
Offered through the College of Continuing Education, the Summer English program provides an immersive environment for students to practise their English skills and apply those skills in an academic setting. The programs, which take place over four weeks, have students spend their mornings in English language classes and their afternoons in one of several different study programs.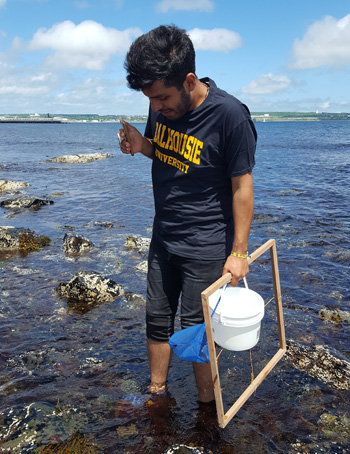 For summer 2018, those programs included Marine Biology, Web Development, Chronic Conditions Management and Nova Scotia Landscapes at both the Halifax and Truro campuses. In the Marine Biology course, for example, the students dissected fish, went whale watching and hiked with the Ecology Action Centre.
"I strongly recommend this program," says Yuxuan Wang, China. "We travelled a lot in Halifax because of this program. We went to waterfront and watched seals on the boat. I think it was a good experience."
Anna Maier, summer program coordinator for Dalhousie ESL, says the Summer English in Canada program has been growing tremendously over the last five years.
"This year, we had three times the number of international students compared to last year, coming to Dalhousie from diverse educational and cultural backgrounds," she says. "These students will be taking their cultural experiences out into the world with them and back to their own universities. This diversity on our campus and within the city of Halifax, enriches all of our experiences, and is a real benefit to our growing Dalhousie community."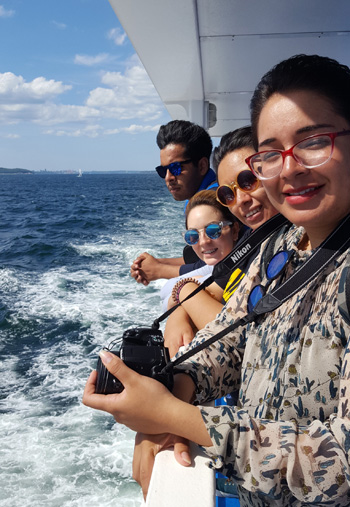 Students live in residence, alongside English-speaking language assistants to help aid in conversation practice as well as providing information and organizing activities. Some of their activities included visits to the Emera Oval, Point Pleasant Park, the Art Gallery of Nova Scotia, Peggy's Cove, Lunenburg and going swing dancing.
Students attended from China, Norway, Chile, Japan and a group of Proyecta 10,000 students from Mexico. This Proyecta 10,000 partner program aims to have 10,000 Mexican students studying English as a second language in Canada by 2018. This co-operation between Mexico and Canada is based on the agreement to make innovation and education a collaborative focus and is funded by the Mexican Agency for International Development Cooperation (AMEXCID).
For more on summer ESL programs, visit the College of Continuing Education website.