Faisal Jarrar made the trek all the way from South India to take part in Dalhousie's Bachelor of Science in Medical Sciences (BSc Med Sci).

"I like Halifax and the Medical Sciences program was really tempting," says Jarrar, who had moved to Halifax from Jordan with his family in 2009 and lived in the city for several years before pursuing an International Baccalaureate in India through United World Colleges.

"I've always been split between the sciences and humanities," he says, noting that graduated with a minor in philosophy and a certificate in genetics in addition to his honours degree in medical sciences. "The program offers a lot of flexibility and allowed me to explore a lot of disciplines. The philosophy minor provided me with ideas and perspectives that shaped my undergraduate experience for the better and will serve me well in my life and career."

His time in the Medical Sciences program also solidified Jarrar's desire to enter medicine. He is one of ten graduates from the new medical sciences program who will be embarking on Dalhousie Medical School's MD program next fall.

A compelling program for students

Three faculties — Medicine, Science and Arts & Social Sciences — launched the Medical Sciences BSc program in 2014. Its goal is to provide students with a solid background in human health-oriented science and humanities that prepares them to pursue a wide range of careers in health care, medical research and beyond.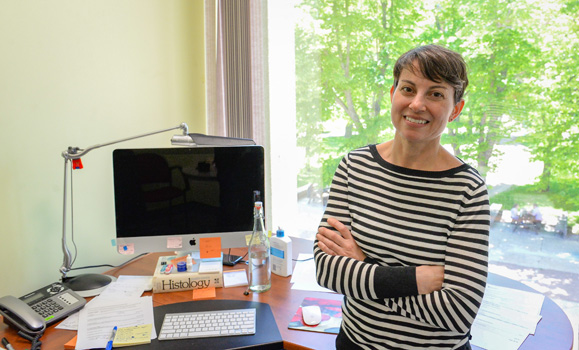 "Other Canadian universities offer similar programs, so we really needed to provide an undergraduate health-career prep degree in Nova Scotia that would appeal to our students," says Dr. Julie Jordan (pictured above), who was involved in setting up the program and is now its coordinator. "It's been incredibly successful… the demand is high and we've increased our seats from 100 to 120, so there are approximately 400 students enrolled in the program at one time."

A whopping 850 to 950 students apply to the program each year. With such stiff competition, students have to demonstrate exceptional academic abilities to be accepted. From this foundation of achievement, the program helps them build the knowledge they need to excel in their future careers.

"Ten of the graduates have been accepted into the MD program at Dalhousie Medical School, while the 45 others are going on to an astounding variety of programs," notes Dr. Jordan. "The other graduates are pursuing further studies in pharmacy, physiotherapy, nursing, respiratory therapy, optometry, diagnostic ultrasound, discovery science, psychiatry research, and even law."

Moving onto big things

With her BSc Med Sci under her belt, Halifax native Athena Milios will embark on a masters in psychiatry research at Dalhousie next year. She'll be working with Dr. Patrick McGrath in the Centre for Family Health Research at the IWK Health Centre, evaluating the effectiveness of online supports for families struggling with mental health issues.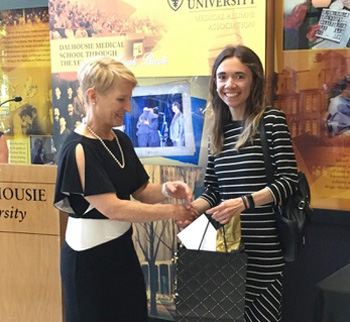 "I've had psychiatry in mind since about grade 10 or 11," says Athena (pictured left, receiving a gift from Sarah Wells, assistant dean) who graduated with high honours from Halifax Citadel High School. "I found out about the Medical Sciences program at a Dalhousie open house and just knew it was the right program for me. I was admitted into the course right there, on the spot."

Milios continued to demonstrate her academic excellence throughout the four years of Medical Sciences, winning the prize for top mark in the Capstone Course, a case-based interdisciplinary course offered in the fourth year of the program in which students investigate all aspects of a medical condition based on the disciplines they've learned in the years prior. Students present this work at a course-end symposium.

"It has been a great experience that really sharpened my research skills," Milios says. "After my masters, I may go into medicine… ultimately, I'd like to be a psychiatrist, with a very strong focus on research."