Commerce grad Vanessa Hamkens walks in wearing a Me Before You Clothing Co. t-shirt. It's one of many she and her former partner created as part of their popular street wear venture.

The business started out quite simply, she says. "I had hand stitched one of the 'Keep Me High Love' shirts the summer before because I just liked doing hands-on things. Then, when we posted it on our Instagram, it kind of blew up — everybody wanted one."

Building confidence

That was exactly the kind of adventure Vanessa was looking for when she came to Dal from Toronto. Though all her friends were planning to stay in Ontario for university, Vanessa wanted to travel.

"I wanted to try something new and meet new people," she says.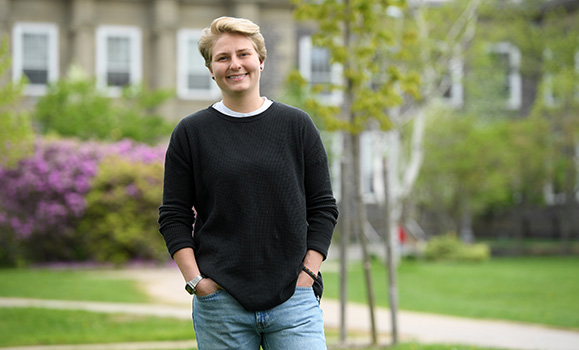 Once she had settled on a destination, she had to choose a program. Vanessa decided to pursue a Commerce Co-op because she felt it would give her skills she could apply to anything. Her major in Marketing Management provided an outlet for her creativity. "I feel like Commerce opens the most doors," she explains, "but I always had more of a creative side to me, so Marketing made the most sense for a major."

She clearly made the right choice. Vanessa enjoyed the variety of courses that ensured it didn't feel like she was learning the same stuff over and over again. She was also thankful to have the chance to push herself beyond her comfort zone.

"We had a mandatory case competition," she recalls, "and I was freaked when I found out about it — I didn't want to do it. In the end, we came in second place and my confidence just skyrocketed."

But there was still something missing. "I felt a little lost the first two years of my degree because a lot of my friends were in Finance and Accounting and none of that interested me."

In good company

She found her place in 2016 when she co-founded the Me Before You Clothing Co.

"That was when I realized I didn't need to be an accountant or an investment banker to leverage a business degree," Vanessa says. "To be able to link the creative aspect of myself to what I learned in school was really cool. I loved my fourth year because everything was so relevant to what I was doing in my real life."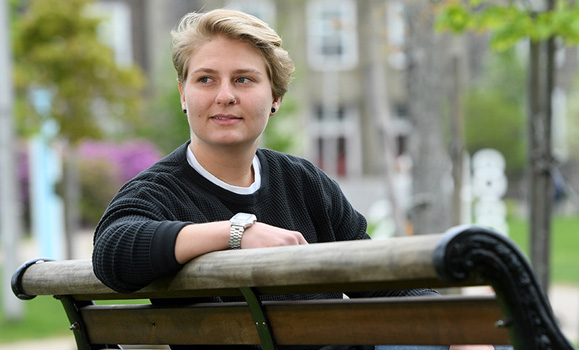 In addition to providing a means for applying her learning and stretching her creative wings, Me Before You Clothing was also an opportunity to help others. At the core of the business was a desire to speak out for mental health — that's where the name of the business came from.

"Some people thought Me Before You was selfish but it isn't," Vanessa explains. "It's okay to put yourself first sometimes and look after your own needs."

As part of that commitment, the company regularly donated a percentage of profits to relevant charities and causes including the Cayley Fox Memorial Award and Egale Canada Human Rights Trust. "Anywhere you're making money you have so much more potential to do stuff in the community," Vanessa explains.

Lots of options

Now that she's graduated, she's taking some time to explore her options. Though Vanessa isn't quite ready to leave Halifax (she's planning to stay for the summer) she thinks she'll either move back to Toronto or go abroad in September. "I've considered moving out to Germany because my family is there and I took all three years of German courses at Dal," she explains.

When asked if she had any advice for incoming students, Vanessa acknowledges that during first year she got caught up in the excitement of university and being somewhere new. Looking back, she'd have taken her studies more seriously.

"In first year, I was just like, 'University is so fun!'," she says. "But I think you need to set goals for yourself every year so you have something to work toward because otherwise you can whip through three years and wonder, 'What did I even do?'

"I'd also just say to get involved. There are so many options and that's definitely a good way to meet people from different areas and different walks of life because in your Faculty, you're all kind of the same creatures."