This article is part of a series highlighting the Dalhousie Class of 2018 — the graduates of Dal's 200th year. Read more of our Spring Convocation grad profiles.
Five years ago, Fred, Elizabeth and Katharine Fountain gave the gift of music to Dalhousie through an historic $10-million gift. And students are at the heart of it all.
The Fountains' gift, the largest ever to the Faculty of Arts and Social Sciences, brought together the departments of Music and Theatre as a single academic unit. It also created a prestigious performing arts undergraduate scholarship to help attract the best and brightest young performers — students like Alexandra Geist, Mimisu Lee, Rachel Taylor, Sidath Rankaduwa and Ursula Calder. Now, these members of the first cohort of Fountain scholars are set to graduate on Saturday, June 2.
While they've had very different experiences and paths during the last four years, there is one thing that unites them: the Fountains' generosity has helped them pursue their dreams.
Pursuing her Art
Alexandra (Ally) Geist – Bachelor of Arts (Theatre studies)


A native of Toronto, Ally Geist was interested in theatre but didn't necessarily see it as a career path.

"Dal's Theatre program was the only one I applied to," she recalls. "If not for this scholarship I likely wouldn't have pursued theatre at all."

But it was the best choice for her. She's found her passion in theatre studies and has had truly invaluable learning experiences over the last four years. A highlight has been working as the dramaturge (as part of her honours project) on Drums and Organs, commissioned for Dal's 200th anniversary and created by playwright Gillian Clark (BA'13).  

"I learned so much from working with Gillian and she has been incredibly helpful in encouraging me to send my plays to theatre companies," says Ally. "After graduation I want to focus on exploring the relationship between poetry and theatre, and just getting my text out into the world."

Overcoming obstacles
Mimisu Lee – Bachelor of Music (French Horn)


Mimisu Lee chose Dalhousie for two very important reasons: it was the only university that would allow her to do a double major in Biology and Music, and she was offered a Fountain Scholarship.

Not unlike many of her fellow Fountain Scholarship recipients, along the way Mimisu embraced music as her true passion and decided it was that in which she would focus her studies.

"Music took precedence because of the ways that it captures people," she says. "Through music I can send people a message, whether direct or indirect. I'm grateful for the scholarship because without it it's possible I wouldn't have made this decision."
 
An accomplished performer who also plays with the Nova Scotia Youth Orchestra, Mimisu has surmounted great odds to get where she is today. As a toddler she was diagnosed with brain cancer, which doctors felt would lead to challenges throughout her life, including memory issues. Surgeons essentially removed part of her brain that controls balance and memory. The fact that she has become a talented musician has defied the odds.

Now Mimisu will continue to pursue her musical talents. In the fall she plans to study at the Glenn Gould School of Music at The Royal Conservatory in Toronto for the Artist Diploma Program. Her hope is to one day play in a professional orchestra.
Connecting through music

Rachel Taylor – Bachelor of Music (Voice)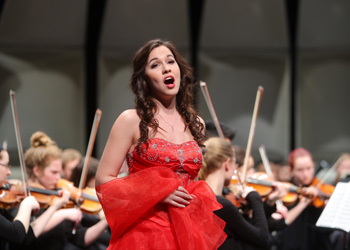 "Choosing a music school is all about the teachers you want to study with," says Rachel Taylor.

For her, that was Marcia Swanston, a professor in the Fountain School of Performing Arts and a mezzo-soprano who is lauded for her vocal beauty and technical ease. The Fountain Scholarship was the tipping point for Rachel to study with Professor Swanston.  

And her experience at Dal was everything she'd hoped it would be. Rachel valued the small class sizes and the intimate environment it created with her peers and professors. "I truly feel as though I grew up with these people. I've made meaningful and lasting relationships; it's amazing how quickly you bond with people when you share the love of music."

She's also incredibly grateful that her Fountain scholarship allowed her what she came to Dal to do: focus on her studies and grow both academically and personally. "When you're studying something so intimate and personal as singing, you really need to understand yourself to interpret the music you're playing. Studying at Dal has enabled me to do that. I've learned more about myself as a person here than I have about music, and that's a good thing"

Following graduation Rachel will continue to work with Professor Swanston before she considers a master's degree. And because of her incredible learning experiences at Dal, Rachel is contemplating one day perhaps being a music teacher herself. "Ideally, I would work with an opera company and perform, but I can also see myself being a music teacher and share what I've learned at Dal with others."
Connecting arts and science

Sidath (Sid) Rankaduwa – Bachelor of Arts (combined majors in Music and Neuroscience)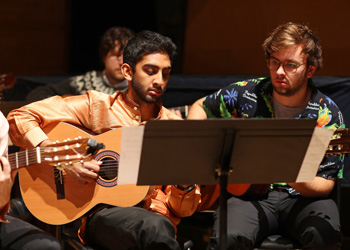 Neuroscience has long been a personal interest of Sid Rankaduwas. And music has been, too, ever since he picked up a guitar in grade eight looking for a new challenge.  

When it came time to consider university, while he was initially going to study Neuroscience, Sid elected to audition for the Music program at Dal to ensure no stone was left unturned. And not only was he accepted into the Department of Music, he was offered the prestigious Fountain Scholarship. "The scholarship sealed the deal for me. I couldn't turn down such a generous offer."

For Sid, the opportunity to study both Music and Neuroscience has been fascinating. "It's really neat to do both things. My passion for neuroscience is deeply rooted in wanting to understand people, and I see music as a medium to engage and entertain people, so there are many synergies.

And after graduation he'll continue to pursue both. His plan is to apply to medical school and chase his dream of becoming a neurosurgeon, but first he'll spend September and October performing with Theatre Baddeck.

Fulfilling a dream

Ursula Calder – Bachelor of Arts (Acting)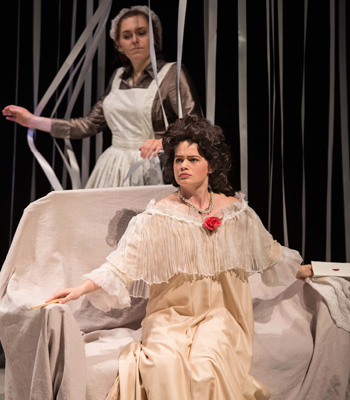 When Ursula Calder found out she was the recipient of a Fountain Scholarship, it was the confidence boost she needed to play out her dream of becoming an actor.

"I wanted to be an actor since I was 15-years old," says Ursula who was born in Hong Kong and raised in London, UK. "I don't know if I could have justified studying acting without the scholarship. It was the best decision I've ever made, and I cannot thank the Fountains enough for making it possible."

Ursula's original plan was to study acting while also majoring in Political Science to "satiate her desire to study acting." But that changed upon starting the acting program in second year, when she realized her desire to study and learn acting was not something she would ever be able to simply "satisfy."  

"I decided to jump in full force and soak up as much as I could from my wonderful professors to make sure that I could do everything possible to make theatre and acting my future career."

And that's exactly what she plans to do after graduation. While she may consider a move to Toronto or back to London at some point, for the time being she's found success in Halifax. She's currently involved in three difference projects with Eastern Front Theatre's Stages Festival (The Bluenose, Slut, and The Mountain and the Valley). As it turns out ,she will have to miss Convocation for a staged reading of The Mountain and the Valley.

"While I'll be sorry to miss my graduation ceremony, I am excited that I will be missing it for an acting gig."