This article is part of a series highlighting the Dalhousie Class of 2018 — the graduates of Dal's 200th year. Read more of our Spring Convocation grad profiles.
After convocation, Dave Ropson and his girlfriend, fellow dentistry graduate Jessica Willis, will head to St. Anthony, Newfoundland. Located on the northern reaches of the Great Northern Peninsula, this town of 2,500 people and its surrounding area are home to moose, whales, puffins, icebergs, and the occasional polar bear – but no long-term resident dentist.
That will change when Dave and Jess arrive in June.

Dave was working as a pharmacy intern in a St. John's pharmacy, that serves a high proportion of methadone users, when he had an "a-ha" moment that changed the direction of his studies and his life.

"I decided that I want to work more directly in the community with people who need a lot of help," he explains.

He found what he wanted in dental school. "In the clinic and outreach programs, we provide basic dental work for people who really need it. You're working with people who need a break, who need a smile, even though it may be tough for them to find a reason to smile. So many of these people have had rough luck, but they are super happy and appreciative for the work we do."
A show of support


Dave's desire to help those who "need a lot of help" took a very personal turn during dental school. Each year of his dentistry studies he lost a good friend – four in all – back home in Newfoundland. For him, it was another sign that people need help and he became a bone marrow donor in March 2017.

"To be a health professional, you have to be willing to do whatever you can," says Dave, "and when you are in your twenties is the best time to donate."
Donating bone marrow in the throes of dental school is not for the faint of heart, although Dave makes it sound pretty straightforward.

In the 10 days leading up to his donation date, he arrived at the VG Hospital at 7:00 a.m. to receive an injection to prompt his bone marrow to generate more cells. The injections also cause bone pain and Dave admits he was feeling "pretty bad" after a couple of days and couldn't stand for long stretches of time because of the pain in his hips. He was on rotation at the IWK Hospital at the time and the staff sent him home one day. "They had some mercy," he laughs.

The cell harvest took place on a Thursday with an IV inserted into each arm. Blood is removed from one arm and the stem cells are filtered out and then the blood goes back into the body through the other arm.

"It's not super comfortable," admits Dave, "mainly because I couldn't move for several hours." But it gave him an opportunity to study for the exam he had to write the next day.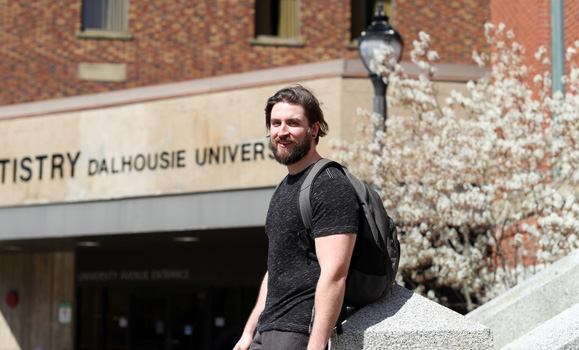 Dave isn't privy to much information about the recipient of his cells apart from that the person is alive and doing well. "It's a good feeling. I like to picture myself saving someone else's friend."

An interest in public health

Getting involved in student government and working to make the Faculty of Dentistry a better place was also important to Dave during his years as a student. He was a member of the restorative justice committee that developed a set of values for the Dalhousie Dentistry Student Society and led to the creation of the mural that is now on display in the student lounge.

He served as lounge manager, as the dental school representative on the Dalhousie Health Sciences Students' Association, and worked with the law school on a program called Sober Support.

Along the way, and in tandem with a public health elective he took in his fourth year, Dave discovered that he liked developing programs and policies and finding new ways of doing things.

For the future, Dave hopes to be able to conduct some research on the Labrador population and work with the government to find ways to fund programs that will upgrade the level of care the mainly Inuit population receives.

Further studies in public health are also high on his list of things to do next. "I'm really interested in trying to create greater equality in levels of care and getting people access to care, regardless of where they are living or what group they are part of."