In honour of Dalhousie University's 200th anniversary, the Belong Forum public lecture series features internationally respected thinkers, trailblazers, and change-makers. The central question of the Belong Forums is this: What would it take to create a world where we all feel like we truly belong?
On Thursday, May 17th—International Day against Homophobia, Transphobia and Biphobia—elite athlete, activist, and humanitarian Mark Tewksbury received an honorary doctor of laws from Dalhousie and addressed a rapt audience at Citadel High School in Halifax.
In 1998, the swimming superstar came out publicly. A self-described "gay jock", he was the first Canadian sports hero to take this revolutionary step, one that helped pave the way for athletes around the world to show their true colours. He has used his power for good, parlaying the influence he earned as a sports hero to become a true humanitarian who touches millions of lives.
In his deeply personal and often funny remarks, Tewksbury turned the Belong Forum question on its head, asking instead, "What kind of world would we all want to belong to?"
The answer, he believes, is one where we all feel comfortable with who we are. "It starts with each one of us knowing who we are and accepting our own humanity, so we can create space for others to feel an authentic sense of belonging."
Stephanie Dennis, a Dal Medicine student and member of the Dal Tigers women's swim team, and Dominik Drozdowski, a Citadel High senior and football player heading to Dal this fall, kicked off the day's events, introducing Dalhousie President Richard Florizone (below right) and Dalhousie Senate Chair Kevin Hewitt (below left) for the conferral of the honorary degree.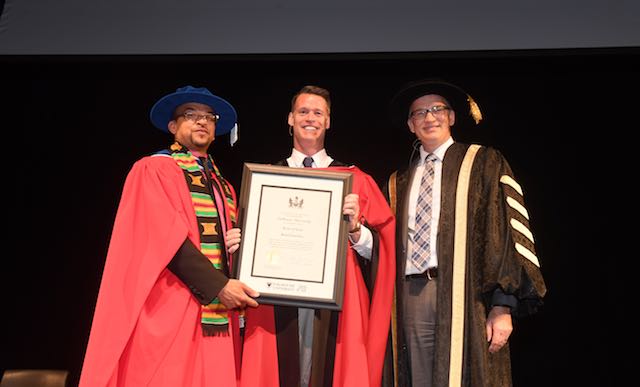 Difference as strength

After receiving his degree, Tewksbury took the stage to tell his story of growing up gay but closeted, describing a combination of being bullied at school but accepted by his teammates as a talented swimmer.
"My jock friends were growing attracted to girls," he explained, "and I was growing attracted to my jock friends."
It was a confusing and lonely time, one that continued as he made his mark as one the best swimmers in the world. "I was living my life from the outside in," Tewksbury told the standing-room only crowd filled with hundreds of Citadel High students and members of the Dal community.
The "schism" between his public persona as a celebrated athlete and his inner turmoil as a closeted gay person became harder and harder to bear until he finally came out to a trusted coach, uttering the words "I'm gay" for the very first time. It was her unconditional acceptance that paved the way for Tewksbury to begin seeing his difference as his strength.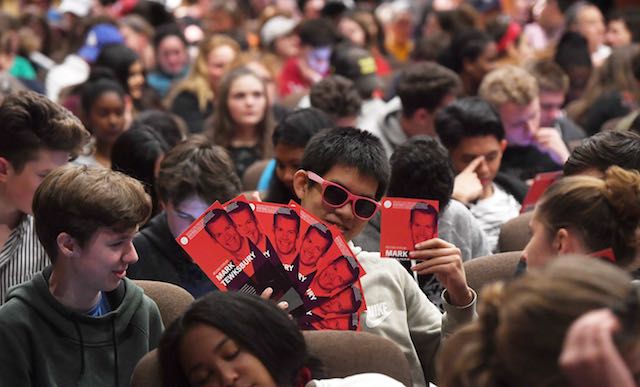 Tewksbury believes that connecting with his own truth had a profound effect on his athletic performance. At the Barcelona Olympics in 1992, he shaved 1.2 seconds off his personal best time to win gold in the 100-metre backstroke. He achieved this improvement in fewer than 10 months of training, a feat that in the past had taken him seven years.
It would be several more years before Tewksbury would come out publicly, but in the end, he explained, "My need to belong was superseded by my longing to just be me." At the height of his fame, he moved to Australia, finishing his degree and making his first gay friends.
On December 15, 1998, Mark Tewksbury took the plunge and came out on the world stage. "I chose to honour myself," he said, "and this time my choice was made from the inside out. I always—and finally—had ME."
Spreading an inclusionary message

Since then, Tewksbury has become an internationally renowned activist, speaker, and humanitarian. He is an outspoken advocate for LGBTQ+ sports and athletes, Special Olympics, and accountability within the Olympic organization.
Following Tewksbury's formal remarks, students and others had the chance to ask questions during a session moderated by news anchor Tom Murphy (below left) of CBC, Dal's 200th media sponsor.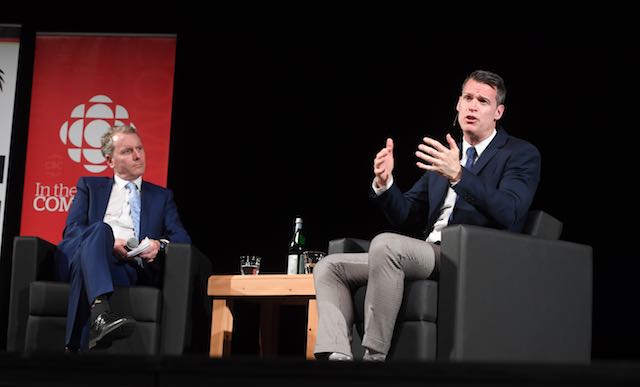 Tewksbury was clearly thrilled to share his message with youth, reminding them that they are not spectators but participants in the world they want to build. 
"You make a difference just by showing up and being a good person," he said. "You get to decide what kind of place you want this to be. Get to know yourself and stand up for what you believe in." 
Tewksbury ended his address by reminding the audience that we do have the power to change the world, to create a broader and broader sense of belonging. "I spent the first 30 years of my life on the wrong side of morality. Now I'm on the right side. But it's not me that's changed."
The lesson? "You can't tell me if I belong or not. It's up to me. I decide."
Asked how it felt to receive an honorary degree and give his talk to high school students, Tewksbury flashed his trademark smile. "Exhilarating! Who would I like most to hear my message? The youth who can actually make that change and create an environment for each other to feel great about themselves. It was perfect!"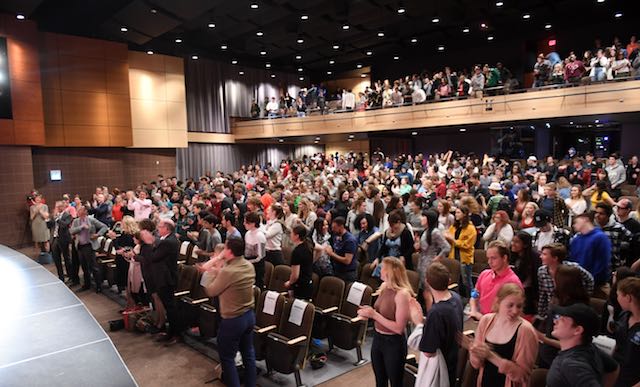 A multiple Olympic medalist, Mark Tewksbury's athletic career highlights include 21 national titles, seven world records, and four Commonwealth Games gold medals. He has been inducted into the Canadian Sports, Canadian Olympic, and International Swimming Halls of Fame. Mr. Tewksbury co-founded the ethical sport movement OATH—Olympic Advocates Together Honorably, served as co-president of the first World Outgames in Montreal in 2006, addressed the United Nations on the decriminalization of homosexuality, and is president and chair of Special Olympics Canada. He is also co-founder of The Great Traits, a training and development company; makes regular TV appearances; speaks internationally; and has authored three books. He has received multiple awards and two previous honorary degrees.
Missed the Belong Forum with Mark Tewksbury? Watch now.