It's early May, the air is warming, and the majority Dal students are into their summer break.

This means, for faculty, spring opens up new opportunities for professional development, such as during a pair of conferences last week on the future of teaching and learning in higher education.

The International Federation of National Teaching Fellows (IFNTF) held its second annual World Summit Thursday through Saturday (May 3-5) at Dalhousie, with a spotlight on nurturing teaching excellence across disciplines.

"The idea is to talk about what teaching excellence means without having a specific discipline in mind because the basic tenets are common to all," said summit organizer Srini Sampalli, a 3M National Teaching Fellow in Computer Science at Dal and Canadian vice-president for IFNTF.

Dr. Sampalli said what makes IFNTF unique is that it brings top award-winning teachers together, including Canadian 3M Teaching Fellows and their counterparts in the United Kingdom, Australia, and New Zealand, to learn across national contexts.

"Imagine having a room full of super-teachers and super-educators all talking about teaching excellence," he said. "That is what brings excitement to this whole conference."

Balancing the common and particular

About 60 delegates gathered for the conference, with 32 paper presentations (including one from Dalhousie's 2017 3M National Student Fellows), five interactive workshops, six plenary talks and a keynote presentation to choose from on topics such as high-impact pedagogies, using technology for teaching excellence, and student engagement.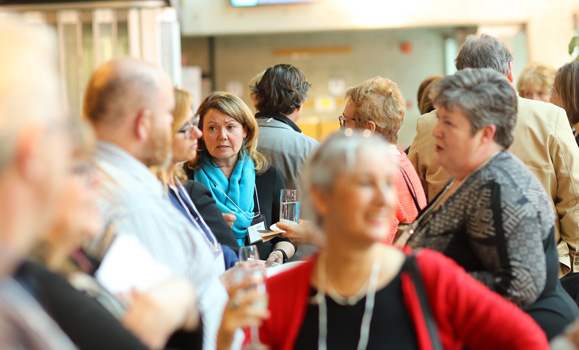 Shannon Murray, a professor of early English literature at the University of PEI and the 3M awards coordinator, delivered a plenary presentation Friday on what educators can learn about teaching across disciplines from Shakespeare's Hamlet.

"Over and over in this play, the characters balance the common and the particular experiences of human life," she said, suggesting parallels from this theme in the classroom.

She said crossing disciplines provides a chance to celebrate the common, "the things that unite us, to see the intersections among us, to see where we connect," but that initiatives around experiential learning or learning outcomes should be done in a way that respects each discpline's unique energy.

"The more I teach Shakespeare, in fact just the more I teach, I'm convinced that this is what we are aiming for in the communal classroom. We're trying to be awake to the common and to the particular in human life, without sacrificing one to the other," she said.

IFNTF co-preseidents Elizabeth Wells, a 3M National Teaching Fellow from Mount Allison University, and Kirsten Hardie, UK National Teaching Fellow from Arts University Bournemouth in the UK, provided an opening address at the summit inauguration.

An inclusive approach

Earlier in the week, Dal's Centre for Learning and Teaching (CLT) hosted its annual spring conference — this year, with a focus on inclusion and excellence in the future of teaching and learning.

The conference kicked off Wednesday with a keynote by Andrew Koch, president and chief operating officer for the non-profit John N. Gardner Institute for Excellence in Undergraduate Education.

He spoke about how gateway courses in the United States have impacted outcomes in high-failure rate courses, contextualizing those findings with a call to action for educators to understand how many current pedagogical and curriculum practices continue to fail historically under-served students across different institutional environments.

Dal's own Kim Brooks, professor in the Schulich School of Law, provided an interactive keynote the following day on what changes can be made to how educators approach teaching and learning to ensure they are meeting the needs of a diverse student body and creating an inclusive environment and curriculum.   

Sessions and workshops during the conference covered everything from teaching social justice and community engagement to business students and integrating LGBTQ+ identities into nursing education to simple support tools to increase accessibility in online learning and managing students' uses of technology for engagement.

"The response to this year's conference was tremendous," said Brad Wuetherick, Dalhousie's executive director of learning and teaching.

Dal has hosted a number of regional, national and international conferences on teaching and learning over the past few years, something Wuetherick said brings a bit of the world to Dal and a bit of Dal to the world.

"These gatherings provide opportunities for our faculty to learn from engaged colleagues from beyond our campus, as well as to provide the world a glimpse of the exciting teaching and learning environments we have right here on our campus," he said.