Dalhousie's 200th anniversary is already well underway, but there's so much more in store for the university's milestone year, including a forum with legendary U.S. civil rights leader Angela Y. Davis. 
Dr. Davis, an academic and author well known for her activism during the countercultural heyday of the 1960s, will visit campus October 16 as part of the university's Belong Forum series. 
Norma Williams, executive director of diversity and inclusiveness at Dal, says the forum will provide an opportunity to learn from an individual with incredible firsthand experience in the fight for equality.
"Growing up in an area of Birmingham often bombed by the Ku Klux Klan, she did not allow the group's hatred to negatively determine her life's path," says Williams. "Instead she looked to the examples within her home and community and used her life and learned skills to combat all forms of oppression and exclusion in the search for a truly democratic society."
More unique perspectives

Several other high-profile speakers have been added to the series as well, including Olympic gold medalist, author and human rights champion Mark Tewksbury (May 17) as well as professor and autism advocate Temple Grandin (Sept. 27). Canadian Senator Murray Sinclair's forum, previously announced, is scheduled for Sept. 5. 
Tewksbury first gained prominence in 1992 when he powered to a gold medal win in the 100-metre backstroke at the Barcelona Summer Games. One of the first openly gay Olympic champions, he has emerged as a powerful voice for social change and currently serves on the board of the Canadian Olympic Committee and as chair of the board of Special Olympics Canada.
Dr. Grandin, a professor of animal science at Colorado State University who was diagnosed with autism as a child, has become a role model for other autistic people around the world and blazed a trail in the livestock industry, advocating for the humane treatment of animals in slaughterhouses. Her forum takes place on Dal's Agricultural Campus in Truro. 
In October, Dr. Davis's forum will serve as the launch for the Viola Desmond Legacy Lecture Series — a four-year series celebrating diversity and inclusiveness. The series takes its name from Viola Desmond, the African Nova Scotian businesswoman who fought systemic racism and, in 2018, was enshrined on Canada's $10 bill.
"We're honoured to have so many inspirational leaders and thinkers joining us this year to share their unique perspectives on diversity and inclusion as part of our 200th," said Catherine Bagnell Styles, assistant vice-president of marketing and communications and lead on Dal 200.
Registration for the Tewksbury forum is open now, with registration for the fall events opening throughout the summer. Those who previously signed up for the forum with Senator Sinclair will need to re-register for the September 5th event this summer.
Here are some other activities coming up this year

The Great Debate (Nov. 5, 7 p.m.)

Next November, Dal 200 brings some of the world's greatest minds in oceans science and space exploration to campus for a fun and engaging debate inspired by the question: "What is the final frontier: space or the ocean?"
Dal alumna Kathryn Sullivan (PhD'78), a geologist and former astronaut with NASA who became the first American woman to walk in space, will be joined by Canadian astrophysicist Christian Marois on the team representing space. 
Mark Abbott, president and director of the Woods Hole Oceanographic Institute, German marine biologist Antje Boetius and Dal's own Boris Worm join forces on the ocean side.
Well-known author, speaker and TV science broadcaster Jay Ingram of Daily Planet fame will serve as emcee for the event, which will be live streamed and open to the public.
"This will be a provocative, fun and inspiring discussion that engages both our academic community and the general public," says Chris Moore, dean of Dal's Faculty of Science and project lead on The Great Debate.

Dalhousie Coast to Coast (Various dates)

Dal brings its 200th celebrations to alumni and friends across Canada later this month when it kicks off the first leg of its Coast to Coast bus tour with stops in Vancouver (April 21), Edmonton (April 23), Calgary (April 25), Saskatoon (April 26) and Winnipeg (April 27).
"Dalhousie wouldn't be the institution it is today without the support of our alumni," says Sheila Blair-Reid (BComm'86), executive director of alumni engagement at Dal. "It's Dalhousie's birthday, but their celebration, so we're excited to be holding these events in their cities."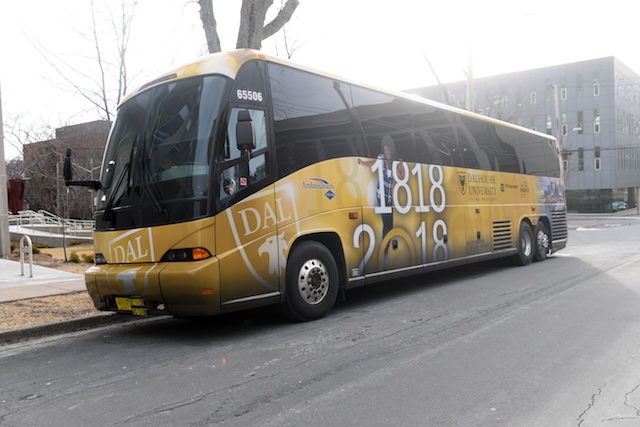 The Dalhousie-branded bus continues its journey east in June with events in Montreal (June 5), Ottawa (June 6) and Toronto (June 7), before rounding out the trip with stops across Atlantic Canada in September in Saint John (Sept. 13), Charlottetown (Sept. 14), St. John's (Sept. 17), and Truro (Sept. 27).  
The tour will pay homage to the impact and influence of alumni, providing festive events steeped in Maritime flavour. 
"These events will be reminiscent of alumni's time at Dal and in Halifax," says Blair-Reid.
The bus arrives back in Halifax in time for the first Homecoming celebration of Dal's third century, featuring Ignite: Dal's Third Century (Sept. 28) — an evening of celebration and imagining our next century together. 
Admission for all 200th events is free, but limited seating is available in certain cases. Visit Dal200.ca/events for more information and to register.