Hundreds of final-year Engineering students have spent the past eight months putting their design skills to the test for local industry and other partners.

This week, they finally had the chance to show off the results to a crowd of more 1,000 people as part of the annual Dalhousie Engineering Capstone Conference.

Industry partners, engineers, students, faculty and others came out to the Westin Nova Scotian hotel downtown on Tuesday, April 10 for a day of team presentations and a poster expo.

Real-world experience

"It's been a really good experience because it prepares you for industry in the sense that you're going to run into things you weren't expecting," said Erin Pugsley, a Mechanical Engineering student whose team designed a new soap-packaging system for a small family owned business in River John, Nova Scotia.

Seafoam Lavender currently spends about $5,000 a year to manually package its line of all-natural handmade lavender soaps and was looking for a more efficient and cost-effective solution.

Pugsley and her teammates, including Micheal Adderson, designed a machine to automate the entire process, one that's considerably smaller than existing technology and fits into the small space the company has allocated for it.

The team had to improvise when they ran into some delays getting finished steel parts for the prototype, using a 3D printer to create the missing parts for a proof of concept on demo day.
 
"We found a way to make it work so that we could show it off to our clients and show that it's a functional design," said Michael, after demonstrating the different steps in the packaging process at his team's conference booth.

The culmination of a learning experience

The conference marks the culmination of the Capstone design project, which challenges students to integrate their engineering know-how into potential real-world solutions for industrial partners.

Civil engineering student Dominic Hudlin's team worked with the Halifax Regional Municipality (HRM) on potential options to help improve safety at the intersection of Chebucto Road, Windsor Street and Cunard Street near the city's downtown.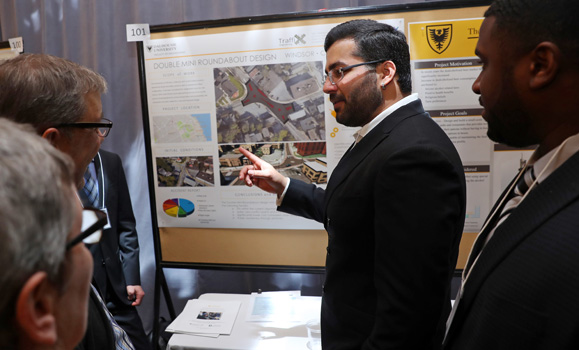 The team was asked to provide three redesign options for the space, currently managed by traffic signals despite having an skewed, elongated physical shape that deviates from a traditional cross. The specific aim: to reduce the number of rear-end collisions that happen in the intersection as a result of cars not getting to the other side in time.

"Really, we're trying to mitigate the number of accidents happening," said Dominic.

First, they toyed with the idea of adding a second intersection but found that would increase delays and potentially cause more accidents. Next, they looked at the option of creating a large roundabout but adjacent businesses and organizations didn't want to give up their property.

"In order to save costs and to reduce the amount of rear-end collisions, we decided to put in a double mini roundabout design," said Dominic, noting that it could fit within the existing curb lines.

Making the connections

Fellow teammate, Ali Bukhari, said reps from HRM actually stopped by their team's booth during the conference to look at the options and he hopes the city will consider their ideas as they look to revamp the space by 2019-2020.

"They were looking at our design and said it looked interesting, but they haven't said this is the design they are going to do," said Ali. "At least they have a bunch of research and multiple options."