Concrete walls in place of lush jungle trees, isolated confinement, rudimentary living conditions lacking enrichment opportunities: two chimpanzees by the names of Tommy and Kiko have been far removed from any semblance of their natural habitat.

Ultimately, the hope is for these cognitively complex primates — humans' closest relatives — to be released to a sanctuary better suited to fostering the innate multifaceted needs of chimpanzees.

And that's where the human courts of law come into play.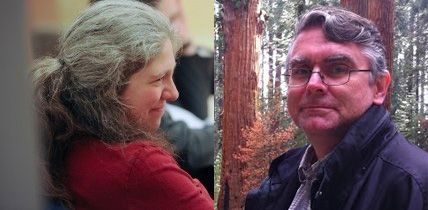 Over the past five years, the Nonhuman Rights Project (NhRP) has steadily championed the legal and ethical rights of Tommy and Kiko through the New York court system, gaining media attention along the way. Now, these chimpanzees have garnered additional support from 17 philosophers across North America, including Dal's own Andrew Fenton and Letitia Meynell, both faculty members in the Department of Philosophy.

An amicus curiae brief — meaning 'friend of the court' in Latin — was prepared collectively by Dr Fenton, Dr. Meynell and colleagues all eager to help the cause after Dr. Fenton's initial discussions with Steven Wise, NhRP's founder and president. This legal document outlines the philosophers' backing of the NhRP's mission and points out the courts' use of various inconsistent conceptions of legal personhood in prior unfavourable ruling decisions.

After months of work and collaboration amongst the 17 philosophers, the brief was submitted to New York's highest court in late February for consideration in the case of Tommy and Kiko. Both primates currently reside in New York State — Tommy in an indoor cage on a used trailer lot in Gloversville and Kiko in a cement storefront attached to a residential home in Niagara Falls.

Moral matters

As a philosopher of biology, Dr. Meynell explains that there is good evidence in the biological behavioural sciences that chimpanzees and humans are very closely related, sharing many characteristics and capacities. Primates are sentient beings who can understand what's happening in their lives and have preferences about how they are treated, much like human persons.

"The idea is that some animals [like chimpanzees] have the same features [as humans] that make them morally matter…they should matter in the same way I matter morally," she says.

Despite this, the law in its current state essentially classifies Tommy and Kiko as things rather than persons who have access to rights, freedoms and protection under the law. Thus far in North America, the recognition of legal personhood has been limited to human persons and corporate entities.

"For a judge to rule that habeas corpus relief [that is, the release of Tommy and Kiko from unlawful confinement] applies…that would imply that they are persons," says Meynell. "That would then be the first case of a non-human animal being given some rights of a person in North America."

Law and policy can be tricky and rarely straightforward.

Dr. Meynell says, "As philosophers, we looked at the rulings that have been made in these chimpanzees' cases, and we recognize that there is problematic reasoning around the concept of personhood…and we all agree that the rulings reflected fundamental conceptual confusion on the part of the justices."

And while there is no one definitive philosophical definition or theory of personhood, says Dr. Fenton, it is important for the justice system to be clear on how they intend to apply this concept and for them to do so in a reliable manner.

Solidarity on the road to justice

Now that the amicus brief has been submitted, the courts will use their discretion as to whether the supplemental arguments presented by the philosophers have relevance to the NhRP's case at hand. Though the appellate judges may consider this information, using it to inform their decision-making, they are also not obligated to review the document or respond to the party submitting the brief.

But that didn't deter the professors from wanting to contribute to what they see as an important process.

"I count myself extremely fortunate to know so many philosophers so deeply committed to seeing Kiko and Tommy treated justly," Dr. Fenton says, reflecting on the experience of working on the brief.

"I have enjoyed the sense of solidarity…[and] I have been moved by our ability to look past our philosophical differences for the sake of these two confined chimpanzees. It has been a thrill to co-create something that might help the Nonhuman Rights Project in their fight for the just treatment of other animals."

Dr. Meynell expresses similar sentiments, sharing that her favourite part of the process has been seeing the selfless commitment of her colleagues for a cause that really matters.

At the end of the day, she says, "You try and do the best you can, and you try and make sure that our laws treat everyone decently."