Joe Seney, a Bachelor of Management student, knew from a young age that he wanted to pursue his dreams of being an entrepreneur.
Joe always had an interest in traveling and a dream of attending a semester at Oxford University. However, with tuition prices at the British university of up to $24,000 a semester, he needed a solid plan. He decided to apply for the Frank H. Sobey Award, which was originally developed in 1989 to support future business leaders and business programs in Atlantic Canadian Universities.   
"Frank H. Sobey's story is that of a classic Canadian entrepreneur whose tenacity, determination and shrewdness overcame every obstacle," explains Joe.
Joe believes it is his entrepreneurial spirit that lead him to being successful in receiving the Frank H. Sobey award for $25,000 to cover tuition costs in his final semester at Oxford.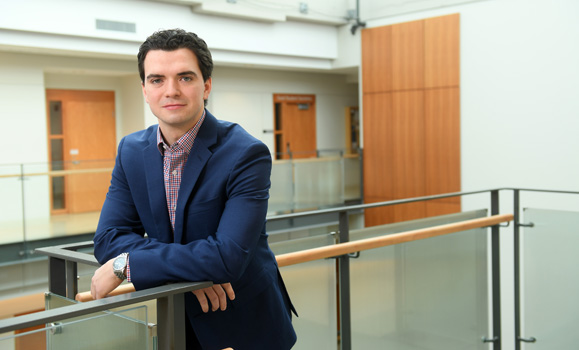 It's Joe's next step in a journey that started to reach outside the borders of his hometown of London, Ont. when he was a teenager. Hockey is a significant part of Joe's life and, at the age of 18, team trades meant he spent a lot of time travelling to other parts of the province such as Kingston, Oakville and Cobourg. It was an experience that gave Joe the confidence to change things up and leave Ontario.
"I heard about Dalhousie and how it has a really great business program," says Joe. "It was different from other business programs I'd heard of. Business programs in Ontario require you to take courses prior to being accepted into the program. At Dal, you go right into the business program — and it's a great opportunity to live in the East Coast," he adds.
Entrepreneurial ventures
Joe has an extensive work history in entrepreneurship that stretches back well before he decided to come to Dal. He started his first venture back in high school — a small lawn and gardening company in his neighborhood called Joe's Lawn and Gardening care.
"When I looked into the Bachelor of Management program at Dal, I noticed that it's very focused on entrepreneurship courses. Since starting this program, I've already taken five courses in entrepreneurship and had the opportunity to major in it."  
This past summer, Joe started working with Aon insurance, the largest insurance brokerage in the world, at their Canadian headquarters in Toronto. He'll continue to work with Aon following his final semester at Dal before he heads to Oxford.
Joe also has work experience with EGB Insurance as the Director of Operations, a startup insurance company based in Waterloo, Ontario that uses cyber insurance to protect health-care facilities. There, he drew connections with his coursework: one of his first tasks was to create a sales manual business plan for a smooth transition when hiring new employees. He'd done something quite similar in a first-year course, and felt well prepared.
"My courses were definitely helpful in preparing me for the real-world experience," says Joe.
Getting involved
Joe also learned a great deal from his out-of-class experiences on campus.
After starting at Dal, he met with Margie Muise, program administrator for Management, to see how he could get involved and meet more people. Margie encouraged Joe to join the Management Society. The Management Society is a group of representatives who host events, set up review sessions and help other students who are struggling with courses.
"Joining this society was one of the best decisions I have made," says Joe. "This is where I met my current three roommates and forever friends.
"There have been so many things I've enjoyed about this program, but I would have to say my favorite thing would have to be the people I meet along the way."
Looking to the future
In the future, Joe plans to develop as an entrepreneur. Recently, along with his brother, father and uncle, he's started a real-estate company in Toronto called Brofore Capital Group and registered the business under a partnership agreement.
But first, Joe will finish up at Dal before spending the final semester of his studies, as planned, at Oxford.
"I am so very thankful for what Frank Sobey has done," he says. "The Sobey Foundation helps students advance their education. It's hard for students to make money for school and explore opportunities so it's amazing that they're doing this."