Tamika Butler of the Los Angeles Neighbourhood Trust visited Halifax last week as one of the keynote speakers for the SHIFT: Streets conference organized by students in the Dalhousie School of Planning.

Inclusive urban planning means creating cities that are safe, accessible and equitable — places that work for everyone.

For this to happen, experts say we need to acknowledge those who have historically been left out of the conversation.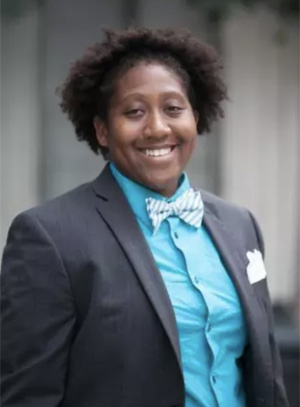 "We have to acknowledge that people experience things differently," said Tamika Butler (left), executive director of the Los Angeles Neighbourhood Trust. "There are people who have been historically neglected and planned against, and we have to start doing things that plan for them."

Butler delivered the annual Carmichael Lecture last Thursday evening at the SHIFT: Streets conference, a three-day gathering with panels and workshops organized by students in Dal's School of Planning. An annual affair, this year's SHIFT conference centred on the theme of making "great streets together."

In order to do this, Butler explained that it is necessary to look to the past and see the way historical inequities in our laws and customs continue to impact the way our communities are planned.

"You will repeat history if you are afraid to have honest conversations," said Butler, whose organization addresses social and racial equity issues by building parks and gardens in park-poor communities across greater L.A.    
Feeling safe in one's community

Butler described her experience as a black woman in America and the fears that she has every day.

"Every time I go to the park, I worry that people will call the cops on me," she told the audience gathered at the Halifax Marriott Harbourfront for her talk.

She also mentioned the story of Eric Garner, who lost his life in 2014 for standing on a sidewalk, because the police suspected him of selling cigarettes. If this were truly a shared street, Butler noted, this tragedy would not have happened.

People who do not have to worry about being unsafe in their own community have a certain level of privilege. Having this privilege means that one has to think outside their identity, and plan for those who have experienced oppression, she said.

While trying to improve communities, it is important to ask the hard questions, such as: are the changes making the area nicer for the people who are already there? Or are they simply trying to push those people out?

"If you want to plan for a community, you have to be able to acknowledge the reality that community faces," said Butler.
Working together

The community also has to be part of the planning itself. It is not simply about having diverse people at the table, but about giving them decision-making power. "We have to get past diversity, and to inclusion," said Butler.

In order to make streets more equitable, according to Butler, we must become allies for the historically disadvantaged. This requires taking risks, acknowledging past-wrongs, and working towards solutions.  

Butler believes it is important to "co-power" community members rather than "empower" them – a distinction that lies in understanding the insights that locals bring to the conversation.

"You have to realize that when you're working in communities, the power is already there," said Butler. "You have to work with them."