A Halifax-based, cross-Canada study proves Aspirin is as effective as rivaroxaban in preventing blood clots after hip and knee replacement surgery.

The findings, recently published in the New England Journal of Medicine, mean cost savings for patients and an international change in the use of oral anticoagulants to prevent blood clots after these surgeries.

"This will have an impact," says study lead Dr. David Anderson, dean of the Faculty of Medicine at Dalhousie and a hematologist with the Nova Scotia Health Authority (NSHA). "Surgeons will be very comfortable with this strategy."

Blood clots are a known risk after hip and knee surgery and can lead to fatal pulmonary embolism, says Dr. Michael Dunbar, the Dalhousie-NSHA orthopedic surgeon who recruited a team of orthopedic investigators across Canada for the study.

"Rates historically have been around one or two per cent," Dr. Dunbar says. "Anti-coagulant agents like rivaroxaban can reduce the risk below one per cent, but these agents are often associated with significant bleeding risks."

Aspirin (acetylsalicylic acid, or ASA) has been an agent of interest for its anti-clotting action and low risk of bleeding—but large randomized trials to confirm its efficacy and safety for this purpose have been lacking, according to Dr. Dunbar.

A national study

Enter EPCAT II… or, Extended Venous Thromboembolism Prophylaxis Comparing Rivaroxaban to Aspirin Following Total Hip and Knee Arthroplasty II.

This four-year, double-blinded, randomized, controlled trial, funded by over $3 million in a Canadian Institutes of Health Research grant, was carried out at 15 university-affiliated health centres across Canada.   

For five days after hip or knee replacement surgery, more than 3,400 patients received a daily dose of rivaroxaban, the most common anti-coagulant in use in Canada and many other countries.

The patients were then randomly assigned to continue rivaroxaban or switch to ASA, in the form of Bayer Aspirin, for nine days after knee surgery and 30 days after hip surgery.

After 90 days, surgeons noticed little difference in the number of blood clots in the legs and lungs—or of bleeding complications at the surgical site, the main side effect of both drugs.

The drugs are "equally safe," says Dr. Anderson, but rivaroxaban costs dollars a day and Aspirin, pennies.  "This really does help the patients and the overall health care system as a more affordable and equally safe and effective means of preventing blood clots."
A team effort

The internationally influential New England Journal of Medicine featured an editorial with Dr. Anderson's article. "The editorial indicated our results likely would define a new standard of care for the prevention of blood clots following these surgeries," says Dr. Anderson.

In fact, people going for joint replacement surgery in Halifax today would be recommended five days on rivaroxaban and then Aspirin to take at home.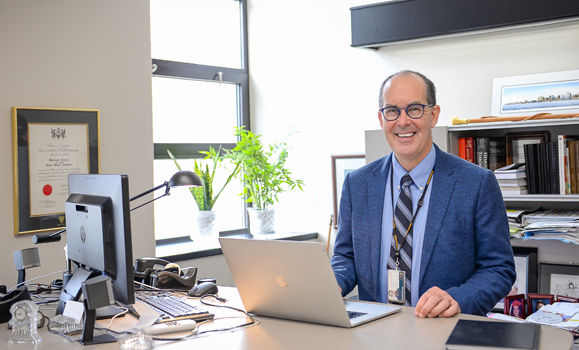 Dr. Anderson (pictured above), still practicing clinically, says the study was only possible thanks to the efforts and cohesion of a large local team, including five orthopedic surgeons at Dalhousie Medical School and the QEII Health Sciences Centre: Dr. Michael Dunbar, Dr. Ross Leighton, Dr. David Amirault, Dr. Glen Richardson and Dr. Gerry Reardon.

Susan Pleasance, associate director of hematology research at NSHA led the team that organized and executed the study, with "a lot of engagement" from NSHA's Research Methods Unit, says Dr. Anderson.
 
"The study was designed and run entirely out of this organization in Halifax," he says. "That's a big deal… it's a multi-million dollar endeavour and it's very complex. Kudos to the team here."

A career in hematology

Born and raised in Halifax, Dr. Anderson graduated from Dalhousie Medical School in 1983, followed by an internal medicine residency at Dalhousie and a research fellowship in thromboembolic disease at McMaster University.  

"They had a very strong research team in blood clots and I got turned onto that particular field," he says.
 
Dr. Anderson brought that expertise back to Halifax in 1992 when he joined the QEII Health Sciences Centre as a staff hematologist and Dalhousie Medical School as assistant professor. Before becoming dean in 2015, he was head and district chief of the shared Dalhousie/Nova Scotia Health Authority Department of Medicine.

"When I started my clinical practice here, if you developed a blood clot you were admitted to hospital, put on an IV infusion of a medication and kept in hospital from seven to 14 days," he recalls. "Now if you were to develop that same blood clot, you would be treated with a pill as an outpatient for your entire course of treatment, which is pretty amazing. Things have come a long way."

The next study

The remaining question for these investigators is what would happen if only Aspirin were administered to prevent blood clots after surgery. As Dr. Anderson notes, "Do you really need five days of rivaroxaban?"

He is planning a new multi-million dollar study with the same national team, pitting Aspirin head-to-head against rivaroxaban right after surgery. "The big issue is funding," he says, but adds that research into such a common, cheap drug is important. "In some situations we do too much when we can get the same benefit with a potentially safer and less expensive medication."