Following feedback and engagement with faculty, staff and students across the Dalhousie community, Dalhousie's Budget Advisory Committee (BAC) has released its draft plan for the 2018-19 operating budget.

In a funding environment in which university operating costs continue to increase at a faster rate than revenue, the draft plan successfully balances the budget at $427.6 million. To achieve this, the plan proposes a 1.5% budget reduction to faculties and service units (after salary adjustments are incorporated) and a 3% increase to tuition fees.

The 3% tuition increase is the same as in recent years, while the 1.5% budget reduction to faculties and service units is the lowest it's been in well over a decade.
Full budget report and more: dal.ca/budget

Provost Carolyn Watters, BAC chair, says the recommendations are informed by input from faculty, staff and students — captured via a survey (which generated nearly 1,600 responses) and in-person budget sessions earlier this year, among other channels — as well as the priorities of the committee's multi-year planning framework.

"While our funding environment continues to be constrained, what we've tried to do as a committee is build more stability and financial sustainability into the operating budget to ensure it continues to  drive Dal's academic mission and strategic priorities," says Dr. Watters.

Members of the Dal community can hear more about the draft budget plan at information sessions in the coming weeks. The BAC will issue a final plan in April, after which the Board of Governors will approve the plan in two phases: tuition and fee recommendations in April, followed by the full budget plan in June.

Achieving balance

The operating budget accounts for most (70%) of the university's financial activity: salaries for faculty/staff, student assistance, utilities, infrastructure maintenance and renewal, library acquisitions, and teaching supplies and materials. (The remaining 30% of financial activity captures research, capital and special-purpose funds that can only be used for the purposes specified by their contributors — in other words, not for day-to-day university operations.)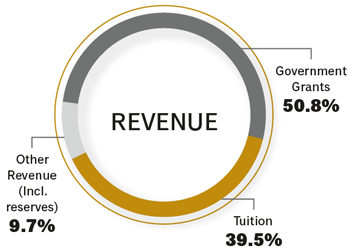 Nearly all of the funds for the operating budget come from just two sources: government funding (51.8%) and tuition fees (39.5%). Government funding is expected to increase by 1% next year, representing an additional $2.1 million.

But Dal's expenses are expected to rise by $16.5 million prior to applying measures to balance the budget. What drives these expenses? More than half of the increase ($8.9 million) is compensation for faculty and staff. Salaries, benefits and pension to faculty and staff increase every year in line with collective agreements, and together constitutes 74% of the operating budget. In many Faculties, compensation makes up more than 90% of the total budget.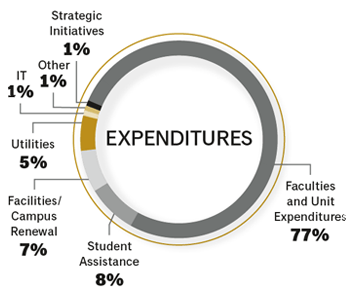 Then there are areas where the Budget Advisory Committee believes Dalhousie needs to make key investments to ensure the continued success of its programs, students and operations. These include:

 A $500,000 increase to student assistance.
A $1 million increase to facilities renewal to continue upgrading aging buildings, labs and infrastructure.
$350,000 to Faculties and units to provide improved support related to recent growth in the number of international students.
$1.4 million for information technology: $600,000 for network capacity and infrastructure, and $800,000 to support upgrading the university's Banner system.  

Further explanations for all of these are available in the BAC's full report, which can be reviewed at dal.ca/budget.

Balancing the budget

Given the difference between the increase in government funding ($2.1 million) and rising expenditures ($16.7 million), balancing the operating budget requires Dal to continue to explore measures to reduce costs and increase revenue.

Since 2011-12, Faculties and service units have identified substantial savings through efficiencies to meet lower budget targets in light of constrained revenues. The 2017-2018 budget presented a multiyear perspective to moderate the cut to faculties and units from its historic level of over 3% to 1.5% or less.

This year, the BAC is proposing a 1.5% reduction to faculties and service units, the lowest it has been in over a decade. At the height of government cuts in the early 2010s (when Dal faced a 10% operating grant decrease over three years), budgets were cut by an average of 3.3% each year across the university.

As for tuition, the BAC is expecting enrolment to stay consistent with 2017-18, which means additional tuition revenue to balance the budget is primarily going to come from increased fees. The recommendation for 2018-19 is a 3% fee increase to all programs and the international differential fee — the same percentage increase as in recent years.

The report does signal the BAC's intent to explore the international differential fee in the context of longer term financial planning. International students currently pay significantly less in total fees at Dal than international students at many of Dalhousie's peer universities across Canada — $9,000 less per year than the median among Canada's group of U15 research universities. Any plan to raise international fees above the standard 3% would include measures to ensure that current students aren't unfairly impacted.

"The university should explore every avenue available to us to acquire the sustainable resources we need to maintain and improve the quality of programs and student experience, and to increase the university's competitiveness nationally and globally."

Campus budget sessions and feedback

With the draft recommendations now available, the BAC next takes its budget plan on the road. Over the next two weeks there will be Campus Budget Sessions held in both Halifax and Truro, offering members of the Dal community the opportunity to learn more about the budget and ask questions of the committee.
Wednesday, March 7
Thursday, March 8
Thursday, March 8
Tuesday, March 13

Council Chambers, Student Union Building
5 p.m., prior to DSU Council Meeting (livestreamed on the DSU's YouTube channel)

B311, B Building (Sexton Campus)
12:00-1:00 p.m.

Room 1111, Mona Campbell Building (Studley Campus)
5:00-6:00 p.m.

Riverview Room Jenkins Hall, (Ag Campus, Truro)
4:00-5:00 p.m.
Following those sessions, the BAC will compile the feedback it receives and issue a final operating budget plan, which is then presented to the president before it goes to the Board of Governors.

The Board votes to approve the budget in two phases. In April, tuition and fee recommendations are voted on so they can be incorporated for the summer and fall terms. Then, at its June meeting, the Board votes to approve the overall operating budget plan.

You can learn more about the budget at dal.ca/budget. Feedback on the plan can be submitted to the Budget Advisory Committee at BAC@dal.ca.