Seven years may seem like a great deal of time to start planning a major milestone. But Michael Moosberger, university archivist, begs to differ when there's 200 years of Dal history to showcase.  

"We started working on the anniversary [seven years ago], and it still wasn't long enough," says Moosberger, associate university librarian for archives, special collections and records management. "Our goal was to have the core bodies of university information accessible online before the anniversary… we've achieved a lot — we have all the Dal Gazettes and large body of calendars and yearbooks — but not all."

They may not have gotten it all digitized, but from photographs and videos to yearbooks and letters, the Archives team with the University Libraries has worked hard to make sure that many, many documents of Dalhousie's rich history are available to help celebrate its anniversary.
Learn more: Dalhousie Archives website

Moosberger has over 34 years of experience as an archivist, and took his first position with Dalhousie back in 2000.  He feels Dal's 200th anniversary milestone is a great opportunity to highlight all the historical resources the Dal Archives has in its holdings, and to grow awareness of the importance of preserving Dalhousie University's history going forward.

"The Dal Archives were only established in the 1970s; prior to then, the preservation of university materials was very haphazard ," he explains. "Many items from the early 1800s just haven't survived. There are also gaps related to various academic and administrative units  of the university — we have records from central administration but we don't have complete bodies of records from all the faculties."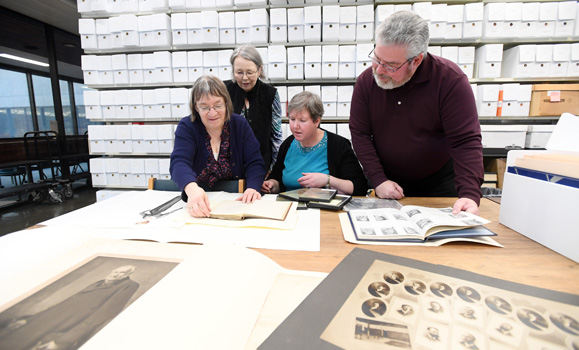 Members of the Archives team sort through Dalhousie memorabilia. Left-to-right: Dianne Landry, Joan Chiasson, Kelly Casey and Michael Moosberger.

A team effort

The Archives team is comprised of two professionals — Michael Moosberger and Creighton Barrett (digital archivist) — as well as six assistants. As the team lead, Moosberger sets the direction of his team and allocates budgets towards current or future projects.

"I really must emphasize this isn't about me," says Moosberger. "The staff we have here are very knowledgeable and committed , a lot of the stuff we've accomplished would not have been achieved without them."

Dal Archives have  acquired over seven kilometers of printed items during the last 50 years. To put that in perspective: it would be like having an item for every step from the Dalhousie Student Union Building all the way to Lake Banook in Dartmouth.   

"This is the challenge we face with over seven kilometres of holdings: knowing all our treasures, discovering them and then re-discovering them. It's really exciting on a day-to-day basis."  

As result of this large number of items, contract staff were hired specifically to assist with special Dal 200 projects such as the online timeline "A Year of Dalhousie History," which features events, historical photographs and other materials daily throughout 2018.

Then there is the Dalhousie Originals project, where the Archives contributed files and photographs for the 52 individuals highlighted throughout the year.

"If you wanted a ball park of how many hours were spent digging through old files for Dal 200 projects, it would probably be equivalent to having three full-time staff members working for the last three years," explains Moosberger.

Going digital

Since the early 2000s, the Archives have been moving away from paper based inventories  and towards automated systems to help researchers use their resources via descriptive tools.  

"Similar to a library catalogue like Novanet, Dal needed a system for the archival collections where people could go online and perform a search by using keywords, that would allow them  to search across the entire holdings," explains Moosberger.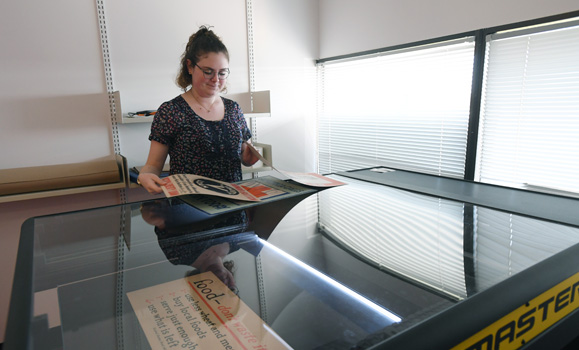 Young Canada Works Intern Alice Albarda.

The system Dal adopted is the "Access to Memory Database" (AtoM), comprised of over 400,000 descriptive tools and roughly 10-15,000 digital objects so far. Moosberger says having the AtoM database accessible to anyone who is interested in the Archives has opened doors for a lot of researchers over the years due to the breadth and scope of Dal's collection.

"There's lots of people within the public that come in and use the collection, but we get a lot of researchers from abroad, too… we have a lot of interest in Germany and in Asia for some of our holdings. This allows people to see what we have, and if they want to come here and consult the records. It helps the staff in  doing  preparatory work for them as well."

When asked what moments have stuck with Moosberger over the years, he says it's often dealing with donors — those people who contribute their files, letters and artifacts to the Archives. It's allowed him to meet and deal with unbelievably wonderful people.
 
"It's a job where you can really come to admire people very quickly because you think 'wow they've done all this in their lives' and they're still active, they're interested and interesting, they really believe what the university stands for and they believe in that and they want to support that and the community."