Spring was just warming up when Victoria Palmer arrived in Toronto. She wasn't sure what to expect so she was relieved when her first day in the small downtown office went well. More days went by and with each challenge, each new task, her confidence grew.

That's the power of internship.

Getting with the program

Victoria set these events in motion a few years earlier, when she decided to move from Vancouver to Halifax for university. "I wanted to experience the East Coast," she says. "I'd never been."

She was headed for Dal's Bachelor of Management program and chose the Entrepreneurship and Innovation major so she could focus on marketing and develop the skills required to own a business. Victoria enjoys the way it challenges her creatively. "The people I interact with on a daily basis are big thinkers — outside the box thinkers — which is really valuable to me."

When Victoria heard about the Bachelor of Management Internship Program she knew it would look great on her résumé. ("I'd get valuable work experience and still graduate on time, so why not?" she says.) Then an opportunity with the global bespoke tailoring company LGFG Fashion House came up and Victoria jumped at the chance to see what the industry is like from the inside.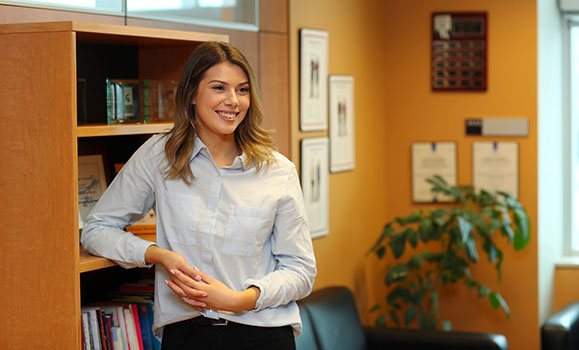 Fashion forward

Victoria spent eight months in the Toronto office progressing through roles that included direct sales and corporate partnerships. "During my internship, I was mostly on the sales side of the business. It was a challenge for me but it was great because it got me out of my comfort zone. It also solidified my career direction. I learned I'm most interested in fashion merchandising or retail buying."

While working with LGFG, Victoria had a chance to travel to Manilla, Philippines for their bi-annual conference where the company's leaders motivated each other with the secrets of their success.

"Travelling to Asia was incredible. I'd never been that far from home before. I was nervous but I'm so glad I took that opportunity."
Great experience

Now that she's experienced it, Victoria thinks more Bachelor of Management students should get involved in the internship program. She's currently working with Management Career Services to help get the word out.

"There aren't a lot of students who participate in the program and it baffles my mind," she says. "It was great for me. Both the internship and the internship prep course have given me skills that I can use every day."

Victoria will graduate this spring and hopes her network connections and industry experience will help her get a career started in fashion buying and merchandising. But the value of the experience goes beyond what she can put on a résumé.

"I'm most proud of who I've become since the internship. Had I known I was going to be cold calling or approaching prospects on the sidewalk, I might not have applied. But by just doing it, I've really grown in confidence. I'm more expressive and outgoing. My peers, colleagues and family members have all commented on the positive changes related to my more outgoing personality."