It begins, appropriately, with fanfare: the brass quintet's trumpets and trombone piercing through silence, bold and bombastic. Soon, the core of the piece begins: a lilting march in 6/8 time, echoing Scottish musical traditions but with a feel closer to something you might hear in Game of Thrones, or some grand adventure movie.

The title of the piece is The Eagle and Shield, a new ceremonial composition for Dal's 200th anniversary by alumnus Paul St-Amand (BComm '04). And it's about to get its grand debut.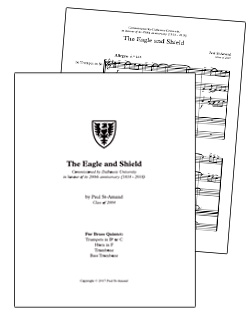 Chosen from among 24 entries to an open call for submissions in honour of Dal's bicentennial, The Eagle and Shield will have its first public performance as part of the February 6 Bicentennial Launch event, courtesy of the Maritime Brass Quintet. Subsequently, the quintet will perform the piece as part of Convocation ceremonies in both Spring and Fall 2018.  
Update, Feb. 6: You can now listen to a recording of the Maritime Brass Quintet performing The Eagle and Shield at the launch.

"It means a great deal to me that it was liked and appreciated by the committee that put this search together, especially knowing there were really fine musicians on that panel," says St-Amand, originally from Bedford, N.S. "And as a proud alumnus of Dal, there's a little bit of school spirit in the mix, to know that I contributed something to this 200th anniversary celebration. It makes me very happy."

Jérôme Blais, associate professor of composition in the Fountain School of Performing Arts and who helped select the piece, says it's perfect for the occasion.

"It is catchy and intricate at the same time, lively and optimistic, but there is also an introspective quality to it," says Dr. Blais. "I think it has the potential to be an audience favourite, year after year. From a compositional point of view, I call this a tour de force: a work that has the ability to please the most demanding music lovers and specialists, as well as be appreciated by a very broad audience, with no prior experience with, or no particular taste for, 'serious' music."

An anthem that says "D-A-L"

St-Amand first heard about the call for submissions via a Facebook post from a fellow musician. As a trumpet player and the founder of the Bedford Brass Quintet, his interest was piqued by the fact the piece would be performed by a quintet.

"Brass instruments are incredibly expressive, and the sound they make together is absolutely gorgeous," he explains. "What I love about it is every instrument in an ensemble that size is simultaneously part of the group and also a soloist. There's no hiding as a member of a brass quintet… you have to make every voice count."

He set some ground rules to help focus his creativity. One was that the piece would conclude in the key of D major — not because it's the first letter in "Dalhousie," but because it's a key often associated with celebratory themes. Another was the idea of trying to embed a musical code in the piece: by patterning notes in sequence from "D" to "A" to "E" — "E" substituting for "L" in the style of French musical cryptography — the composition would essentially say "DAL" through and through.

"I also wanted to give it a bit of a heroic sound," says St-Amand. "Looking over the 200-year history of Dalhousie, it's a big story of lots of people striving to be their very best, in whatever field they've chosen. It's kind of a story of heroic struggle and the piece, I hope, has a flavor of an adventure movie, in a way, particularly the first half… About the midway point it pivots to a more modern sound, trying to represent the university as it is today, pushing against the frontiers of science and discovery."

A musical tradition

Though St-Amand comes from a musical family — his mother was a music teacher and church organist, his uncle a professional trumpet player — he put music aside for a time following high school. He studied at King's and Dalhousie, graduating with a Bachelor of Commerce degree. He then pursued film production in Vancouver before starting a marketing and communications company (Ketchup Studios) back in Halifax.

When his father died from lung cancer in 2009, he coped by picking up the trumpet again — and hasn't really put it down since. He's played across the city with various genre-spanning groups, including the previously mentioned Bedford Brass Quintet, Son Latino Unidentified Funk Object, and Blue Spirits, whose debut album Liquid Courage was nominated for Jazz Recording of the Year by the Nova Scotia Music Awards. He's principal trumpet with Halifax's Nova Sinfonia and the Sackville Concert Band and often performs in the chair once held by his uncle with the PEI Symphony Orchestra.



One of his proudest pursuits is Harmony & Hope, a concert for cancer research that he's organized annually each spring since 2012. It's a collaboration between the Dalhousie Health Professionals Chorale (part of the Music-in-Medicine program), the Bedford Brass Quintet and a guest headliner. (This year's event, currently in the works for April, will feature soul/jazz vocalist Erin Costelo.) To date, the concerts have raised more than $17,000 for the Canadian Cancer Society.

"It's grown, creatively, every year," he says. "What's fun is mashing these different musicians together and doing something that's really unique for these sorts of ensembles."

Next up, though, he's excited to have The Eagle and Shield play a prominent role in the Bicentennial Launch event on February 6.

"In my somewhat limited experience as a composer, you never know how often your music is going to be heard," he says. "It means a lot to know that a piece has the potential to be heard by so many people."