Since the 1970s, Dr. Jock Murray has been collecting stories about the early days and ongoing evolution of Dalhousie Medical School and shaping them into a comprehensive history.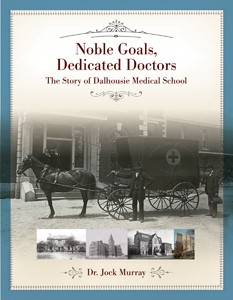 His years of dedication have culminated in Noble Goals, Dedicated Doctors: The Story of Dalhousie Medical School, published by Nimbus in December 2017 — just in time to kick off the year of celebrations marking the medical school's 150th anniversary in 2018.

"It's important that we know how we got to be where we are now, to understand how things have changed," says Dr. Murray, an alumnus and former dean of medicine at Dalhousie, and a neurologist known around the world for his contributions to MS treatment and research. "There's a tendency for people in any time to assume things have always been the way they are."

But the institutions we cherish today did not spring from the ground fully formed. Dalhousie University (which marks its own 200-year milestone in 2018) and its medical school were born slowly, and sometimes painfully, from the vision and sheer determination of a few.

It started in an attic in a time of "quackery"

The original Dalhousie College, established in 1818, was located on the Grand Parade where Halifax City Hall now sits — but for years hosted a post office and a pastry shop rather than an eager student body. The medical school's earliest facilities (in 1868) were in the attic of this building, accessible only by ladder.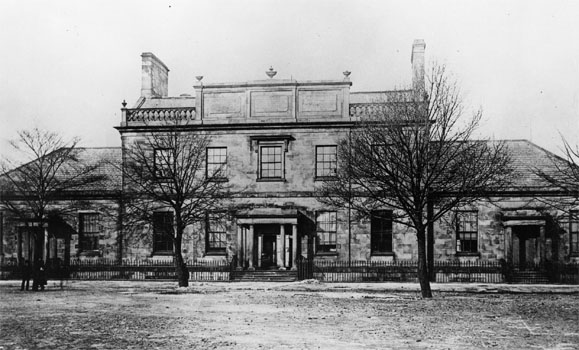 The original Dalhousie College, on Halifax's Grand Parade, housed the medical school in its attic.
"It was not easy to convince Dalhousie College to open a medical school," recounts Dr. Murray. "The college was barely on its feet in the 1860s and its leaders knew a medical school would be costly. Plus, there was no general hospital for hands-on practice with patients, no anatomy act to allow dissection of bodies for learning purposes, and little understanding even of the importance of medical education itself."

This lack of appreciation for medical education isn't as surprising as it might seem. Physicians of the time were not respected professionals; in the 19th century, medical science was just beginning to have an influence and much therapy was still based on the ancient theories of balancing the four humours (blood, phlegm, black bile and yellow bile).
Treatments often involved bleeding patients with lancet or leeches and administering foul concoctions to purge them of "excess bile." In the eyes of their patients, physicians offered little more than the medical "quacks" of the time — frauds who lacked any real training but postured as doctors and offered miraculous elixirs for sale to a desperate and gullible public.
Dr. Tupper saves the day

It is thanks to the tireless and determined efforts of Dr. Charles Tupper that Dalhousie College eventually agreed to establish a medical school — and the City of Halifax a general hospital (at a time when there were few facilities besides "the Poor House," a dispensary and a facility known as Bridewell that housed sick prisoners and the destitute).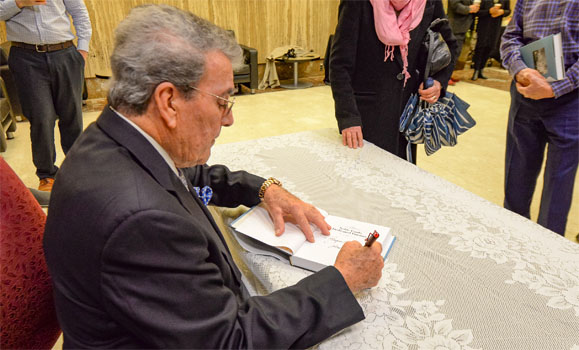 Dr. Murray signs copies of his new book.
"Dr. Tupper had received his medical training at the University of Edinburgh in Scotland, which had developed a rigorous model of university — and hospital-based medical education that was far ahead of its time," Dr. Murray explains. "Other cities were following this lead… the medical schools at McGill, Queen's, Harvard and Philadelphia were based on the Edinburgh model, as were others around the world. Dr. Tupper wanted the same for the Maritimes and used his considerable influence as Premier of Nova Scotia to champion the cause."

Tupper ignited the enthusiasm of a small group of physicians and surgeons who, in 1867, gathered together and agreed to form a medical faculty. The self-declared faculty members — Drs. Alexander G. Hattie, William Slayter, John Somers, Alexander P. Reid (who became the first dean), Edward Farrell and Alfred Woodill — petitioned Dalhousie's Board of Governors to accept them as such.

The board voted unanimously in favour — albeit with less enthusiasm — in February 1868. In a letter to the Medical Society, they wrote that "this Board did not feel justified in refusing the offer of the gentlemen… (we) see no sufficient reason for postponing further action…"

Within six months of its first meeting, the new faculty had designed its courses, recruited a full roster of instructors, secured facilities, and begun advertising for students. Fees were $6 per course and a dozen brave souls signed up to begin on May 4, 1868.

The stage is set for rapid advances

It was a bit of a bumpy start for the earliest classes of medical students who, until the Anatomy Act was passed in 1870, would venture forth under cover of darkness to secure cadavers from the Poor House by means of bribing the officials. Once concealed in body bags, the students would cart the corpses back to the college and haul them up the ladder to the attic. It is no wonder other students and faculty complained about the stench, as there was no embalming fluid and no ventilation.

Soon there was an anatomy act and a general hospital (which became the Victoria General), and the road to becoming a qualified physician became a little smoother. The stage was set for rapid advances in patient care, medical science and medical education.

"Medicine was evolving rapidly and this was reflected at Dalhousie Medical School," notes Dr. Murray. "Advances such as anesthesia, antisepsis, vaccines, effective new medicines and the microscope transformed medical and surgical practice. Now, treatments were based on science and achieving vastly superior results. All of these advances were adopted and taught at the medical school, which played a key role in the rise of medical professionalism."

Altruistic physicians and professors

As today, the early faculty members of Dalhousie Medical School took tremendous pride in their role of educating excellent doctors for the communities of the Maritimes (and Newfoundland, as well, until the 1960s when Memorial University established a medical school).

In spite of their skill and pride, physicians were not affluent prior to the advent of Medicare — only about a third of patients were ever able to pay their medical bills. Physicians who taught at the medical school took it one step further — not only did they often provide care to patients free of charge, they also often gave up their teaching salaries at the university to cover expenses and some of their students' tuition fees. At one point in time, faculty even funded the construction of a pathology addition to the medical school out of their own pockets.

"The physicians survived on their private practices," notes Dr. Murray. "An appointment at the university was to do with the honour of the association and opportunity to contribute to the next generation… feelings that persist today."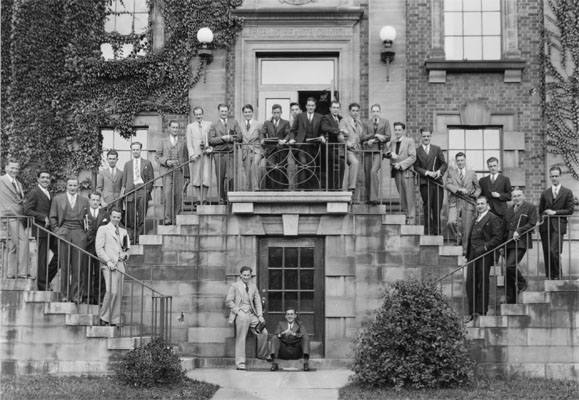 The building now known as the Clinical Research Centre was constructed as a public health clinic and key medical school facility in the 1920s with funding from the Rockefeller Foundation. Shown here, the Class of 1932.
Promoting medical education for women

Dalhousie Medical School was far ahead of its time in welcoming women into the practice of medicine. In the 1880s, medical schools around the world were refusing entry to women, but Dalhousie voted unanimously in 1881 not just to accept women into the medical school but to outright encourage them.

"The social norms of the time were such that many felt it was not 'appropriate' for women to study anatomy, especially in the presence of men," explains Dr. Murray, noting that Queen's and Harvard did not accept female medical students until after World War II. "Most places barred women from entering medical school. It's so odd because, in the family, it was always women who were providing the care."

As Dr. Murray explains, Dalhousie's decision to encourage women to pursue careers in medicine was even more remarkable because it was entirely proactive. No women had even applied to prompt them into such a decision. It would be several years before the first women applied but, when they did, they made their mark.

Dr. Annie Hamilton (Class of 1894) was the first female graduate of Dalhousie Medical School and became known in the city for making house calls on a bicycle. She also took up the study of Chinese language and, in 1903, sailed off to Shanghai to work as a medical missionary. Many other female graduates of Dalhousie Medical School followed in her footsteps, some of them giving their entire lives and sacrificing their own health to care for the poorest of the poor overseas.

Continuing tradition of leadership and service

The medical school and its faculty members have continued to lead and serve in many ways — from galvanizing the emergency response to rescue thousands of injured in the aftermath of the Halifax Explosion, to providing mobile hospital care in Europe on the front of two world wars.

Many outstanding physicians led the medical school — and community — in important new directions. Under Dr. Harold Benge Atlee, for example, the medical school and teaching maternity hospital (the Salvation Army Grace Maternity Hospital) revolutionized the practice of obstetrics and pre- and post-natal care.

The medical school also took the lead in training nurses and pharmacists. Eventually, of course, these professions established their own schools at Dalhousie, but they got their start at the medical school.

Dalhousie Medical School has become known internationally for its role in pioneering continuing education for practicing physicians, for its scholarship and advancements in medical education methods, for its implementation of a distributed model of education across the Maritimes, and for leading the way in Canada in interprofessional approaches to educating physicians and allied health professionals together in teams. Recent years have brought state-of-the art research and learning facilities, globally influential discoveries, and important contributions to public policy, the practice of medicine and delivery of health care services.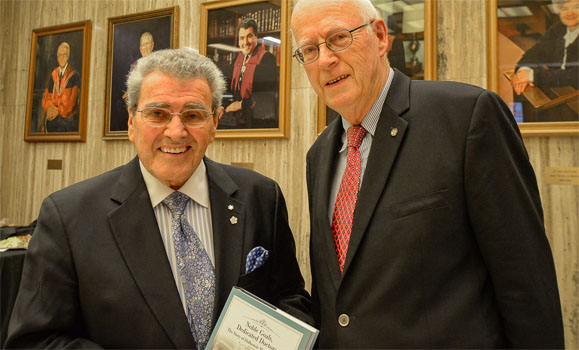 Dr. Jock Murray with Dr. Allan Marble, chairman of the Nova Scotia Medical History Society.
"The recent history is more difficult to put in context," says Dr. Murray, "because you don't know how current changes and innovations will play out." In his book, however, Dr. Murray brings us to the present day. As he writes in his final paragraph:

"The future is uncertain, and the recent dramatic changes in medicine and medical education assure that the future will be very different. But one thing will not change: the commitment of Dalhousie Medical School to be socially responsible to the broader community. The medical school is poised to be in the forefront of advance in medical education, research, and patient care. The faculty will continue to carry out the noble goals of that small group of dedicated doctors who were the founders of Dalhousie Medical School."
###
Dr. T. Jock Murray (Class of 1963) was the Dean of Medicine at Dalhousie Medical School from 1985 to 1992. In addition to his contributions to medical education, medical humanities and multiple sclerosis research and care, he is a noted medical historian and author of several other books. He is an Officer of the Order of Canada and the Order of Nova Scotia, and an inductee of the Canadian Medical Hall of Fame. He has dedicated Noble Goals, Dedicated Doctors to the memory of his daughter, Suellen Murray, a public relations graduate and health policy lawyer who assisted him tremendously in his research and writing over the years.
Archival photos via Nimbus Publishing.