When P.B. Waite completed his two-volume history of Dalhousie University more than two decades ago, he chose to call it The Lives of Dalhousie for a reason.

"A university is a place where human beings meet and work," wrote Dr. Waite in the book's preface, "where professors teach students, and students even teach professors, and their lives and thoughts are worth trying to recover."



A similar spirit shapes the Dalhousie Originals, the university's signature storytelling project for its 200th anniversary in 2018. Throughout the next year, the series will highlight 52 individuals who helped shape the university and our broader world by inspiring, strengthening and challenging us. Individually, they are pioneers, innovators, creators, thinkers and builders. Collectively, they represent a window into Dal's 200 years of achievement.

The first Dalhousie Original will be revealed on January 4, 2018, with each new Original unveiled on Thursdays through the year. You'll be able to find their text and video stories on dal.ca/dalhousie-originals, in the Dal News Weekly newsletter, in the Today@Dal newsletter and on Dal's social media accounts.


More than 60 people have been active participants in the Dalhousie Originals project, from the student actors who perform in the videos to the working group that selected the 52 Originals — and that number balloons to nearly 300 if you include those members of the Dal community who suggested candidates for the series. Ahead of the first Original's reveal in January, we connected with just some of them to explore how it all came together. 

Identifying the Originals

The idea for the Dalhousie Originals emerged from among the more than 400 suggestions (from 750+ participants) during the early planning and brainstorming sessions for Dal's 200th. The concept: share the stories of 52 individuals, one for each week of the anniversary year, people "whose contributions and actions have made Dalhousie what it is today."

To find candidates for the Originals, the university asked for input from its community. More than 200 nominations were received, with suggestions including well-known alumni, beloved faculty, key university leaders — even one canine.

The task of whittling that list down to just 52 stories, as well as identifying any notable gaps in the nominations, fell to a working group consisting of individuals with varied perspectives on the university and its history — including Senate Chair Kevin Hewitt, University Archivist Michael Moosberger, Law Professor Kim Brooks, to name a few. The group met several times in early 2016, first to deliberate the criteria it would use to determine who belonged on the list and the factors the list as a whole would need to reflect, then finally to determine the Originals themselves.

Gail Tomblin Murphy, professor and director of the School of Nursing, says it was one of the more inspiring selection processes she's been a part of in her time in academia.

"It made me proud," says Dr. Murphy (who is also assistant dean of research in the Faculty of Health). "As we went through and made the decisions, it was clear the entire committee had taken this work so seriously. People were prepared, they were open and able to debate and listen to different perspectives. We learned from each other."

Another thing that became clear early on was that this would not be simply a ranked list of the 52 most "important" Dalhousians, and that reflecting the breadth and depth of the people who've shaped the university would require some tough choices. Not every president could be included, for example, or every award-winning professor or major donor; doing so would risk an imbalanced list that failed to reflect the diversity of people and roles that have been part of the fabric of the university's past.

For retired Dalhousie history professor Shirley Tillotson, that meant working to include some of the less-heralded individuals (as opposed to just the readily documented big achievements), as well as individuals from Dal's less-active early decades who might suggest how education has evolved over the past 200 years. But, from her historian's perspective, it was a challenge to try and reflect Dalhousie's story through such a limited number of people.

"We don't have the kinds of research sources that would allow us to see every kind of person who has helped to build the university over the centuries," she says. "There is a lot of the past that leaves no archival trace." 

The resulting list is, thus, far from a complete history of the university. But the Originals offer insight into the varied experiences that have shaped the Dalhousie we know today — including experiences that challenged the univeristy, for the better — and set it on its path towards its third century.

Connecting with Dal's living history

Once the Originals were chosen, it was time to flesh out their stories. For each Original, the Dalhousie Archives completed a survey of the available primary and secondary materials, led by project manager Erica Gagnon.

For those Originals who are still alive, there was another level to this process: an oral history interview, recorded for posterity to be held by the Dalhousie Archives. These interviews, conducted by nearly a dozen volunteers from across the university community, not only helped inform the Dalhousie Originals project itself, but will be part of a broader oral history project hosted by the Archives.

For the volunteers, it was an opportunity to connect (quite literally) with the living, breathing history of the university.

"I spoke to two individuals who achieved very real change — change that is still evident today at the university," says Fallon Bourgeouis, a communications officer with the Office of Advancement. "It was interesting to hear about their paths, both personally and professionally, and how they ended up in their respective fields and subsequently at Dal."

Fellow interviewer Randy Barkhouse — president of the Association of Dalhousie Retirees and Pensioners and who also was part of the working group — says his Dalhousie Originals experience helped illuminate the university's 200 years of impact.

"Knowing the history of Dalhousie enriches one's appreciation of what it is today," he says. "I hope people will start to recognize the influence being at Dalhousie, for whatever period of time, had on these individuals, and how that assisted them to make the contributions they subsequently did."

Students help bring the Originals' stories to life

There are two ways that each Dalhousie Original's story will be told. The first is a written story (400-600 words) covering some of their contributions and achievements, penned by 16 different authors. The second is a short video about the Original that puts student performers from Dalhousie's Fountain School of Performing Arts front and centre.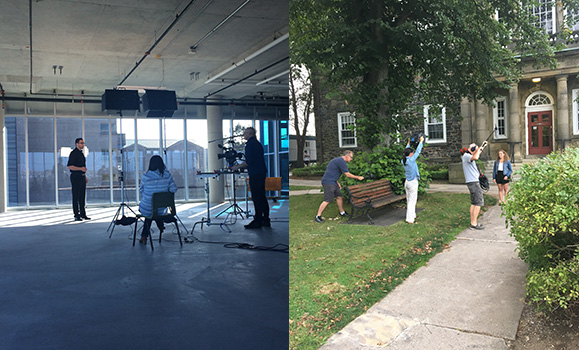 Behind the scenes of the Dalhousie Originals videos. (Erica Gagnon photos)

The videos, produced by Dalhousie's marketing unit with the support of Firefly Digital Media, each feature a student sharing a small taste of what makes their Dalhousie Original significant. The students were selected through an audition process with the support of Fountain School faculty members Susan Stackhouse, Margot Dionne and Rob McClure.

For fourth-year Acting student Ursula Calder, it was an opportunity to stretch her skills into a whole different arena.

"I have only really had one film gig so far in my life other than Dal Originals, so it was really exciting to be on a film set and be able to try out that style of acting," says Calder, originally from the U.K. but having lived in Halifax for the past nine years. "It has really made me consider film as a more prominent potential route to consider for the rest of my career."

Calder is one of 19 different student performers featured in the videos, all of which were produced over seven months in 2017. She says she hopes the Dal community finds the Originals' stories as inspiring as she has.

"I learnt that people can make a big difference in the world, and that the education we receive gives us knowledge, understanding and power — that we must use!"

Ready to launch

While the list of Originals is being kept under wraps until each is revealed, you can get some quick hints as to who they might be by visiting dal200.ca. (For example, the first Original to be revealed on Thursday, January 4 is: "Law. Dean. Public Service.")

All of the profiles will be hosted at dal.ca/dalhousie-originals so they can be discovered and experienced long after Dal's 200th anniversary is over and done with. While there are no concrete plans to continue the Dal Originals series beyond 2018, the university is leaving open the possibility of doing so in some limited fashion to continue to celebrate the people who've shaped Dal's history.

"I hope people take away a sense of pride and recognition of how Dalhousie's history is shaped by all of us: those who work and study here, our communtiy members, everyone," says Dr. Tomblin Murphy. " And I hope we don't wait until another anniversary to recognize the strength we have in our history and in our midst — those people who are making history today."

For a full list of credits of everyone involved in the Dalhousie Originals project — from the working group to the student performers — visit the "about" page on the Dalhousie Originals website.