Thea McLachlin is no stranger to success. It seems to follow the 22-year-old Red Deer, AB., native everywhere she goes, be it on the volleyball court, in the gym or in the classroom.

"I'm really proud of that," says McLachlin, a fifth-year Agriculture student and member of the Rams volleyball team. "When I came here I didn't think I would have that kind of success. I was never a standout player in high school or club so it's been really cool to see what's happened since I came here."

It all comes from her desire to be the best she can be at whatever she does. Although she's a naturally gifted athlete, it's McLachlin's work ethic which takes her to the next level.

"It's had a great impact on her success as an athlete," says Rams coach Guy Desgagne. "It's not easy to manage student life while playing a very demanding varsity sport. She made the right, but not always easy, choices to reach this well-deserved success."

A conference all-star

Mclachlan made an impact the first time she stepped on the court for the Rams five years ago and last season the left side was named the campus' female athlete of the year. The Rams captain has also turned herself into one of the top players in the Atlantic Collegiate Athletic Association (ACAA), finishing the schedule ranked second in kills, kills per set and points last season.

She's also a regular conference all-star selection and is on track for another standout campaign in spite of Dalhousie's struggles in the standings. The Rams are seventh in the eight-team conference with an 0-6 record.

The Rams practice four to five times per week, but McLachlin rarely misses a session and never takes a drill off. She does all of her assigned workouts, helps her teammates with theirs and provides a valuable link between the players and coaching staff.

"Thea is a great captain and I refer to her when I need input from a different perspective," says Desgagne. "She's always happy to share her thoughts and her comments are very valuable."

On top of that, she also coaches youth volleyball while still managing to maintain good grades.

"It's really cool to see how all of the things you learn from all of that, like time management, transfer over into your life outside of sports," says McLachlin, who will graduate in the spring with a Bachelor of Science in Agriculture and Animal Science degree.

Drive and determination

But volleyball is just one aspect of McLachlin's life. She is also competing in olympic weightlifting and excelling there as well.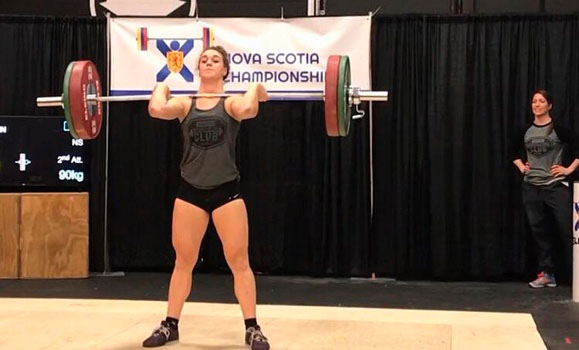 "I'm still very new to the sport but it's going really well and it's something I really enjoy," she says.

McLachlin picked up the sport and started training three times per week in February. She has already started what's sure to be a long list of accomplishments by winning the 75kg provincial title in Dartmouth recently.

Dalhousie AC athletic director Judy Smith says she is thrilled to have a student with McLachlin's work ethic and drive on campus.

"We are very fortunate to have her in the Rams family," says Smith. "She is an outstanding student athlete, a leader and a quality person."