For the first time in history, women are allowed to play female roles on stage, sexually explicit language emerges, and England's collective moral compass spins uncontrollably.

Fourteen versatile Acting students at the Fountain School of Performing Arts delve into this turbulent world of social revolution in their upcoming production of George Etherege's masterpiece of Restoration comedy, The Man of Mode.

After the 18-year ban by the Puritans ended, theatre returned bolder and focused than ever to England through the work of playwrights like Etherege. A social revolution was afoot, with comedy reflecting life and love both in the present and in the revolutions to come.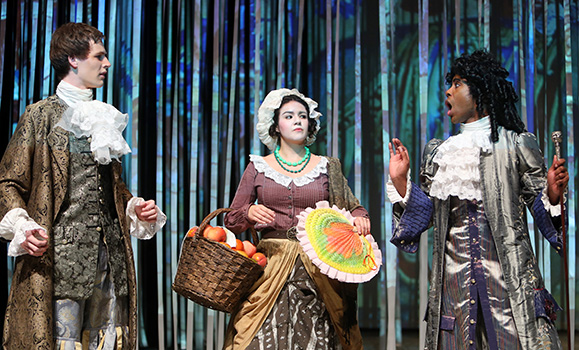 From left: Taylor McMillen, Claudia Gutierrez-Perez, Delany McCormick
Director Margot Dionne (associate professor in the Fountain School) invites audience to "encounter young people whose desires and concerns bear a striking resemblance to those of today — all seeking pleasure, love, and fulfillment."
It's a show where the distinctions between generations become slowly blurred, as the parents learn, adjust and find themselves entangled in the new world being discovered by their children. Social etiquette changes, the social class structure is redefined, and the very fabric of human interaction has been elevated to a new tier of freedom and expression.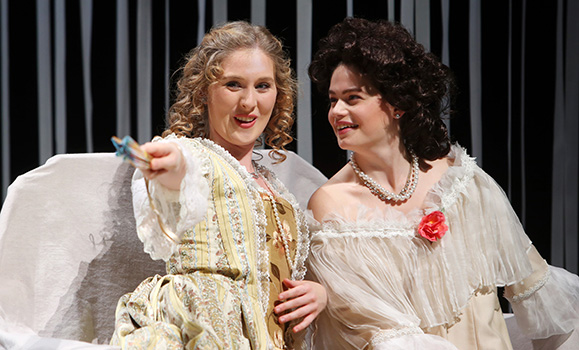 Zoe Mackey-Boehner (left) and Ursula Calder.
Dionne reflects on the parallels to today, saying that young people "need [their] online identity, that has to be created and cultivated." Indeed, the more more turbulent the era — whether the Reconstruction era or our modern time —the more crucial the need to seek and promote a unique identity.

"We're in an age of constant technological revolutions, just as they were in an age of social revolutions," says Assistant Director Raphael Glazov

The Fountain School's commitment to bold and unique design shines through with a stage that must be seen to be believed. The Man of Mode is one in a long line of collaborations between Margot Dionne and designer John Pennoyer, who have worked together not only at Dalhousie, but at the acclaimed Stratford Shakespeare Festival.
The intricate and unique relationship between the actors and the whimsical set itself exhibits an atmosphere of easiness and risk. In the 1670s, the time that Etherege was writing, attitudes inside and outside of the theatre are tremendously "permissive" in England.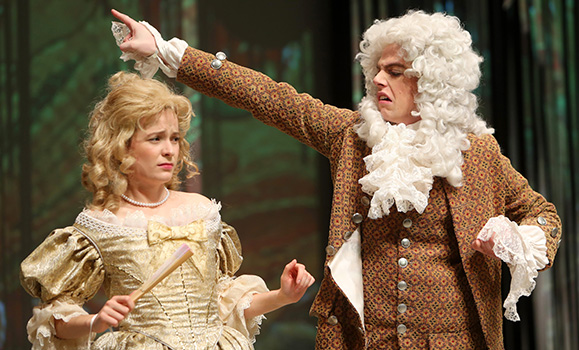 Erin McQueen (left) and Ian French.
Student Erin McQueen says it all comes together for an exciting experience as a young actor.

"As an actor, I think it's just the joy these people have for life," she says. "The amount of energy they always have is definitely a challenge, but a very exciting challenge. Also, make up and costumes [are] totally different from any other show we've done. Having the period costumes is really exciting. [It is a] total transformation, physically [and] vocally. This play truly is an authentic glimpse inside the intricate dating scene of 1676."

The Man of Mode runs from November 28 to December 2 in the Sir James Dunn Theatre of the Dalhousie Arts Centre, with performances daily at 7:30 p.m. with a 2 p.m. matinee on Saturday, Dec. 2. For tickets, visit the Dalhousie Arts Centre Box Office.