As the viral social-media campaign "Me Too" has made abundantly clear in recent months, gender-based harassment and violence are all too commonplace.
And this fall, for the third year, Dal's Human Rights & Equity Services (HRES) office has teamed up with sexual and gender resource centre South House and nearly 40 community partners to do its part to help educate and empower people in an effort to combat this widespread problem.
Dal hosted a kick-off event for its 16 Days of Activism Against Gender-Based Violence campaign Friday afternoon in the Student Union Building, a day before the official launch on November 25th — the International Day for the Elimination of Violence Against Women.
The campaign, modelled on a Rutgers University initiative that has now spread around the world, runs through to International Human Rights Day on Dec. 10.
Learn more: 16 Days of Activism website

Shakira Weatherdon, education advisor with HRES (below), said the campaign — themed 'Solidarity, Not Silence' — offers a chance to acknowledge that there are spaces at Dal that may not always be safe for certain individuals and to come up with strategic measures to help disrupt violence.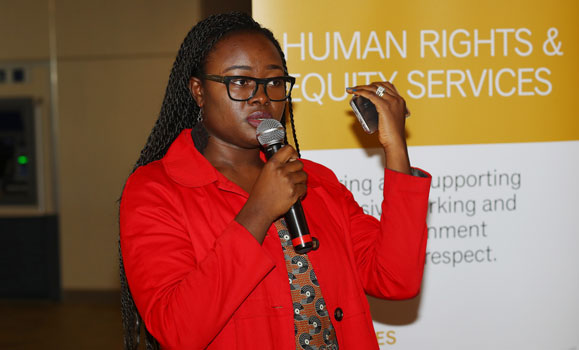 "This is an invitation for us to come together and think about ways to make our spaces safer for all of us on our campus," she said in remarks at Friday's launch, which also included a button-making session.
Dal Elder-in-Residence Geri Musqua-Leblanc also spoke, providing an opening prayer and remarks about missing and murdered Indigenous women in communities across Canada and how to take action.
"Listen to your peers. Learn from what they have to say. Believe them and support survivors in what they have to say. And if you see gender-based violence, intervene in a safe way," she said.
Events through December 10

HRES and South House have worked with various faculties, organizations, services, departments, centres, offices and programs across the university and in the community to plan the more than 40 of events, activities and initiatives for the coming weeks.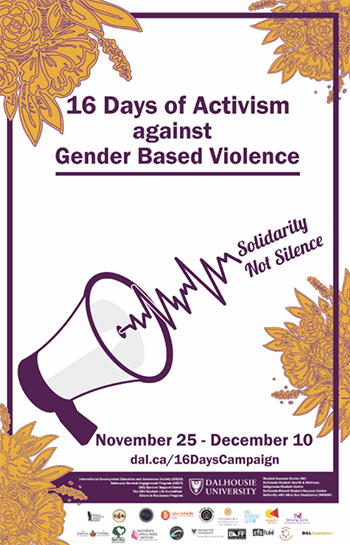 Toronto-based sex and emotional literacy educator Karen BK Chan will deliver a keynote address Dec. 1 titled "Rejection Resilience: Conversations about Healthy Relationship We're (Not) Yet Having."
Known for having a plainly spoken and emotionally honest take on everything relationship problems and sex education, Chan's afternoon talk (2-3 p.m.) will identify and address issues such as jealousy, rejection, insecurity and empathy. A debrief will follow at South House.
The Indigenous Student Centre will host a Sisterhood Coffee House on Nov. 30, an event designed to bring "sisters" together to support each other's efforts for change through song, poetry, spoken word, dance and storytelling.
On Dec. 5, Black and Indigenous individuals as well as People of Colour are invited to a closed space for a session on collective care and healing at South House. Attendees will share stories and swap skills about self-care, self-preservation and self-prioritization in a loosely facilitated discussion.
Student Success peer educators in Halifax and on the Agricultural Campus in Truro will run a social-media campaign called '16 Reasons Why' starting Saturday, Nov. 25, sharing one reason for action each day across various channels.
South House's Carmella Farahbakhsh closed out Friday's launch by offering words of encouragement to those working to hold a mirror to society on this and other issues.
"This is brave work," said Carmella. "It's brave work to hold our communities to account. It is integral work needed to inspire and enact change."
Learn more: 16 Days of Activism website

Members of Dal's Student Engagement Program and HRES helped prepare campaign posters in several different languages.