Halifax's Waegwoltic Club typically caters to the tennis-and-a-swim crowd, but an ambitious Dal-led arts performance there this Thursday evening promises to recast the space in a whole new light.
Audience members will embark on a journey around the venue's different spaces and two of its buildings as part of Espacées, an ambitious Fountain School of Performing Arts (FSPA) production that melds music, spoken word, theatre and film.
"It's not a sit-and-stare concert," says Jacob Caines, director of the Dalhousie Wind Ensemble and lead coordinator on the project. "We want people to move during performances. There are going to be different musicians in different rooms."
A collaborative effort

The program includes a new commission by trumpeter James Ervin (of Juno Award-winning band Walk off the Earth), poetry by El Jones, and a wind performance of Philip Glass's 1969 composition 'Music in Similar Motion,' among other pieces.
Nearly 40 Dal musicians (28 from the wind ensemble and another 10 to 12 from a Dal improv class) will perform as part of the event, which Caines says was inspired by the work of 1930s composer Edgard Varèse.
"He had this idea of having completely immersive spaces where an audience can wander around and sound, light, smell and feeling are all completely integrated," says Caines, who also wrote an ensemble piece that will be performed at the event.
Funding for the event came from the Traves Performance Excellence Fund, an endowment set up by friends of former Dal President Tom Traves to enable larger-scale collaborative FSPA events that bring students, faculty, alumni, and others together. Each year, different ensembles compete for the grant, submitting applications laying out their visions for a signature cross-discipline production.
When Caines met with FSPA director, Jacqueline Warwick, to discuss how to bring his group's concept to life, they started talking about how physical space is often intimately tied to emotional and cultural space.
"There are spaces that you feel comfortable in and ones that you don't feel comfortable in and that you have to be somebody else to be in," says Caines.
Spaces and places

They decided to reach out to several local poets and filmmakers who they thought might have something to say on the subject.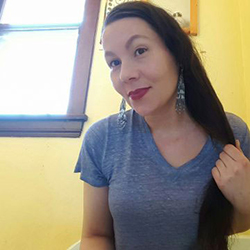 Deirdre Lee (left), another local spoken-word artist taking part, will perform a new piece she created specifically for the event — the first time she's been asked to create something site-specific.
"I was immediately intrigued by the opportunity to perform at the Waegwoltic in a space not a lot of artists and poets normally have access to," says Lee.
"The piece is inspired by my thoughts around language, land, water and the sovereignty of spaces and resources," she says.
Thanks to the Traves grant, Caines and his ensemble will also be able to take the production on the road early next year for a couple of dates with performances in Fredericton (February) and Sydney (April). Those dates will feature different poets from those areas.
Tickets for the Halifax performance can be purchase online or in person at the Dalhousie Arts Centre. Space is limited to 175.