Justin Yeoh, Pui Li Lai and Khai Shuen Kuu flew 25 hours to Halifax from Kuala Lumpur at the end of July seeking greater independence, a different way of learning dentistry and international options after they graduate.
"It's always summer in Malaysia. We never walked anywhere because it is so humid." says Justin. By the end of September, he was already starting to find Halifax cold.
The three Malaysian students are here in Nova Scotia as the result of a new partnership between the International Medical University (IMU) in Kuala Lumpur and Dalhousie's Faculty of Dentistry. The IMU has existing partnerships with universities in Australia, New Zealand and the UK, but the partnership with Dal is the first and only one it has in North America.
Dalhousie's Faculty of Medicine has been accepting IMU students into its program for over 10 years, explains Dr. Debora Matthews, assistant dean of academic affairs. When one of the Australian dental schools withdrew from the partnership, the Dalhousie Faculty of Dentistry stepped in.
"We saw this as fantastic opportunity to get involved," says Dr. Matthews.  "As a member of the Academic Council at IMU, we are part of a network of internationally renowned dental schools. This provides us with opportunities to learn with and about other programs. We also get to work with students who already have some dental knowledge and skills training, and who are self-directed learners.  We are delighted that they chose to come to Dal."
Global connections

Prior to arriving at Dal, Khai, Justin, and Pui Li spent two and a half years studying dentistry at IMU. Unlike in Canada, where most students have a BSc when they begin studying dentistry, they were able to start their dentistry studies right out of high school. This means that they are younger — 22 and 23 — than many of their classmates in the second-year class they joined.
The IMU dentistry program is structured differently to Dal's, so Khai, Justin, and Pui Li arrived with one year of clinical experience. Dal dentistry students start treating patients in the latter half of their second year.
Because of the differences in the two programs, the IMU students spent the month of August on a bridging program. "The faculty want to evaluate our standards," says Justin.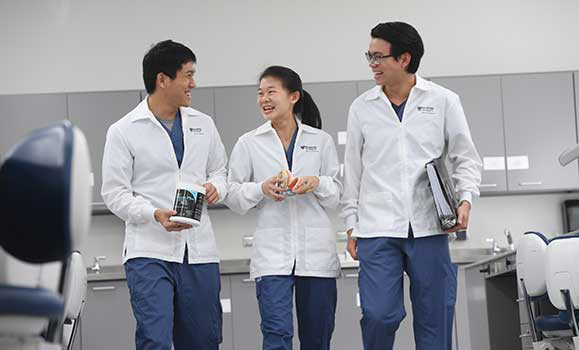 "They want to find out what we know," agrees Pui Li, not just to identify gaps in their learning, but to "teach us in a way that is similar to what we are used to".
They all agree that the faculty are kind and friendly and keen to help them make the transition to a new program and a new country.
Justin is full of praise for the pre-clinical training Dalhousie students receive. "At IMU we are taught a technique once, we practise once, we are examined on it, and then we do it in the clinic under close supervision. We are taught to treat our mannequins as if they are real life patients and to do our best work on them. We are also able to ask lots of questions, but we are expected to be very independent and to learn a lot on our own."  
Pui Li agrees.  "It's a lot of self-directed learning at IMU. You have to take the initiative to read the material."
Getting the experience

Khai explains that part of the reason for the limited amount of pre-clinical training is down to budgets. "At IMU the materials available for practising are limited. Here, there is a stronger focus on the pre-clinical stage and we have greater access to the supplies we need. In the lab, we can use a selection of burrs and instruments. There are better teaching and technology resources here."
"I miss being in the clinic," says Justin, "but the hands-on pre-clinical practice is a good opportunity for me to brush up on my skills. I will go into the third-year clinic much more confident."
As a left-handed person, Justin also appreciates the facilities for lefties and more anatomically correct mannequins to practise on. "At IMU, the chairs are all right-handed. You do the work anyway, but your posture is wrong and you end up with neck and back ache."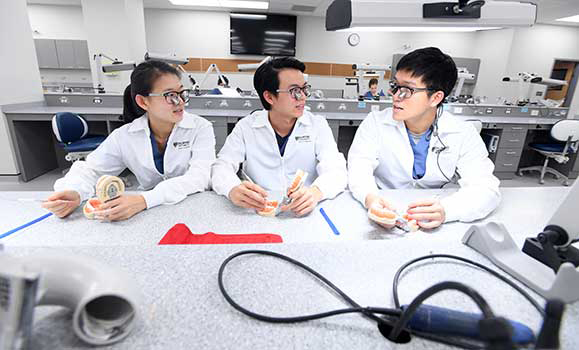 But one of the biggest changes is getting used to communication via email. In Malaysia, everyone communicates using WhatsApp. "There's a WhatsApp group for everything at IMU," says Pui Li. "I have to remember to check my email so that I don't miss anything important," says Justin.
Opening up their options

Had they continued to study dentistry in Kuala Lumpur, the government would assign the three Malaysian students to a clinic or hospital upon graduation. By gaining their doctor of dental surgery degrees in Canada, Pui Li and Khai can contemplate pursuing their careers in North America and Justin can explore his dream of becoming an oral and maxillofacial surgeon.
Looking ahead, the Faculty of Dentistry meets all the IMU partner schools at the annual Academic Council meeting in Kuala Lumpur to discuss issues around curriculum and student evaluation.
"As part of that meeting," says Dr. Matthews, "we also meet with students who are interested in our program here at Dal. Our agreement with IMU is to accept up to five students each year. Based on the line-up of students wanting to speak with us last year, we should have no problem filling those spots."