Medical student Braydon Connell's commitment to the field of health care was recognized last month by the Canadian Medical Hall of Fame (CMHF). He received an award designed to celebrate medical students with demonstrated leadership, communication skills and an interest in advancing knowledge.
The CMHF award recognizes students who also show outstanding potential as future leaders and innovators of health care in Canada. A major component of the CMHF award is having recipients express which laurate of the CMHF inspires them.
For Connell, it's Sir William Osler.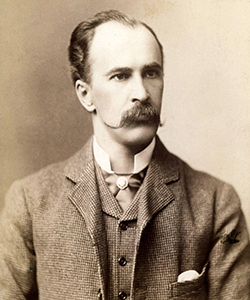 Osler (left) was a Canadian physician who, to some, is considered the most influential figure in the history of medicine. His greatest influence on medicine was his belief that students learn from seeing and talking to patients, and creating the first residency program to train physicians.
"It is pioneers like Osler who inspire me to push the boundaries of what is possible in medical and interprofessional education, to take risks and dream big," said Connell.
Braydon himself has been an inspiration to many Dalhousie students and the community. His passion just happens to be what is required to advance the future of health care by partnering with students, health professionals and patients.
A collaborative care model

The 21st-century patient belongs to a new health system this third-year medical student is keen to explore and establish at Dalhousie's Medical School.
It's a unique integrated health care approach that sees a high level of collaboration and communication among various health professionals, a team selected with patient's individual needs in mind. The focus is on patient-centred care, including comprehensive treatment plans to address the biological, psychological, and social needs of the patient.
A two-time dal alumnus, Connell is an advocate for marginalized patient rights, medical student success, and interprofessional education (IPE).
Like integrated health care, IPE involves a minimum of two students from two or more professions in health and social care training together for collaborative practice. Connell has been influential in bringing the IPE experience to his medical peers, and to marginalized populations seeking health care.
Outreach for a diverse population

In 2013, Connell was enrolled in the Masters in Occupational Therapy program, his second Dalhousie degree. This is when he began formal training to learn how to organize a student clinic, a true passion of his.
Fast forward three years later, he achieved his goal when he was elected co-director of HOPES (Halifax Outreach Prevention Education Support). The only health centre run by students in all of the Maritimes, HOPES gives low income, homeless, and other marginalized groups better access to health services.
The initiative was inspired in part by two Canadian student-led clinics: IMAGINE in Toronto and SWITCH in Saskatoon. Connell says diversity and accessibility were two values he and the HOPES team wanted to focus on before establishing the program.
"I'm passionate about socially responsible care and accessibility. Making sure health care is available to everyone, and serving people's individual needs."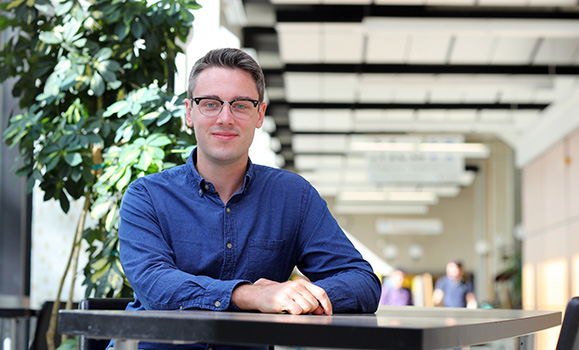 The HOPES team offers health care on Sunday afternoons at St. Andrew's United Church and at Dalhousie's Health Services clinic. St. Andrews hosts a diverse population including racial minorities, the homeless, individuals without access to health care, and others who may not feel comfortable accessing or have the financial means to do so.
"The accomplishments my team and I have achieved through HOPES build upon the work of Osler and expands upon it. HOPES provides students early, hands-on experience working with marginalized populations, clinical experiences, and interprofessional collaboration," said Connell.
The health centre offers additional services from trained dieticians and occupational therapists not always readily available through Canada's universal health care. Clients are not required to show identification or insurance, which results in a feeling of empowerment, as explained by Connell.
After only year one, the program remains one of the most interprofessional in terms of service. It represents over nine health programs, and plans to introduce two additional programs this year. Students involved in the program range from medicine, nursing, pharmacy, health administration, occupational therapy, social work, dentistry, dietetics at Mount Saint Vincent University and paramedicine at Medavie HealthEd.
Aligning education and practice

Establishing HOPES was and continues to be a perfect accumulation of Connell's three passions: serving marginalized populations, interprofessional education, and student success.
"It's empowering for students to interact with people from different backgrounds, and for them to understand the challenges people in our community face. And it can also be empowering for people to access these health services and help students learn by sharing their experience."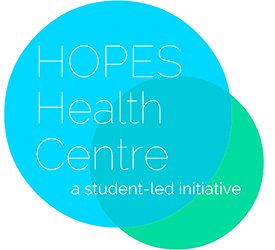 HOPES also expands on Osler's vision to teach future physicians using a multi-directional approach that favors interactions between individuals within an educational setting. The program recognizes the unique skill set, knowledge, and life experiences that each student brings to the table.
Students learn from their patients, but also in their communication with individuals in their teams who are enrolled in a different health field. After each shift, volunteer students meet to discuss their experiences of the day in a collaborative debrief — an organic approach to understanding how two or more health professionals collaborate to provide patient care.   
"Students are mentored by their intra and interprofessional peers, health care professionals, and patients themselves. Students have the privilege to work with real patients, gain hands-on experiences and practical skills in patient interactions that can be challenging to simulate through 'role-playing'," said Connell.
The HOPES experience for the student involves "real patients, real problems, and real health care concerns. Students say it's a rare experience for them that they can take into their career," says Connell when asked how the students feel about their involvement.
"Students volunteers are given the opportunity to work on developing care plans together, investing in communication and collaboration. We hope that students remember the conversations and lessons from volunteering with HOPES, and carry those experiences forward as working clinicians."
Measuring program success and seeking opportunities to improve is a value of the program. Test pilots and anecdotal feedback from community HOPES clients allows the program leaders to hear from the population.
"HOPES will be offering surveys and possibly focus groups so that patients can provide feedback on services, or give insight to how we can improve. It's a great evaluation of our program allowing us to strive for performance excellence," said Connell.
The growth of the initiative paired with positive student and client feedback validates the impact that HOPES has had on our local community and collaborative teaching practices through the Faculty of Medicine and many other Dalhousie health faculties.
- - -
Funded by the Dalhousie Medical Alumni Association (DMAA), recipients of the CMHF award receive $5,000 to support their passion and a complimentary ticket and economy return travel to the 2018 Canadian Medical Hall of Fame Induction Ceremony.
Connell expresses his gratitude to the CMHF and DMAA, and appreciation of the financial support of the award, which will allow him to pursue research for HOPES.
"This research will help validate HOPES as a model for Interprofessional education, better understand student's experiences with IPE and social responsibility. This research has the potential to propel HOPES forward," said Connell.
Learn more about HOPES at hopeshealthcentre.com.