Canada's ocean economy is poised for a major boost, with an industry-led partnership being shortlisted for a significant government investment.
The "Ocean Supercluster" — which includes leading ocean companies like Emera, Cuna del Mar and Clearwater alongside local ocean tech enterprises and research institutions like Dalhousie, Memorial University of Newfoundland and the Ocean Frontier institute — is a finalist in the Government of Canada's Innovation Superclusters Initiative.
The Honourable Navdeep Bains, Minister of Innovation, Science and Economic Development, was at Dal's Steele Ocean Sciences Building Tuesday morning to make the announcement, his first stop in a cross-country tour announcing the nine finalists.
"A supercluster is an innovation hotbed that is home to one or more clusters that share technologies and infrastructure and cultivate a pool of talent," said Minister Bains. "Think of Silicon Valley; think of a made-in-Canada Silicon Valley."
Strengthening Canada's ocean economy

Announced in the 2017 budget, the Government of Canada's Innovation Superclusters Initiative received more than 50 proposals, involving over 1,000 companies and 350 partners, including over 100 academic institutions. The government will choose up to five of the industry-led proposals, ones "with the greatest potential to energize the economy and become engines of growth," and invest up to $950 million over five years.
The Ocean Supercluster proposal is focused on improving the productivity and global competitiveness of Canada's ocean industries, investing in digital ocean technologies and capabilities, driving growth across Canada's ocean sector, and fostering commercialization and ocean-related startup companies. It's a proposal that builds on Atlantic Canadian strength — 15-20 per cent of the region's economy is based on ocean-related activity.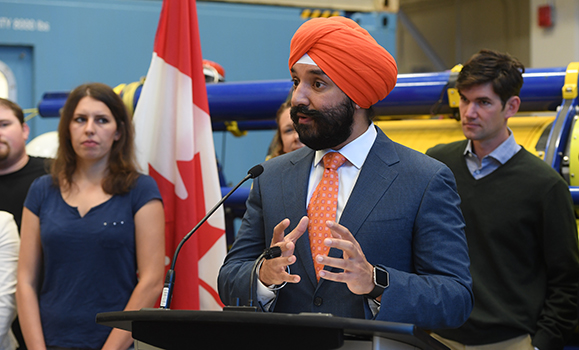 Minister Bains speaks at the supercluster announcement.

"The supercluster promises to benefit all of the Atlantic provinces by maximizing the economic potential in substantive development of Canada's ocean economy," said Minister Bains. "And it will invest in digital ocean technologies in industries such as aquaculture, captive fisheries, offshore oil and gas… and clean energy as well. In doing so, all of its collaborators will help improve our ocean economy productivity and global competitiveness.
Dal President Richard Florizone welcomed the news that the Ocean Supercluster has been shortlisted.
"Atlantic Canada is the best place in the world for an innovative ocean supercluster, with world-class companies, researchers, scientists and entrepreneurs," he said. "The Ocean Supercluster builds on the momentum we've seen with the Ocean Frontier Institute [OFI], the Centre for Ocean Ventures & Entrepreneurship [COVE[, and other exciting initiatives in our region that bring together industry, government and research to propel ocean innovation forward."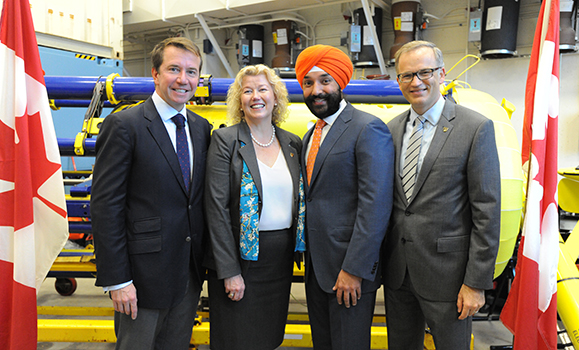 Left to right: Treasury Secretary Scott Brison, Dal VP Research Alice Aiken, Minister of Innovation, Science and Economic Development Navdeep Bains, Dal President Richard Florizone.

Coming together

The early-morning event attracted many business leaders from Canadian ocean-related companies, along with President of the Treasury Board Scott Brison, who introduced Minister Bains; Halifax MP Andy Fillmore, who served as master of ceremonies; the Honourable Seamus O'Regan, Minister of Veteran Affairs; Dartmouth-Cole Harbour MP Darren Fisher; Fundy Royal, New Brunswick MP Alaina Lockhart; and Sackville-Preston-Chezzetcook MP Darrell Sampson.
Minster Bains presented the superclusters initiative as part of a broader strategy to build a future-focused Canadian economy, one that nurtures talent, attracts investment and puts diversity and inclusion front-and-centre.
"Our diversity is our strength," said Minister Bains. "It's Canada's value proposition, and it will ensure our success for years to come."
Learn more about the proposed Ocean Supercluster at oceansupercluster.ca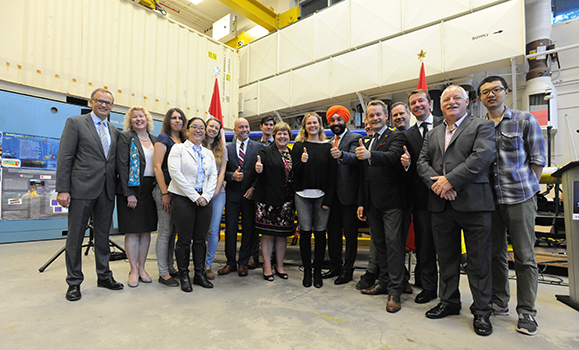 Researchers, government leaders and others celebrate the supercluster announcement.