Hundreds of people from across the Dal community brightened up an otherwise grey, rainy Thursday by donning pink as a show of respect and inclusion for faculty, staff and students.
Events were held across all Dal's four campuses throughout the day to mark Pink Day, a flagship initiative that happens each year as part of the university's broader Respect Week activities.
Read also: Fostering inclusion, together: Celebrating Respect Week 2017
On the Carleton and Sexton campuses in Halifax as well as the Agricultural Campus in Truro, staff, faculty and students gathered for cupcakes and apples in the morning.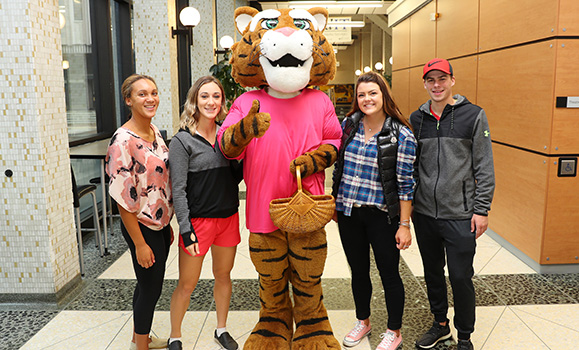 Celebrating Pink Day in the Tupper.

Those events were followed by the Pink Day BBQ on Studley Campus. Soggy weather drove people inside to the Studley Gym for the event, which included food, musical performances and speeches.
A show of respect


"We can't be a great institution without great people, and you can't get the best people and the best ideas without being open and welcoming to all," said Dal President Richard Florizone in remarks at the event. "If you exclude anyone, you are weakening the institution."
The president thanked the many advocates for diversity and inclusion gathered in the gym, including Respect Week committee chairs Shakira Weatherdon of Dal's Human Rights and Equity Services office and Janice MacInnis of Human Resources, for helping make a real difference at Dal.   
"We've been together when we've made symbolic changes like permanently installing the Mi'kmaq Grand Council Flag, you've been along when we've made programmatic changes like our Elders-in-Residence program that has been such a huge success," he said.
Deb Eisan, one of Dal's Elders, provided an opening prayer at the gathering.  
Coming together

Dal held its first Pink Day in 2009, an event inspired by the story of two Nova Scotian junior high students who encouraged their peers to wear pink in support for a classmate who had been bullied after wearing pink on the first day of school. Other organizations across Canada and the world have since launched similar events as part of anti-bullying advocacy efforts, and Dal decided three years ago to expand its own day into a full week of educational workshops and other activities.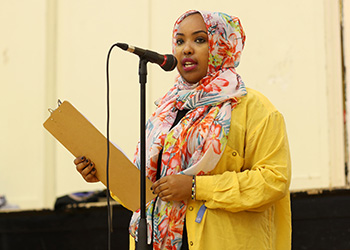 Attendees at the BBQ also heard from Amina Abawajy, president of the Dalhousie Student Union (DSU), who spoke about the common thread of respect uniting all in attendance.
"When we come together with respect at the core of how we interact, we are actively creating a stronger society that encourages diversity of thought and different ways of knowing and learning," she said. "And when we can work harmoniously with people of different experiences, skin colour, religion, education, orientation, birthplace and privilege, we create something unique and valuable."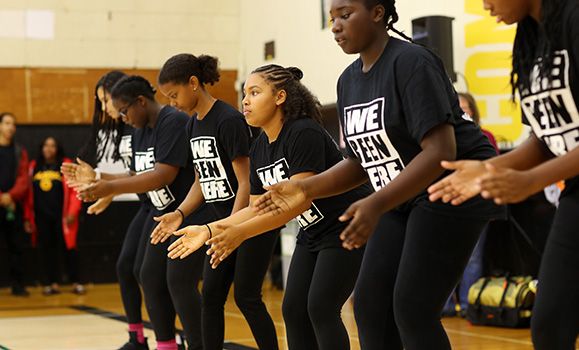 Stomp! perfoms at the Pink Day BBQ.
As people enjoyed burgers, hot dogs and other food provided by the Dalhousie University Club, they were treated to a performance by Stomp!, a local dance group created to help empower African Nova Scotian students at Oxford Junior High and Citadel High through a traditional rhythmic style of dance called "stomping." The group performed several dances, including one in which each member stepped forward with a verse in honour of a different African Nova Scotian hero.   
A team effort

Staff members from Dal's Environmental Health and Safety (EHS) office seemed particularly enthusiastic with their outfits, donning hot-pink capes, cowboy hats and leis.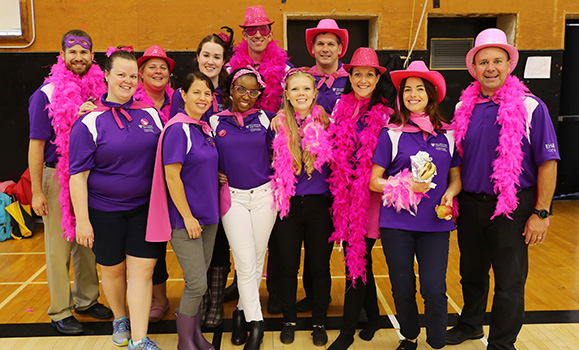 The Dal EHS team.
Sarah Langille, who has been with the EHS team for about two-and-a-half years, says dressing up is something the group looks forward to each year.
"It's a team initiative to help promote respect and inclusion," she says, "and we are looking to keep the excitement going around this important issue."
This year's Respect Week activities wrap up on campus Friday. For more information, visit: dal.ca/respect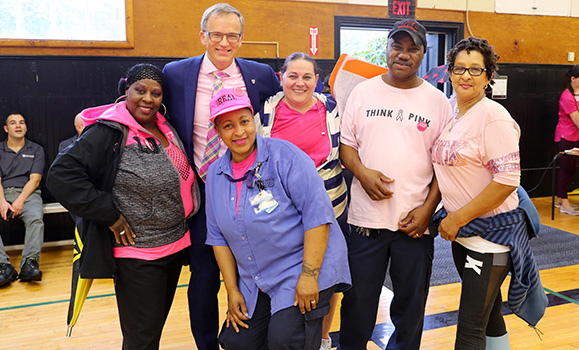 Celebrating Pink Day at the BBQ.