From surfing and salsa dancing to charitable initiatives both on and off campus, Dal students have no shortage of options for getting involved in the community.
That was evident at last Wednesday's Society and Volunteer Expo, an event that featured hundreds of clubs and societies from both on and off campus and spanned two floors in the Student Union Building.
Organized by the Dalhousie Student Union (DSU) and the Bissett Student Success Centre, the expo offered plenty of options for newcomers and returning students alike.
Hobbies, interests, academics and more

While some societies and groups focus on connecting students within similar academic programs, others veer more towards specific hobbies and interests.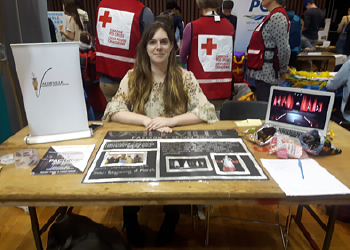 The Dalhousie Vaudeville Fashion Design Show, for instance, is a student-run charitable initiative that works to promote body positive fashion. Now in its fifth year, the group meets once a week to plan a fashion show held in March.
"The show is designed, produced, and modeled entirely by students that represent all genders, races and sizes," said member Kristen Reid, noting the group also helps members develop their sewing skills along the way.
All proceeds from the show go to a charity of the group's choice.
Another on-campus charitable initiative is the Dalhousie Brigadoon Society, a group that supports the Brigadoon Village camp for children with chronic illness or special needs.
"Our goal is to send kids to camp," said Inhwa Kim, an active member of the society. "Each week at Brigadoon Village is dedicated to a different illness or disability and kids get full medical attention throughout the week."
The group partners with local businesses to hold fundraisers in the community.
"Last year we were able to send two children to camp," said Inhwa.
Connecting students

The largest society under the DSU is the Dalhousie International Students Association or DISA.
"We represent our International students. Not just at Dalhousie, but within the larger Halifax community," said Jenny Kim, a DISA representative.
Jenny says DISA is the best resource for International students to transition to their new environment.
"You don't have to be an International student to join," said Jenny, encouraging students of all nationalities to take part in their events.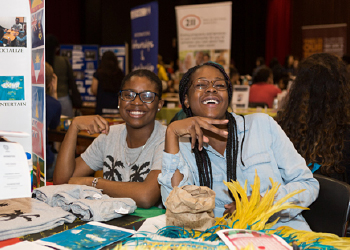 DISA represents a number of culturally focused umbrella societies within the DSU as well, including Dalhousie Caribbean Connections.
Beautisca King, president of the latter group, says they host activities and bake sales and provide volunteer opportunities for members. The group also organizes an annual Caribanza, a formal event featuring dancers, dinner, and a full Caribbean cultural experience.
Getting involved in the community


Last week's expo also included many off-campus volunteer opportunities for students looking to get involved in the greater Halifax community.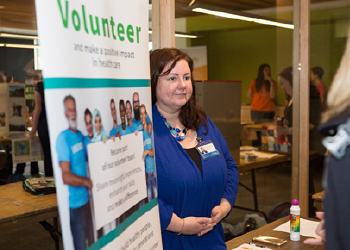 The Nova Scotia Health Authority offers students the chance to work in a health setting.
"We're looking for students of all different skillsets," said Catherine Desnmore, a representative of the NSHA. "Interpersonal skills are important, time management, but most of all just being engaged in your community."
Similarly, the IWK Health Centre offers 40 different opportunities for students ranging from volunteering in the gardens to helping out in the hospital playroom.
Other societies featured at the event included the Harry Potter Society, Board Games Society, and the DSU Farmers Market.